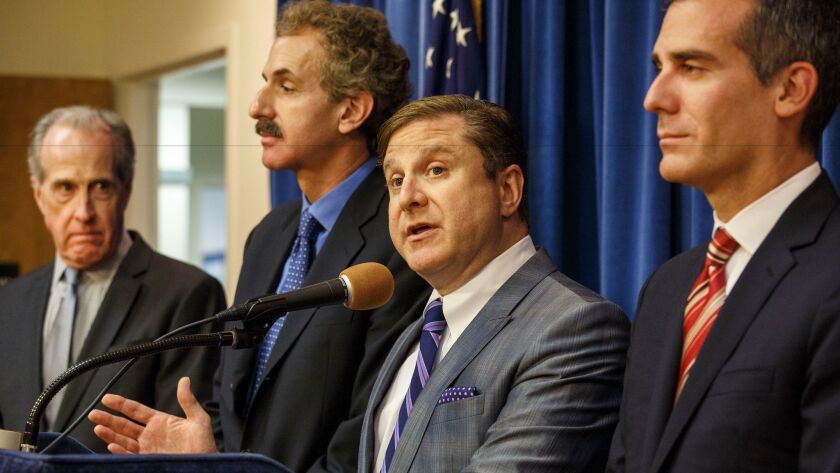 The Los Angeles City Council took a step Tuesday toward borrowing up to $60 million to pay for legal payouts and court judgments despite a warning by City Controller Ron Galperin that the borrowing proposal is costly and unnecessary.
The council voted 13 to 1 to proceed with the borrowing plan. A separate vote on the bond contract is expected later this year.
City budget officials sought the judgment obligation bond to help offset the cost of several recent legal settlements, including one for more than $200 million to resolve a lawsuit by disability-rights groups over the lack of accessible publicly funded housing.
The city normally budgets about $60 million annually for its legal liability fund. But budget officials say they've already spent $135 million on legal settlements and court judgments this fiscal year, forcing the city to dip into its reserve fund, which pays for emergencies.
Borrowing the $60 million will cost the city $20 million in interest, budget officials said.
Councilman Mitch Englander, a persistent critic of the borrowing plan, voted against it Tuesday.
Councilman Paul Krekorian also voiced opposition, but said he supports the plan as an option to ensure the city doesn't have to dip further into its reserve fund.
The last time L.A. issued such a bond was 2010 after the city was forced to pay millions of dollars to settle lawsuits over excessive force by police at a May Day demonstration at MacArthur Park in 2007.
That 2010 bond also helped pay for other court cases.
Galperin warned city leaders against proceeding with the bond in a letter this month. His office maintains the city's finances will improve by the end of the fiscal year, when $38 million in unspent city money will be returned by departments.
"I continue to believe that it is unwise for a city to use bonds as a way to bridge a budget gap," Galperin said in a statement after the vote.
With a final vote still pending on the bond contract, the City Council could still back out of the plan.
Putting together the bond proposal costs about $100,000, budget officials said.
Twitter: @dakotacdsmith
---