Gov. Jerry Brown again denies parole for ex-Mexican Mafia killer Rene "Boxer" Enriquez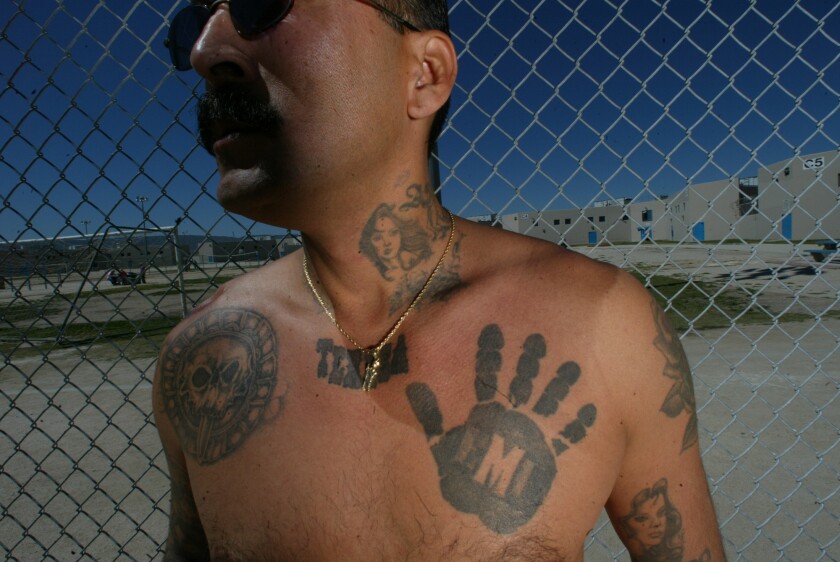 For the second time in less than 18 months, Gov. Jerry Brown has rejected parole for a convicted killer and former shot-caller for the Mexican Mafia who developed an unusually close relationship with law enforcement.
On Thursday, Brown reversed a February decision by a state parole board to free Rene "Boxer" Enriquez, who is serving life in prison for two murders committed in 1989.
In a three-page letter outlining his decision, Brown acknowledged that Enriquez, 53, "has made efforts to improve himself," including his participation in some self-help programs after Brown last rejected his parole in February 2015.
"I commend Mr. Enriquez for taking these positive steps, but they are outweighed by the negative factors that demonstrate he remains unsuitable for parole," Brown wrote.
Brown cited Enriquez's lengthy criminal history — which also includes convictions for a jailhouse stabbing, gang rape and robbery — and criticized his explanation for the violence, saying he "blames the gang for his own choices." Brown expressed concern about the risk Enriquez presented if released from prison, noting he remains an "active target" for the Mexican Mafia since leaving the notorious prison gang.
"There is no doubt he is personally responsible for much more devastation," the governor said of Enriquez. "Mr. Enriquez made a career of sophisticated gang warfare."
The governor acknowledged the testimony from the adult children of one of Enriquez's victims, who addressed a parole board for the first time in February, begging the panel to keep their mother's killer behind bars. Cynthia Gavaldon's family spoke "movingly," Brown wrote, "about their enduring loss and pain."
Gavaldon's son said he was surprised by the governor's decision, saying he and his sister felt defeated when the parole board granted Enriquez another chance at freedom earlier this year. Gavaldon's children were 6 and 8 years old when their mother was fatally shot in 1989.
"Walking out of there that day, I felt like our statement meant nothing," said Gavaldon's son, who asked that his name not be published out of concerns for his safety. The governor's decision, he continued, "really gives us a sense of justice."
"Our voice really was heard," he said.
Enriquez's attorney did not immediately return a phone call or email seeking comment.
During February's parole board hearing, Enriquez acknowledged that he had committed brutal crimes but insisted he was now a different man.
"I know that I've done a lot wrong," he said. "But I know there's hope for my future."
The killings occurred while Enriquez was on parole. He came to suspect that Gavaldon, 28, was stealing drugs from him that she was supposed to sell, according to court records. Enriquez "wanted to set an example" and ordered her execution, according to a probation report in the case. She was shot once in the head and once in the upper body.
About a week later, Enriquez targeted a member of the Mexican Mafia who had fallen out of favor with the gang for running away from a fight, according to parole records. Enriquez said he gave the victim an overdose of heroin and thought he might be dead, but shot him five times in the head anyway.
While awaiting trial, Enriquez and another inmate jumped a man in a jailhouse waiting room, stabbing him 26 times with metal shanks. In another incident, Enriquez stabbed a second man while in custody. Both men survived the attacks.
He pleaded guilty to two counts of second-degree murder and was sentenced to life in prison.
More than a decade ago, Enriquez left the prison gang. Since then, he has developed an almost celebrity-like status among law enforcement. He has testified in scores of cases, filmed training videos for police and lectured at law enforcement conferences across the state. He's also helped teach a college course via Skype and collaborated on books, including a biography of his life, "The Black Hand."
Last year, he caused a stir when the Los Angeles police brought him to speak to a group of elite business owners at a private downtown L.A. event. The January 2015 lecture, which was widely reported in the media, prompted criticism over whether it was an appropriate use of LAPD resources and raised questions about Enriquez's relationship with law enforcement.
Gavaldon's son said the events over the last year and a half — the first chance at parole, the rejection, another chance at parole, the latest rejection — triggered difficult memories for his family. They've decided to move on.
"Whatever happens in the future, he's going to have to answer to God," he said. "It's too much to handle over and over again. We don't want to relive it anymore."
Follow me on Twitter: @katemather
ALSO
Garcetti nominates attorney Cynthia McClain-Hill to Police Commission
Help Santa Ana police find and prosecute this shooter and get a $100,000 reward
'An assault on her is an assault on us all': U.S.' oldest park ranger beaten and robbed in her home
---
UPDATES:
5:34 p.m.: This article was updated with comments from Cynthia Gavaldon's son.
4:34 p.m.: This article was updated with additional details from Gov. Jerry Brown's letter and background information about Rene "Boxer" Enriquez.
This article was originally published at 3:22 p.m.
---
Life is stressful. Our weekly mental wellness newsletter can help.
You may occasionally receive promotional content from the Los Angeles Times.