L.A. County approves $31-billion budget, adding funds for four immigration lawyers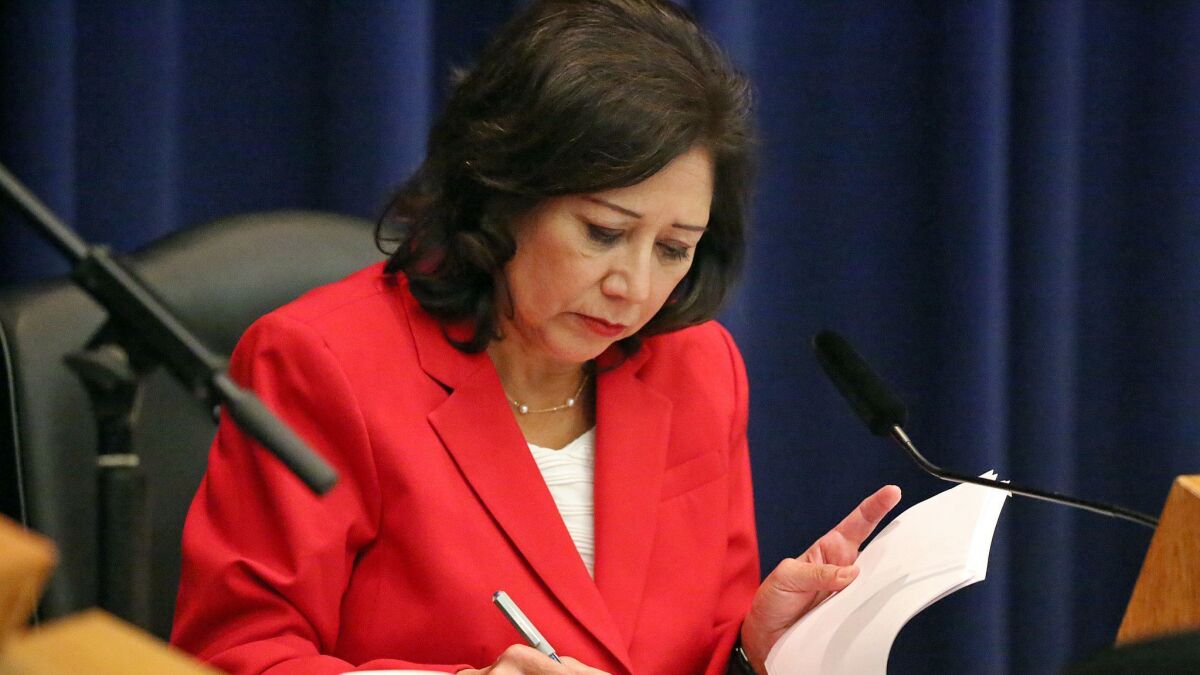 Disappointing advocates who had called for more attorneys to defend poor immigrants, the Los Angeles County Board of Supervisors on Monday unanimously adopted a $31.4-billion budget that funded only four new immigration attorneys in the public defender's office instead of the desired 15.
The final 2018-19 budget also allocated additional money for new positions in the Departments of Children and Family Services, Health Services and Mental Health, bringing the total number of county employees to 111,392.
Amid President Trump's "zero-tolerance" border-crossing policy and a general strengthening of federal immigration enforcement, Supervisor Hilda Solis, whose district includes immigrant neighborhoods in the city's southern and eastern areas, had requested money to fund 15 new immigration attorneys in the public defender's office over the next two years.
A report published by the American Civil Liberties Union last month found that the office is "woefully under-resourced to handle cases involving non-citizens," with only two immigration experts in an office of 700 attorneys.
"To Trump and his administration, our due process rights under the Constitution should not exist," said Andres Kwon of the ACLU at Monday's budget hearing, referring to the president's tweets over the weekend saying that immigrants should be sent back to their home countries without judicial hearings.
"The L.A. County public defender's office could help keep families together. … Public defenders are the first line of defense against Trump's deportation machine," Kwon said.
Under federal law, immigrants are not guaranteed legal representation in immigration court, but anyone accused of a crime has the right to an attorney in criminal court. Depending on the level of crime and sentence, a criminal conviction may trigger serious immigration consequences, including deportation.
Roughly two dozen people spoke in favor of the proposed 15 attorneys. They included immigrant advocates and current and former public defenders who said their office is understaffed and often ends up helping immigrants after they have been convicted, rather than negotiating pleas ahead of time that would limit the immigration consequences.
Evan Langinger, a deputy public defender and president of the Latino Public Defenders Assn., described a typical day.
"Maybe an arraignment, I get six minutes total to go over their case," he said. "That's it. Many times they plead out then. That's all they've gotten. Many times I will be the only attorney they see during the course of their life as they're struggling in a hostile immigration environment."
Langinger said the office needs 15 additional attorneys and a paralegal simply to do the "bare minimum" and stop "systematically" providing ineffective counsel.
The adopted budget included funding for four new attorneys, plus one paralegal.
"I commend the CEO for putting those positions in but we need to up that," Solis said at the hearing.
Interim Public Defender Nicole Davis Tinkham said in a statement that the supervisors' vote Monday "demonstrates the county's strong commitment to our immigrant community — a commitment that is playing out on many fronts."
Tinkham said the department could request additional positions when the county considers a supplemental budget in the fall.
Besides the public defender's office, the budget adds 45 positions to the Department of Children and Family Services, including 15 to help expedite approvals of new foster families. In addition, 336 positions were approved for the Departments of Mental Health and Health Services to assist homeless people, provide treatment for mentally ill inmates and staff a new urgent care center.
The budget removes 213 vacant budgeted positions from the Probation Department — a drop that county Chief Executive Sachi Hamai attributed to revenue shortfalls and changes in staff benefits.
Twitter: @AgrawalNina
---
Life is stressful. Our weekly mental wellness newsletter can help.
You may occasionally receive promotional content from the Los Angeles Times.