Muslim group on helping San Bernardino shooters' family: No one should suffer for the sins of others
The call about the missing man — and the massacre — came in the early afternoon to the front desk of the office in Anaheim.
Farhan Khan told Hussam Ayloush, the Council on American-Islamic Relations' executive director in Los Angeles, that his brother-in-law, Syed Rizwan Farook, could not be accounted for after someone barged into a meeting at the Inland Regional Center in San Bernardino and opened fire, killing and wounding scores of people. Khan feared that his wife's brother was among the dead.
Less than an hour later, after Ayloush had urged him to remain calm, Khan called back. Farook was not a victim of the mass shooting, but the suspected author of it, Khan said.
Later that day, Ayloush and CAIR took a step the group had never taken before: It would advise the family of a suspected mass shooter and terrorist. Soon, Khan spoke to a ring of reporters at a news conference organized by CAIR.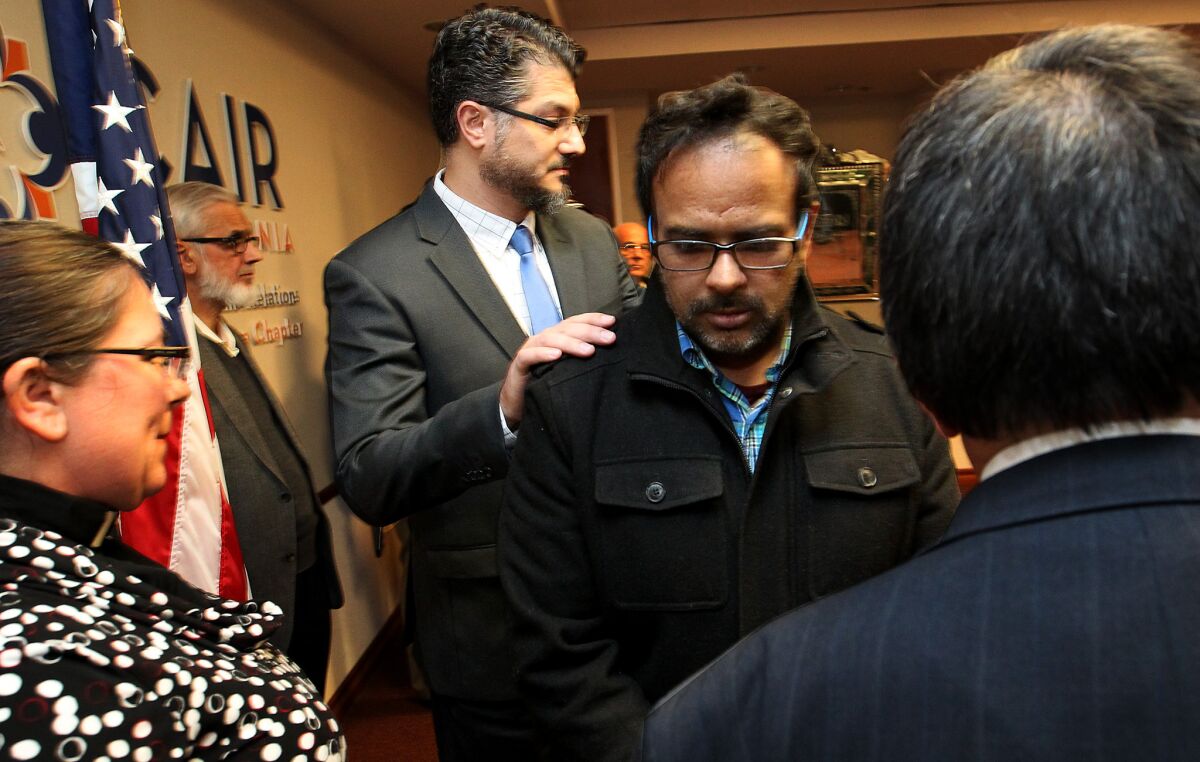 The organization received angry calls and critical coverage from conservative media, including Breitbart, which ran a headline asking, "Why is CAIR helping San Bernardino terrorists after the fact?" Others wondered why CAIR was getting involved before it was clear whether others — possibly even other family members — had known of the attacks before they occurred.
Almost half a year after the deadliest attack on American soil since 9/11, Ayloush said CAIR does not regret the decision.
"It is not about what is popular or convenient," Ayloush said. "We wanted to make sure no one is punished for the sins of others."
For years, CAIR, which has 30 chapters in the U.S., has acted to condemn terrorist attacks and educate the public about Islam at a time when anti-Muslim sentiment was high. But it also has been a polarizing organization, reviled by critics who accuse it of being linked with radical Islam, terrorism and groups such as Hamas.
In 2007, CAIR, along with hundreds of other organizations and individuals, was named as an unindicted co-conspirator in a case against the Texas-based Holy Land Foundation, a charity prosecutors accused of supporting Hamas. The Holy Land Foundation and several of its officers were convicted in November 2008.
CAIR was not accused of wrongdoing. Still, the FBI suspended relations with the council. Critics also pointed to the organization's sometimes contentious relationship with law enforcement, including the council's battle with the FBI over surveillance of Muslims in U.S. mosques.
Mark Juergensmeyer, an expert in religious studies at UC Santa Barbara, said CAIR's work is bound to be criticized because there is "a strong public perception that being Muslim leads to terrorism." The organization's decision to help Farook's family was understandable, he said.
"I took CAIR's role at that point as a concern that the family not be tarred with public perception," Juergensmeyer said, "that innocent victims not be deprived their liberties because of the acts of a few."
At the time that Ayloush and CAIR were dealing with Farook's family, the FBI and local police were trying to find out whether the family had any prior knowledge about the shooting carried out by Farook and his wife, Tashfeen Malik. Ayloush decided he would ask Khan. Among the questions: Was there anything unusual about Farook's life? Did he have a gun? Was he a member of Islamic State? Some of the questions might have seemed unfairly probing, but they revealed that Khan's brother-in-law had made the hajj, an Islamic pilgrimage to Mecca. Ayloush knew that it would come up. Throughout the meeting, Khan wept.
"I was not playing the role of investigator, but I was looking at what to expect. He went for hajj? OK, great, that's going to be mentioned. His wife was born in Pakistan? Great, that's going to be mentioned," Ayloush recalled. "It was clear Farhan was outraged, angered, shocked by what happened."
This is not a media center; this is a family that actually has been unable to conduct their normal life.
— Hussam Ayloush, CAIR executive director in Los Angeles
Eventually, CAIR began receiving threatening comments and calls, Ayloush said. He asked the organization's civil rights department to report those calls to authorities.
Throughout December, Ayloush periodically called or stopped by Khan's house to make sure the family wasn't being harassed. During the first week, reporters stood watch outside the Riverside home, occasionally knocking on the front door. The family would politely ask that they contact their attorney. When Ayloush visited on a weekend, he noticed Khan's children on the floor eating candy.
Their mother told him that they had run out of food because they didn't feel comfortable leaving the home to shop for groceries.
"I said, 'Oh, my God, at the end of the day, this is a family," Ayloush recalled. "This is not a media center; this is a family that actually has been unable to conduct their normal life."
He told the family he would pick up a few things from the store — fruit, eggs, milk.
CAIR's legal department also made sure the Khans were being treated fairly and not being discriminated against because of their faith, as they sought custody of Farook and Malik's then 6-month-old daughter.
In the months after the terrorist attack, CAIR has moved onto other issues.
When a Muslim student in Rancho Cucamonga was falsely identified as "Isis Phillips" in her high school yearbook in May, the group sent an email blast and hosted a news conference for the student to address the media. When a top Los Angeles County Sheriff's Department official was caught sending Islamophobic and racist emails, CAIR sent a letter calling for his resignation. And when a group of Muslim women were kicked out of Urth Caffe in Orange County, CAIR expressed its concern that they were removed because of their faith.
But Ayloush said the legacy of San Bernardino still lives with the group, especially in the way it handles the threat of terrorism and the fear it can spark.
CAIR should "be honest about everything: more honest within the community about the fact that we cannot discount the threat of barbaric groups like ISIS," he said. "We must not say it's tiny and it will disappear."
ALSO
Fifty years later, the first campus massacre lives on
EgyptAir crash raises new questions about European airport security
Afghanistan's intelligence agency confirms Taliban leader killed in U.S. airstrike
---
The stories shaping California
Get up to speed with our Essential California newsletter, sent six days a week.
You may occasionally receive promotional content from the Los Angeles Times.