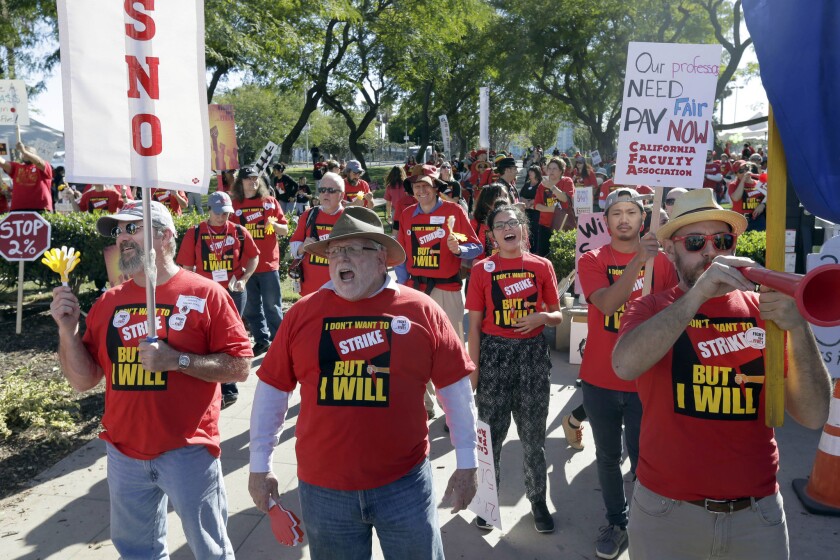 The union representing Cal State faculty said it has filed an unfair labor practice charge against management as the two sides battle over a salary dispute.
The California Faculty Assn. filed the charge last week with the state's Public Employment Relations Board, alleging that Cal State and Chancellor Timothy P. White have been bargaining in bad faith.
The two sides have been deadlocked since June over salary increases for 2015-16, with the union demanding a general 5% pay hike and White offering 2%.
The faculty group represents about 26,000 professors, lecturers, counselors, librarians and athletic coaches.
Earlier this month, 94% of voting members authorized a strike if no deal is reached.
The labor charge is based on an interpretation of language in the Higher Education Employer-Employee Relations Act, which was enacted in 1979 and covers labor relations with the Cal State and UC systems.
"An appropriate request for financing or budgetary funding for all state-funded employees or for necessary legislation shall be forwarded promptly to the Legislature and the governor or other funding agencies," according to the act.
That means Cal State and faculty must reach an agreement on salary before sending a budget request to the state, said Kevin Wehr, a Cal State Sacramento professor and chairman of the union's bargaining team.
In 2015-16 and 2016-17, Cal State adopted budgets that allocated $65.5 million for a 2% salary increase for faculty before reaching an agreement with the union, Wehr said.
"By limiting discussion to that predetermined pool," Wehr said, Cal State "has violated its duty to meet and confer in good faith."
Cal State officials said they could not comment on pending litigation, but Cal State spokeswoman Toni Molle said: "The CSU remains committed to the collective bargaining process and to reaching a negotiated agreement with the California Faculty Assn."
For more higher education news, follow me @carlariveralat
ALSO
Largest L.A. County employee union votes to approve contract including 10% raise
Teen charged in Downey officer's killing is innocent, his sister says
Massive El Niño gains strength, likely to drench key California drought zone
---