Survivors give thanks after suffering losses in California's worst wildfire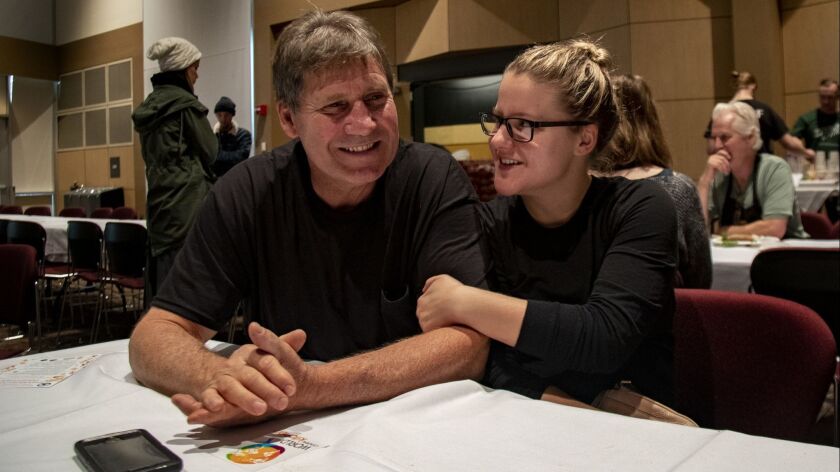 Reporting from CHICO, Calif. —
Anna Longacre booked her flight home months ago.
Back then, the 26-year-old Army sergeant imagined the comforts that awaited her Thanksgiving week, the things that never change no matter how far away from Paradise the military takes her:
The old cast-iron stove that warmed the entire house during winter. The small stone-fruit orchard that ran along the side and back. Her dad's breakfast hash browns.
Anna's family had lived on their 3-acre lot in the Sierra Nevada foothills for 20 years. She moved away at 18 and has been stationed in Afghanistan, South Korea and Kansas.
But her heart stayed in Paradise.
Instead of being home Thanksgiving morning, she found herself in a cavernous auditorium at Chico State, where turkey and fixings had been prepared for evacuees of California's deadliest and most destructive wildfire.
She dragged her dad, Bruce, with her. She wanted to get him out of her grandma's house in Chico, where they'd been staying with her mom and dogs. And she had heard celebrity chefs Guy Fieri and José Andrés were making the food. It couldn't hurt to try and have a little fun, she thought, despite everything.
The father and daughter were greeted by volunteers in plush turkey hats and handed sanitary wipes at the door.
The Thanksgiving meal, served in waves throughout the day and sponsored by Andres' organization, World Central Kitchen, and Sierra Nevada Brewing Co., was expected to feed 15,000 evacuees and first responders. Volunteers served the Longacres dollops of mashed potatoes and stuffing and slices of pumpkin pie from a banquet-style buffet.
The father and daughter sat across from each other at the the end of a long, empty table and began to dig in. Just as Anna was about to sample some cranberry sauce, she spotted Ms. Partain, her former English teacher from Paradise High School, and waved her over.
"I actually drove right past your house when I was evacuating with my cats," Virginia Partain, who was volunteering at the event, told them. "I lost everything."
"We did too," Bruce Longacre, 61, said.
"We are phoenixes," Partain said. She hugged Anna.
Seeing Partain beckoned memories of Anna's high school days.
"Remember when you were Gold Nugget Queen?" her dad asked.
"Haha, oh, c'mon Dad," Anna said, a little embarrassed.
As a teen, she had won the Miss Gold Nugget Pageant, a decades-long tradition that honored the hamlet's prospecting past. Local retired women made the salmon-pink, 1800s-era hoop dress she wore on a float during the town parade, roses cradled in her right arm as she did the prom wave with her left.
"That's Paradise roots right there," Bruce said. His eyes glistened.
The parade would creep down Paradise's main thoroughfare, Skyway. On Nov. 8, that road was choked with people trying to escape a fire that has killed at least 83 people.
Anna is lucky enough, so far, to not know anyone who died. But what it means to be lucky is relative in times like these.
Her mom, Doris Longacre, was home alone when the fire hit town. Doris' 94-year-old mom was in the guest house on the property. Bruce was 30 miles west cutting almond wood to heat the house. When Doris texted him that she was evacuating, he didn't think it was a big deal. Growing up in California, you hear about fires all the time.
Meanwhile, Anna was in the Bay Area city of Dublin for a week of Army training. She logged on to Facebook during a break.
"The whole town is being evacuated," one friend posted. Her body went numb. Her mom called. She was leaving with Grandma, she said. Anna heard a piercing frenzy in her mom's voice.
Doris escaped with her mom, three dogs and a picture of her own dad. That was it. They didn't have room in their Buick LeSabre for the two lovebirds, the cockatiel or the family photo albums.
The family learned just three days ago through fire officials' photographs that their home was among the more than 18,000 structures destroyed. Bruce, who supervised a cold storage warehouse before his partial retirement, is determined to rebuild in the same spot. Patches of the orchard with its plums, peaches and cherries made it, he pointed out. So did his baby-blue Ford tractor. They could even live in a modular home on the property while they rebuild.
"We can make ugly pretty again," Bruce said.
He has stayed surprisingly positive through all of this, Anna observes as she takes a bite of pumpkin pie.
Bruce shrugs.
"There's nothing I could do about it," he said. "I'm a Christian, and it says in the Bible that without God you're nothing. Being burned out, I see what that really means."
Anna is less accepting of this new reality. Thanksgiving is one thing, she said. Later, they will have dinner at her grandma's house with her mom and a few others. It is Christmas at home she will miss the most.
That's when her brother and sister come up from the Bay Area with their kids. Doris takes out her many nutcrackers — "her holiday obsession," Anna says — and scatters them around the house. In the morning, Bruce makes his hash browns, browned and salted to perfection. In the afternoon, they ride four-wheelers as the dogs chase them through the orchard. At night, they sit outside on the covered deck softly lit by string lights.
Unwilling to lose those traditions, Anna picked up an aluminum grater from Ikea before arriving in Butte County. She knew her dad would no longer have the tool required to make his potatoes.
A volunteer stopped by the table, breaking Anna from her nostalgic reverie.
"This is for you," the volunteer said, placing a $100 Safeway gift card next to their now-empty paper plates.
Bruce looked at the card, his expression relaying a measure of disbelief.
"Thank you," he whispered.
This is perhaps the most unsettling part for Anna — seeing her parents in need. She has become accustomed to their unrelenting generosity over the course of a lifetime, how they would insist on paying for every little thing when she was in town, well into her adulthood.
Now it is her turn to take care of them.
Twitter: @lauramnewberry
---
The perils of parenting through a pandemic
What's going on with school? What do kids need? Get 8 to 3, a newsletter dedicated to the questions that keep California families up at night.
You may occasionally receive promotional content from the Los Angeles Times.