Cal State looks for cost savings in academics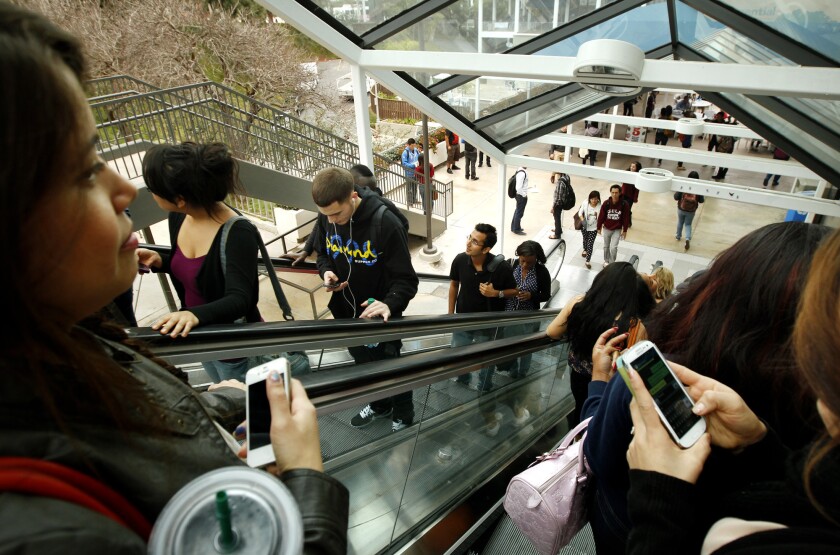 California State University officials are studying ways to measure how much is saved from streamlining course offerings and providing more online classes and advising, as well as other academic initiatives, officials said Wednesday.
Evaluating how to quantify savings and what tools to use is at an early stage, but officials said the work is important in learning how to drive down costs without sacrificing academic quality.
Some gains may be measured in student success — swifter graduation, for example, provides a seat for the next student in line — rather than in dollars, officials said during a presentation to the Board of Trustees, who were meeting in Long Beach.
"Administrative efficiencies are easier to boil down to a dollar figure but when you're talking about academics, you're really looking to increase learning, civic engagement — all of the work of a university — and do it with the same resources," said Ken O'Donnell, Cal State's senior director of student engagement and academic initiatives and partnerships. "Yet, it's closer to the core mission of the university than just looking at the bulk savings from parking operations."
The 23-campus system is part of several national grant-funded programs that are evaluating more ephemeral student success measures such resiliency, determination, self-efficacy and intellectual prowess — all traits that are valued by employers, O'Donnell said.
"Because of our size and diversity and ability to scale, we're a pretty good laboratory for investigating these issues," O'Donnell said.
Some efforts are more concrete: used-book and digital-book rental programs have saved students $30 million, officials said.
The system has saved about $4 million through the bulk purchase of online advising, online class materials and $1.6 million for plagiarism detection programs.
State funding for Cal State and other public colleges and universities has increased incrementally under multi-year spending plans brokered by Gov. Jerry Brown, but remains far below pre-recession levels. Cal State officials estimate, for example, that the system will need $60 million more in state funding for 2015-16 than is being proposed in Brown's revised budget.
And officials say that the governor still takes the opportunity to repeatedly lecture campus leaders on the need to cut costs.
Previously, Cal State reported saving more than $50 million by streamlining administrative functions.
Also at Wednesday's meeting, trustees approved compensation for Robert S. Nelsen, the new president of the Sacramento campus.
Nelsen, who will take office in July, will receive an annual base salary of $303,850, the same as current President Alexander Gonzalez, who is retiring after leading the campus for 12 years.
Nelsen's compensation also includes a $60,000 annual housing allowance and a monthly auto allowance of $1,000.
Twitter: @CarlaRiveraLat
---
For reporting and exclusive analysis from bureau chief John Myers, get our California Politics newsletter.
You may occasionally receive promotional content from the Los Angeles Times.