'Although I've forgiven, I have not forgotten,' says sister of Charles Manson victim Sharon Tate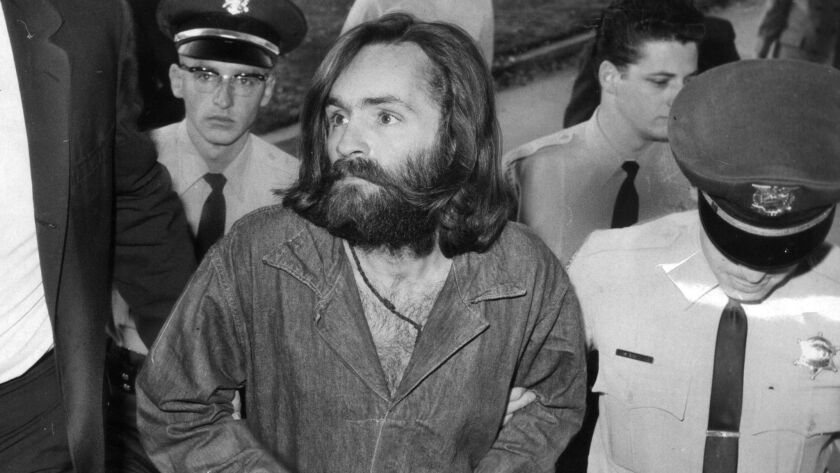 The sister of slain actress Sharon Tate said the death of convicted murderer Charles Manson brought her no solace.
"People are saying that this should be some kind of relief, but oddly enough it really isn't," Debra Tate told ABC News. "While Charlie may be gone, it's the ones that are still alive that perpetrate everything, and it was up to their imaginations for what brutal things were going to be done."
"In an odd way, I see them as much more dangerous individuals."
As news of Manson's death spread, many said this should be a time to mourn his victims.
Mia Farrow, a friend of Sharon Tate, tweeted photographs of the slain actress, who was 26 years old and 8 months pregnant when she was stabbed 16 times by one of Manson's followers, Susan Atkins in 1969. The word "PIG" was written in Tate's blood on her front door.
"Charlie Manson is dead — good riddance," Farrow tweeted.
Farrow, who starred in the 1968 horror film "Rosemary's Baby" directed by Tate's husband, Roman Polanski, also tweeted a photo of Tate in cutoff shorts, holding a dog.
"Thoughts with my sweet, beautiful friend, Sharon Tate and with each of Manson's victims," Farrow wrote.
Manson, the mastermind behind a string of Los Angeles murders, died of natural causes at a Kern County Hospital at 8:13 p.m. Sunday, according to Vicky Waters, a spokeswoman for the California Department of Corrections and Rehabilitation. He was 83.
Sentenced to death for the killings, Manson escaped execution when the state Supreme Court declared the death penalty unconstitutional at the time. He spent decades behind bars and was cited for behavioral issues — including obtaining illegal cellphones — more than 100 times.
On Sunday night, Michele Hanisee, president of the Assn. of Deputy District Attorneys, said in a statement that Vincent Bugliosi, the Los Angeles County prosecutor who put Manson behind bars, "provided the most accurate summation: 'Manson was an evil, sophisticated con man with twisted and warped moral values.'" Bugliosi died in 2015.
"Today, Manson's victims are the ones who should be remembered and mourned on the occasion of his death," Hanisee said.
Los Angeles City Councilman Mitch O'Farrell on Twitter called Manson "a pathetic, cowardly con man" and said his victims' stories deserved to be told.
"Good riddance to this wretched soul," O'Farrell wrote. "Anyone who recalls what he and his followers did in August of 69' are probably still traumatized by their horrific actions, ritualistically murdering innocent people. I know their surviving family members are. That's who we should remember."
Debra Tate said she worried about Manson's acolytes involved in the slayings and that she had prayed for Manson's soul.
Charles "Tex" Watson and Patricia Krenwinkel have each been denied parole several times. Susan Atkins, who was denied parole 13 times, died in prison in 2009.
Manson follower Leslie Van Houten, 68, was granted parole in September by a panel of state commissioners in Chino. Gov. Jerry Brown must decide whether to release her. He rejected her parole last year, concluding that Van Houten, the youngest member of Manson's so-called family, posed an "unreasonable danger to society if released from prison."
Debra Tate mentioned Van Houten's parole to ABC.
"It's important for people to know that these are individuals that are still brutal monsters capable of committing heinous crimes," she said. "Although I've forgiven, I have not forgotten, and I feel it's very important that they stay exactly where they are until they die."
Linda Deutsch, who covered high-profile trials for the Associated Press for more than four decades, wrote that Manson's trial was a surreal spectacle in which the diminutive cult leader and his followers constantly disrupted proceedings, jumping to their feet and singing songs to mock the judge.
"At one point," Deutsch wrote, "he propelled himself across the counsel table, brandishing a pencil and shouting at the judge: 'Someone should cut your head off, old man.'"
It was such a frenzy that photo crews rushed so quickly through the hallway to get a photo of him that they "knocked a water fountain off the wall, flooding the corridor."
Outside on the sidewalk, "a ragtag band of women camped on the sidewalk day and night … They became a tourist attraction and were always available for media interviews."
Twitter: @haileybranson
ALSO
Charles Manson crawled from the Summer of Love to descend into Helter Skelter murders
Charles Manson, mastermind of 1969 murders, dies at 83
Where are they now? Charles Manson's 'family,' decades after horrific murders
---
Must-read stories from the L.A. Times
Get the day's top news with our Today's Headlines newsletter, sent every weekday morning.
You may occasionally receive promotional content from the Los Angeles Times.