Remembering Charles Manson's victims: Rich, famous, fringe and random
In the dearly five decades since the notorious murders stunned Los Angeles, there has been endless fascination and revulsion surrounding Charles Manson and his cult "family."
And Manson did not fade quietly during his decades behind bars, but continued to make headlines with interviews, bad conduct in prison and, more recently, health issues.
Manson's victims have sometimes gotten lost in the shadows of the mass killer's attention.
Benedict Canyon murders
Aug. 9, 1969: The nighttime quiet of Benedict Canyon is broken by screams and gunshots. Police find a chilling scene: On the lawn lies a man's body, stabbed, bludgeoned and shot. Nearby is the body of a woman. "PIG" is written in blood on the front door. Inside are the bodies of Sharon Tate, the pregnant actress who rents the house with husband Roman Polanski, and hairstylist Jay Sebring. A fifth body is found outside.
Sharon Tate, 26: An actress best known for her role in "Valley of the Dolls," she was married to film director Polanski. She pleaded with the killers to spare the life of her unborn child, due in two weeks.
Jay Sebring, 35: A Hollywood hairdresser and former boyfriend of Tate's. Among his clients was David Geffen, head of Geffen Records, which recently released a Guns N' Roses album with a song written by Manson.
Voytek Frykowski, 32: A friend of Polanski's, he came from a wealthy Polish family and was staying with Polanski and Tate.
Abigail Folger, 25: The heir to the Folger coffee fortune, she was romantically involved with Frykowski.
Steven Parent, 18: Visiting the resident of a guest house on the estate, he was just leaving as the murderers arrived and became their first victim.
Los Feliz murders
Aug. 10, 1969: At a Los Feliz house the next night, another nauseating murder scene. Leno and Rosemary LaBianca have been stabbed. "DEATH TO PIGS" is scrawled in blood; on the refrigerator is the misspelled title of a Beatles song: "HEALTER SKELTER." The writings eventually help police link the murders.
Leno LaBianca, 44, and Rosemary LaBianca, 38: Owners of a chain of Los Angeles grocery stores. Their house was chosen by Manson, who tied them up, then left the killing to others.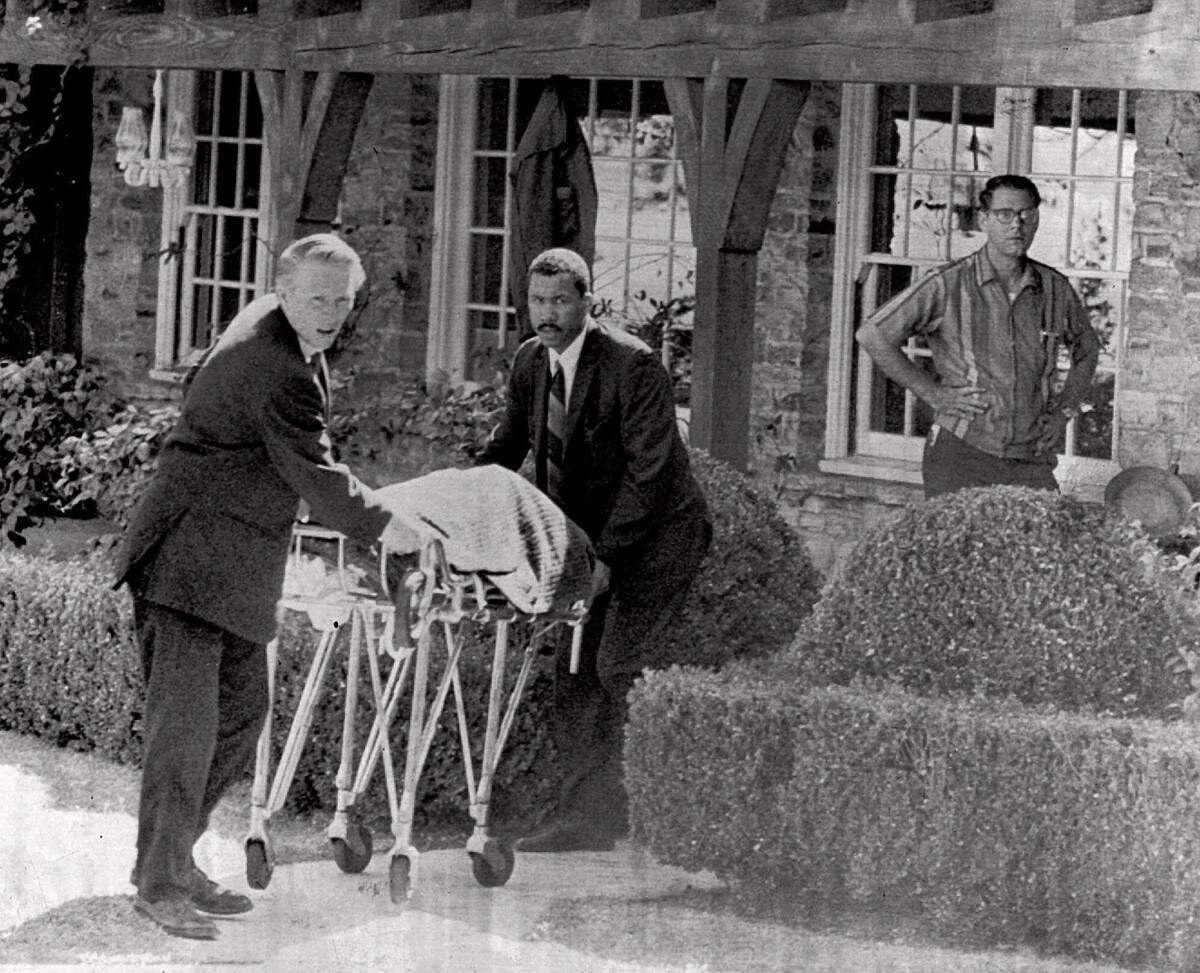 Other murders
July 31, 1969: Musician Gary Hinman is found stabbed to death in his Old Topanga Road home. The phrase "POLITICAL PIGGY" is scrawled in blood on his wall. Manson follower Bobby Beausoleil is arrested driving Hinman's Volkswagen bus.
Gary Hinman, 34: A musician who befriended the Manson group. Family members tortured him for two days at his Topanga home before killing him in a dispute over money.
Aug. 25, 1969: Donald "Shorty" Shea, a horse wrangler at the Spahn Movie Ranch near Chatsworth, is killed. It's believed Manson's followers killed him for fear he was a police informant.
Donald "Shorty" Shea, 35: An aspiring actor and a ranch hand. His dismembered body was found eight years later.
Aftermath
October 1969: Raids on the remote Barker Ranch near Death Valley link some of the killings to a band of young, hippie-looking petty criminals. Manson, a fledgling songwriter who knew Beach Boys drummer Dennis Wilson, had been to the Benedict Canyon house when the group's producer lived there.
June 15, 1970 — Jan. 25, 1971: Following their arrests in 1969, Manson, Susan Atkins, Leslie Van Houten and Patricia Krenwinkel are tried for murder. All are found guilty and sentenced to death.
October 1971: Charles "Tex" Watson, tried separately, is found guilty and sentenced to death.
Feb. 18, 1972: The death sentences were commuted to life imprisonment when the state Supreme Court abolished the death penalty. Now the convicts eligible for parole hearings.
The killers: Where are they now?
Patricia Krenwinkel was a secretary when she met Manson at a party. She quit her job the next day and joined Manson's "family."
She was found guilty of seven counts of murder in the killings, including stabbing the LaBiancas to death and writing "DEATH TO PIGS" on the wall in the victims' blood.
Krenwinkel, along with Susan Atkins and Leslie Van Houten, later condemned Manson and urged young people not to think of him as a hero.
After Atkins' death, Krenwinkel, now 69, became California's longest-serving female inmate. According to state prison officials, Krenwinkel is a model inmate involved in rehabilitative programs at the prison.
She is being housed at the California Institution for Women in Corona. Late last year, state parole officials postponed a decision on setting Krenwinkel free after her attorney made new claims that she had been abused by Manson or another person. The inquiry into the allegations took nearly six months. On June 22, parole commissioners again denied parole for Krenwinkel.
Leslie Van Houten: A jury found that the former homecoming princess was guilty of holding down Rosemary LaBianca in her Los Feliz home while an accomplice stabbed her. She was convicted of murder and conspiracy in 1978 at her third trial for the crimes, just months after she'd been released on bail following a hung jury verdict.
Van Houten said she was introduced to Manson by a boyfriend and came to view him as Jesus Christ, believing in his bizarre plan to commit murders and spark a race war.
She is serving her life sentence at the California Institution for Women in Corona, Calif., prison officials say, and has been disciplinary-free her entire sentence.
Van Houten, 68, told a parole board in 2002 that she was "deeply ashamed" of her role in the killings. "I take very seriously not just the murders but what made me make myself available to someone like Manson."
A state review board recommended parole for her in April, but Gov. Jerry Brown reversed that decision. She had previously been denied parole 19 times.
In September, the board again recommended parole.
Charles "Tex" Watson, Manson's self-described right-hand man, was sentenced to death for his part in the killings but was later given life in prison after the death penalty was overturned. In prison, Watson married, divorced, fathered four children and became an ordained minister.
Watson, 71, is housed at the Mule Creek Prison in Ione, Calif., about 40 miles outside Sacramento, where he works as a janitor and attends Bible studies and services in the prison chapel, according to the ministry's website. He has been denied parole 17 times. His most recent parole hearing was held Oct. 27, when a panel once again found him unsuitable for release from prison for at least five more years.
Susan Atkins, a former topless dancer who became one of Manson's closest disciples, died in prison in 2009 at age 61.
Atkins, called the "scariest of the Manson girls" by a former prosecutor, confessed to killing actress Sharon Tate, the pregnant wife of director Roman Polanski, who was stabbed 16 times as she pleaded with the killers to spare her unborn son and then hanged. At sentencing, where Atkins was condemned to death, she taunted the court, saying, "You'd best lock your doors," and "watch your own kids."
Her sentence was later converted to life in prison.
In prison, Atkins embraced Christianity and apologized for her role in the crimes, and the prison staff advocated unsuccessfully for her release in 2005. She was denied parole 13 times.
Bruce Davis, 75, was convicted in 1972 for taking part in the killings of Gary Hinman, an aspiring musician, and Donald "Shorty" Shea, a stuntman and a ranch hand at the Chatsworth ranch where Manson and his followers lived. Both murders occurred before the Tate-LaBianca killings, in which Davis did not participate.
Hinman's body was found in his home, with the words "political piggy" drawn on the wall with his blood.
In January 2016, Gov. Jerry Brown rejected his parole, the third time a governor has done so, saying that Davis remains a danger to public safety. In his decision, Brown said that the "horror of the murders committed by the Manson Family in 1969 and the fear they instilled in the public will never be forgotten."
Davis has been denied parole 30 times.
The Final Word
"People are saying that this should be some kind of relief, but oddly enough it really isn't. While Charlie may be gone, it's the ones that are still alive that perpetrate everything, and it was up to their imaginations for what brutal things were going to be done. In an odd way, I see them as much more dangerous individuals."
--Debra Tate, the sister of Sharon Tate, in an interview with ABC News.
Sign up for Essential California for news, features and recommendations from the L.A. Times and beyond in your inbox six days a week.
You may occasionally receive promotional content from the Los Angeles Times.