Board recommends parole for Charles Manson follower Leslie Van Houten; victim's daughter vows to oppose
A California review board recommended parole Thursday for former Charles Manson "family" member Leslie Van Houten, who was convicted along with other members of the cult in the 1969 killings of Leno and Rosemary LaBianca.
Van Houten, 66, had been denied parole 19 times by the state parole board since being convicted of first-degree murder and sentenced to life in prison. After the two commissioners on the panel issued their decision at a hearing at the California Institution for Women in Chino, Van Houten said she felt "numb," according to her attorney, Richard Pfeiffer.
"The opposition to parole has always been the name Manson," Pfeiffer said. "A lot of people who oppose parole don't know anything about Leslie's conduct. Her role was bad. Everyone's was. But they don't know what she's done since then and all of the good she's done."
The ruling will be reviewed by the parole board's legal team. If upheld, it will be forwarded to Gov. Jerry Brown, who could decide to block Van Houten's release. A spokesman for the governor said Thursday that it would be premature for his office to comment.
The five victims slain the night of Aug. 9, 1969 at the Benedict Canyon Estate of Roman Polanski. From left, Voityck Frykowski, Sharon Tate, Stephen Parent, Jay Sebring, and Abigail Folger. The next night, it happened again. Rosemary and Leno LaBianca, a wealthy couple who lived across town, were stabbed to death in their home.
(Associated Press)
Charles Manson is led back to his cell after court appearance in 1970.
(Bill Murphy / Los Angeles Times)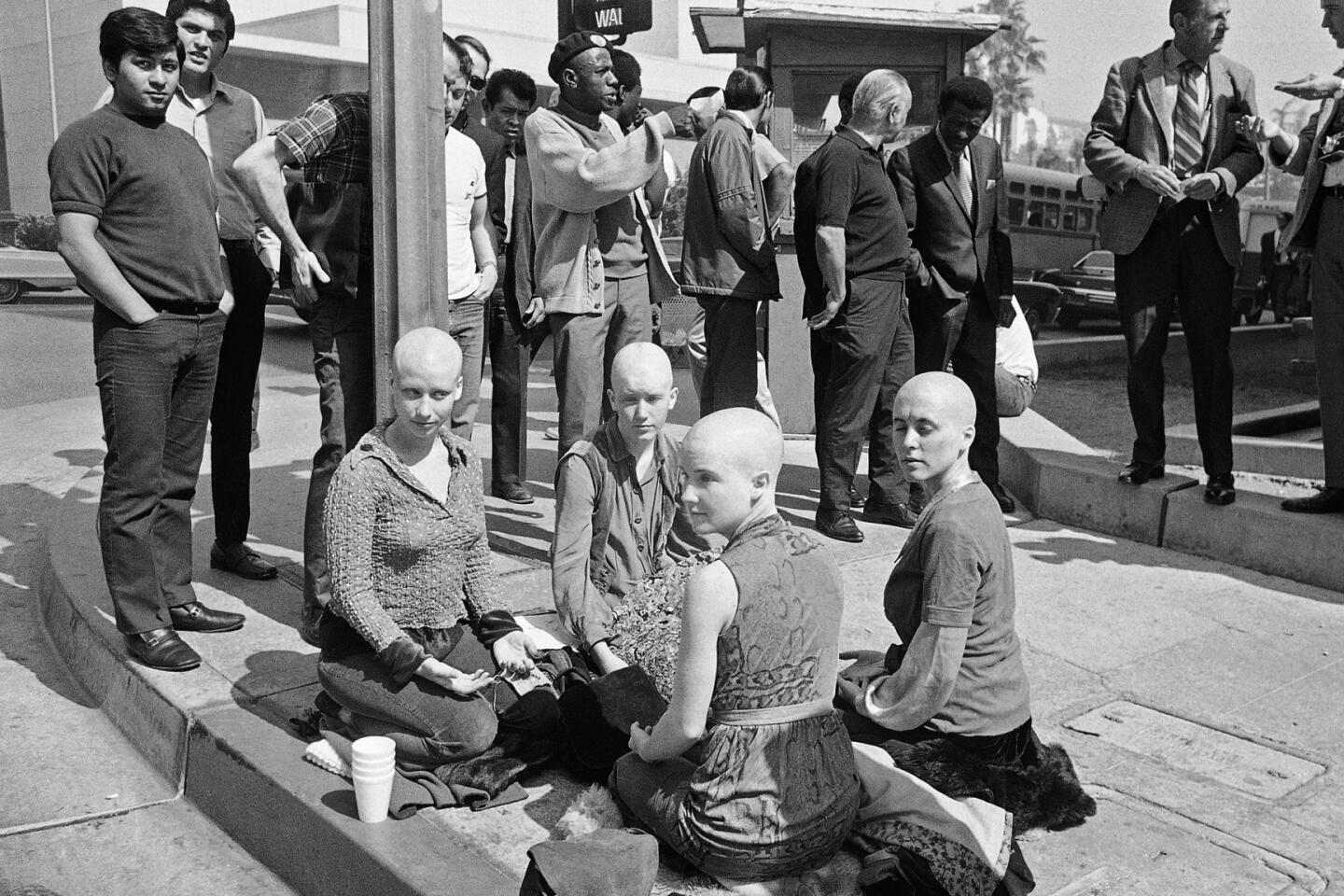 Four young female members of the Charles Manson "family" kneel outside the Los Angeles Hall of Justice on March 29, 1971, with their heads shaved. The women kept a vigil at the building throughout the long trial in which Manson and three others were convicted of murdering actress Sharon Tate and six others.
(Wally Fong / Associated Press)
Charles Manson is escorted to court for preliminary hearing in 1969.
(Bill Murphy / Los Angeles Times)
Charles Manson receives the news that he was denied parole in 1997, for the ninth time in March, 1997.
(Eric Risberg / Associated Press)
Charles Mansion in the high security area of the Corcoran State Prison in 1998.
(Kirk McKoy / Los Angeles Times)
Cory LaBianca, who was 21 when her father, a wealthy grocer, and stepmother were slain in their Los Feliz home, said she was disappointed by the parole board's decision and planned to lobby the governor to reject Van Houten's release.
"Maybe Leslie Van Houten has been a model prisoner," Cory LaBianca said. "But you know what? We still suffer our loss. My father will never be paroled. My stepmother will never get her life back. There's no way I can agree with the ruling today."
Los Angeles County Dist. Atty. Jackie Lacey, whose office argued for Van Houten to remain behind bars, also expressed disapproval in a statement: "We disagree with the board's decision and will evaluate how we plan to proceed."
Five people in all, including Van Houten, were convicted of the Tate-LaBianca killings, part of a murderous rampage hatched by Manson in an effort to instigate a race war, according to trial testimony.
The youngest of Manson's followers, Van Houten has been considered the least blameworthy member of the group and has been portrayed by supporters as a misguided teen under the influence of LSD on the night of the slayings.
A former homecoming queen from Monrovia, Van Houten did not join in the Aug. 9, 1969, murders of Sharon Tate, the pregnant wife of film director Roman Polanski, and four others at the Benedict Canyon home that Tate was renting.
But the following day, Van Houten, then 19, was part of a group that stormed into the LaBiancas' home. As Charles "Tex" Watson stabbed Leno LaBianca, Van Houten and another woman held down Rosemary LaBianca. After Watson stabbed Rosemary LaBianca with a bayonet, he handed a knife to Van Houten. She testified to stabbing Rosemary in the back at least 14 more times.
The blood of the victims was used to scrawl messages on the walls, as had been done at the Benedict Canyon home.
Van Houten, Manson and three others were convicted and sentenced to death, but after the California Supreme Court struck down the death penalty, their sentences were commuted to life in prison.
An appellate court overturned Van Houten's conviction in 1976, and a second trial the following year ended in a hung jury. She was convicted in her third trial in 1978 and sentenced to seven years to life in prison.
Starting in 1979, Van Houten went before the parole board almost regularly. In 1985, board member Rudolph Castro said her crimes "shocked the conscience" and her "willingness to join a marauding group … whose purpose was to commit crimes" warranted keeping her behind bars.
In recent years, Van Houten's attorneys characterized her as a model inmate, earning bachelor's and master's degrees from prison while running self-help groups for incarcerated women.
At a 2002 parole board hearing, Van Houten said she was "deeply ashamed" of what she had done, adding: "I take very seriously not just the murders, but what made me make myself available to someone like Manson."
According to comments carried by the Associated Press, she told the board Thursday: "I don't let myself off the hook. I don't find parts in any of this that makes me feel the slightest bit good about myself."
Near the end of the five-hour hearing, Commissioner Ali Zarrinnam told her: "Your behavior in prison speaks for itself. Forty-six years and not a single serious rule violation."
Manson, 81, and others convicted in the killings remain in prison. Watson and Patricia Krenwinkel have been denied parole several times, and Susan Atkins died in 2009.
Last summer, a review board recommended parole for Manson associate Bruce Davis, who was convicted in the 1969 slayings of Gary Hinman and Donald "Shorty" Shea. He was not involved in the Tate-LaBianca murders.
In January, Brown rejected parole for the 73-year-old, stating that "Davis' own actions demonstrate that he had fully bought into the depraved Manson family beliefs."
For breaking news in California, follow @MattHjourno on Twitter.

ALSO:
How a plan to create a much-needed park in Koreatown withered
Analysis: In brawling Brooklyn debate, Clinton and Sanders define big differences
Number of deadly infections from dirty scopes is far higher than previously estimated
Sign up for Essential California for news, features and recommendations from the L.A. Times and beyond in your inbox six days a week.
You may occasionally receive promotional content from the Los Angeles Times.