'We still suffer' from Manson murders, victim's daughter says in opposing Van Houten parole
Cory LaBianca acknowledges that one of the Manson family members who was convicted of killing her father and stepmother in 1969 has done some good things during her decades behind bars.
It's what Leslie Van Houten did before ending up prison -- joining in the grisly slaying at the couple's Los Feliz home -- that should determine whether she should be freed, LaBianca says.
At one point choking up, LaBianca told The Times she was disappointed that a California review board on Thursday recommended parole for the 66-year-old convicted murderer.
The five victims slain the night of Aug. 9, 1969 at the Benedict Canyon Estate of Roman Polanski. From left, Voityck Frykowski, Sharon Tate, Stephen Parent, Jay Sebring, and Abigail Folger. The next night, it happened again. Rosemary and Leno LaBianca, a wealthy couple who lived across town, were stabbed to death in their home.
(Associated Press)
Charles Manson is led back to his cell after court appearance in 1970.
(Bill Murphy / Los Angeles Times)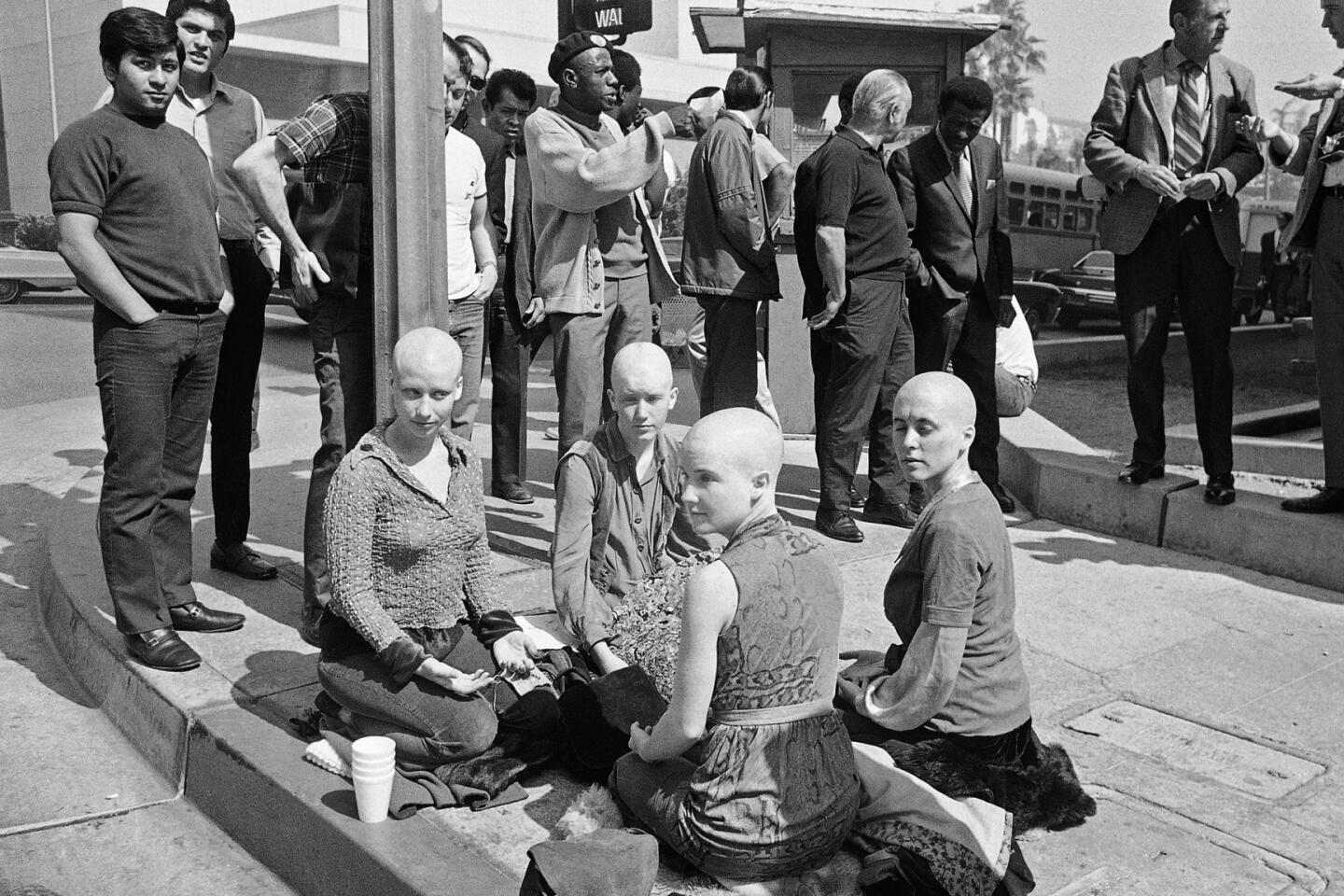 Four young female members of the Charles Manson "family" kneel outside the Los Angeles Hall of Justice on March 29, 1971, with their heads shaved. The women kept a vigil at the building throughout the long trial in which Manson and three others were convicted of murdering actress Sharon Tate and six others.
(Wally Fong / Associated Press)
Charles Manson is escorted to court for preliminary hearing in 1969.
(Bill Murphy / Los Angeles Times)
Charles Manson receives the news that he was denied parole in 1997, for the ninth time in March, 1997.
(Eric Risberg / Associated Press)
Charles Mansion in the high security area of the Corcoran State Prison in 1998.
(Kirk McKoy / Los Angeles Times)
"I very much disagree with the ruling," she said in a rare telephone interview. "We all need to be held responsible for our behavior. The least we can do, for someone who commits a crime against another human being, is to keep them in jail."
LaBianca did not attend the parole hearing, held at the California Institution for Women in Chino, but her cousin attended. Her son listened via telephone, she said. At one point, she said, he couldn't bear to hear the detailed account of the slayings.
"He started crying. My son is 41 years old," LaBianca said. "He stood, crying, and told the [parole] commissioner, 'I can't listen to this.'"
Over the years, members of her family have attended parole hearings but for the most part, she said, they chose to remain in the background. When her mother and the ex-wife of Leno LaBianca, Alice LaBianca, chose to speak out in 1998 against Van Houten's parole, it was considered a rare public statement.
On Thursday, as news set in that the board, after 19 prior denials, recommended parole for Van Houten, Cory LaBianca said she would ask Gov. Jerry Brown to block her release.
The ruling will be reviewed by the parole board's legal team. If upheld, it will be forwarded to Brown, who could decide against Van Houten's release. A spokesman for the governor said it would be premature for his office to comment.
Van Houten's attorney, Rich Pfeiffer, has said his client was long overdue for release, listing her accomplishments behind bars: earning bachelor's and master's degrees, running self-help groups and facilitating victim-offender reconciliation sessions.
According to comments carried by the Associated Press, Commissioner Ali Zarrinnam told Van Houten: "Your behavior in prison speaks for itself. Forty-six years and not a single serious rule violation."
Pfeiffer said that commissioners were impressed by how his client had spent her time in prison.
"A lot of people who oppose parole don't know anything about Leslie's conduct. Her role was bad. Everyone's was. But they don't know what she's done since then and all of the good she's done," Pfeiffer said.
To LaBianca, however, the accomplishments are eclipsed by the horror of what happened on Aug. 10, 1969.
Then 19, Van Houten and others stormed into the home of Leno and Rosemary LaBianca. As Charles "Tex" Watson stabbed Leno, Van Houten and another woman held down Rosemary. After Watson stabbed her with a bayonet, he handed a knife to Van Houten. She testified to stabbing Rosemary in the back at least 14 more times.
"And I took one of the knives, and Patricia had one a knife, and we started stabbing and cutting up the lady," Van Houten testified in 1971. (Patricia Krenwinkle was a co-defendant and family member).
The blood of the victims was used to scrawl messages on the walls, as had been done at the Benedict Canyon home where, on the previous day, Manson family members killed actress Sharon Tate and four others.
"Maybe Leslie Van Houten has been a model prisoner," Cory LaBianca said. "But you know what, we still suffer our loss."
"He didn't get to live his, and I'll live it for him," she said of her dad. "And I'm proud of that."
But the killings enter the mundane in unexpected, haunting ways. Recently, her grandson asked about her father, wondering how he died.
"How do you answer that to a 6-year-old?" LaBianca said, sighing. "It doesn't end. This doesn't end."
Do you think Leslie Van Houten should get parole? Tell us on Facebook >>

For breaking news in California, follow @MattHjourno
ALSO
Garcetti talks up economic recovery in 2016 State of City speech
UC Davis defends paying to remove pepper-spray references from Internet
In a win for unions, appeals court reverses ruling that threw out teacher tenure in California
Sign up for Essential California for news, features and recommendations from the L.A. Times and beyond in your inbox six days a week.
You may occasionally receive promotional content from the Los Angeles Times.