Amid gentrification fears, L.A. approves 725-unit apartment project in Chinatown
The Los Angeles City Council signed off Friday on a 725-unit apartment project in Chinatown, amid objections from activists who said it has no affordable housing and will result in the displacement of low-income residents.
On a 14 to 0 vote, council members backed the proposal from Atlas Capital Group, a New York-based real estate company, to construct five seven-story apartment buildings across from a Metro Gold Line light rail station.
The project, known as College Station, has been the subject of an opposition campaign by Chinatown Community for Equitable Development, which contends that the arrival of hundreds of market-rate homes will fuel gentrification, pushing up rents in nearby apartments.
The developer, in turn, contends that fears of displacement are unwarranted, since the property is currently a vacant lot. "The site has had no housing on it, and, therefore, there is no tenant displacement," said Jerry Neuman, an attorney for Atlas.
Mayor Eric Garcetti's appointees on the City Planning Commission attempted to address activists' concerns last year, voting to recommend that Atlas set aside 37 units, or 5% of the project, as affordable for very-low-income residents.
Those are defined as households that earn 30% to 50% of Los Angeles County's area median income, which was $69,300 last year.
Garcetti's appointees had argued that it would be not be "good zoning practice" to allow College Station to go without any affordable housing. Atlas disagreed, telling the council that it had no legal obligation to provide such discounted rents.
Councilman Gil Cedillo sided with Atlas, stripping the on-site affordable housing requirement from the project earlier this week.
Cedillo said his district, which stretches from Westlake to Highland Park, has already added 2,175 units of affordable housing since he took office in 2013. He also argued that Chinatown will need market-rate housing, since the neighborhood is attracting new restaurants, cafes and other businesses.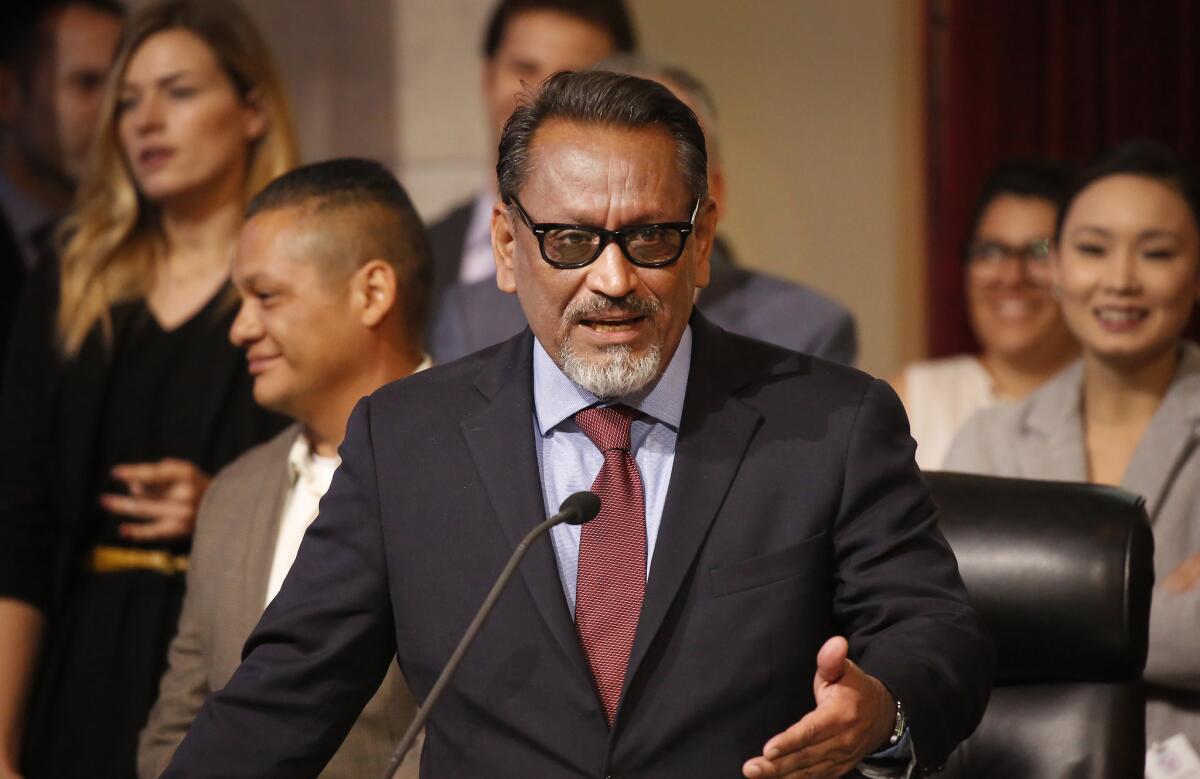 Chinatown is "attracting consumers and, moreover, those seeking employment," he said in an email to The Times. "We must ensure we provide them and an increasingly dense downtown city center with more options for housing to mitigate commutes to these new employers."
Cedillo said Atlas agreed to contribute $2 million to a fund set up by his office, with the money going toward the preservation of existing affordable housing or the construction of new below-market units. The company also reached a deal last year to provide $500,000 over 10 years to Meta Housing Corp., owner of the senior apartment complex known as Metro @ Chinatown Senior Lofts.
Cedillo said that money would ensure that residents of the low-income housing project, near the College Station site, would have no rent hikes for a decade. The project needed the money, in part, because its trash costs have gone up under RecycLA, a commercial recycling program approved by the council, he said.
Foes of College Station say those contributions are not enough to meet the needs of the neighborhood, whose residents have been seeing major rent hikes. Tiffany Do, a volunteer with Chinatown Community for Equitable Development, told council members earlier this week that Atlas should have ensured that its project is "100% affordable," with rents in every apartment below market rate.
"We need affordable housing, not more market-rate housing," she said during a hearing on the project.
Edwin Chen, who also testified against the project, said he was "appalled" by the council's decision to remove the affordable units. Chen, who described himself as a human rights activist living in Woodland Hills, said new market-rate developments in Chinatown are causing elderly immigrants, many of them low-income, to be squeezed out.
"You're going to have more hipsters coming in and more of the immigrant community pushed into the San Gabriel Valley," he said.
Activists have already begun taking aim at another Chinatown project in the pipeline — the 920-unit Elysian Park Lofts, planned near the College Station site. That development calls for a series of buildings as tall as 13 and 14 stories along Broadway, according to a project document filed with the city in 2017.
College Station is in a prime spot, sitting across from the new 32-acre Los Angeles State Historic Park and not far from the much larger Elysian Park. As part of Friday's decision, the council changed the zoning for the site and approved the environmental review for the project, which is expected to house seven or eight shops or restaurants, as well as a grocery store.
Amid the warnings about displacement, College Station has picked up support from business leaders and some housing advocates. Abundant Housing L.A., which favors the construction of new homes citywide, endorsed the project months ago and continued to support it after Cedillo removed the on-site affordable housing requirement.
Leonora Camner, the group's managing director, said College Station would have been a better project with some affordable units on the property. But she argued that by adding hundreds of apartments, the project can still play a role in addressing the issue of rising rents.
"I don't see College Station as the single solution to ending displacement in Chinatown," she said. "But it should be a part of the solution."
Twitter: @DavidZahniser
Sign up for Essential California for news, features and recommendations from the L.A. Times and beyond in your inbox six days a week.
You may occasionally receive promotional content from the Los Angeles Times.