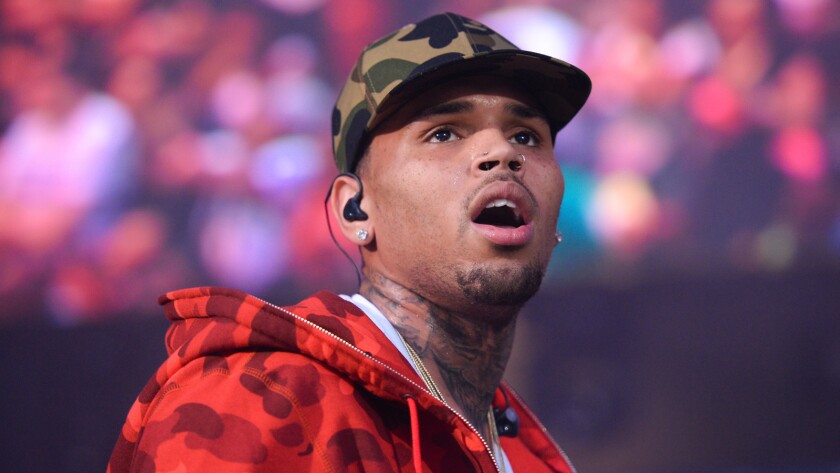 Chris Brown is in trouble with the law again, this time for allegedly threatening an actress with a gun at his Tarzana home.
What exactly is Brown accused of doing?
Early Tuesday, the LAPD received a 911 call about a woman claiming she had been threatened by the performer at his home during a party, police said.
The woman, Baylee Curran, told The Times that Brown pointed a gun at her during a violent rage before she ran outside.
Brown was arrested on suspicion of assault with a deadly weapon. He was released around 11:15 p.m. after posting $250,000 bail, according to Los Angeles County Jail records.
What is Brown saying in his defense?
On social media Tuesday, Brown said he was being unfairly demonized and did nothing wrong.
Brown is scheduled to be arraigned Sept. 20, according to jail records. He has not been formally charged. It is common for prosecutors to announce a decision on whether to file charges close to the date of arraignment.
His attorney also denied any wrongdoing by Brown.
What were Brown's previous legal problems?
Brown's bad boy image stems from the 2009 attack on his then-girlfriend Rihanna. He spent six years on probation after pleading guilty to the attack, and his probation was lifted in March 2015.
The singer completed about 1,000 hours of community service. He was also ordered to attend anti-domestic-violence classes.
In recent years, he has also faced charges in connection with driving without a license and accusations of a hit and run. He admitted in May 2014 to violating his probation after assaulting a person outside a Washington hotel.
Brown's former manager, Michael Guirguis, known as "Mike G," filed a lawsuit in June that alleged the singer attacked him. The lawsuit, filed in Los Angeles County Superior Court, contends the singer punched Guirguis four times in the face and neck on May 10.
What are the legal issues going forward?
Former Los Angeles County prosecutor Dmitry Gorin said it's important to see what evidence authorities have against Brown.
"At the end of the day it is a he-said, she-said scenario for the defense. The prosecution must find other witnesses, surveillance footage, the firearm in question, to corroborate what happened to ever be able to prove this case in front of a jury," he said.
"Prosecution theory of felony assault is that Chris Brown pointed the gun at the victim because he is a hothead and has a history of assaulting others," Gorin added. "The defense position may be the incident is exaggerated, by someone interested in fame and money, that no one was injured, and that the case does not belong in a criminal court because there is doubt over what happened."
How will Brown's record affect his punishment if convicted?
It's hard to know because no charges have been filed.
Felon in possession of a gun could be a charge prosecutors could consider because he was convicted of a felony in the Rihanna assault.
"Brown's prior criminal history hurts him. The D.A. will argue it shows a pattern of assault and battery against women. If Brown is convicted, the felony can also be used by the sentencing judge to justify imposing a harsher prison sentence," Gorin said.
---