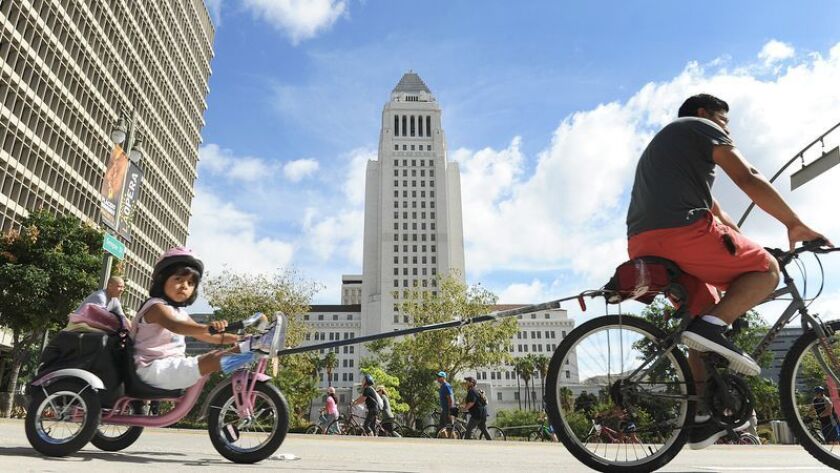 Thousands of bicyclists, skaters and pedestrians are expected to take over neighborhood streets near downtown Los Angeles on Sunday as part of the latest installment of the CicLAvia open-street festival, which encourages people to abandon their cars for the day and explore the city in new ways.
Stretches of Venice Boulevard, Seventh Avenue and Washington Boulevard will be closed to vehicle traffic in the Mid-City and Pico-Union areas from 9 a.m. to 4 p.m. as part of the free event, organizers said.
"Traveling through open streets … people of all ages can deepen their connection with L.A.'s dynamic and diverse neighborhoods,'" said Romel Pascual, CicLAvia executive director. "We're proud to have provided this transformational experience … and look forward to continuing to create events that inspire a more sustainable — and happier — transportation culture."
The festival was inspired by ciclovía events that started 40 years ago in Bogotá, Colombia, as a way to promote community, exercise and a more healthy environment.
Organizers say more than 1.6 million people have attended 29 CicLAvia events since the first one was held in 2010. There are three other CicLAvia events scheduled around L.A. this year. For more information, visit www.ciclavia.org.
---