Federal appeals court sides with immigrant convicted of cockfighting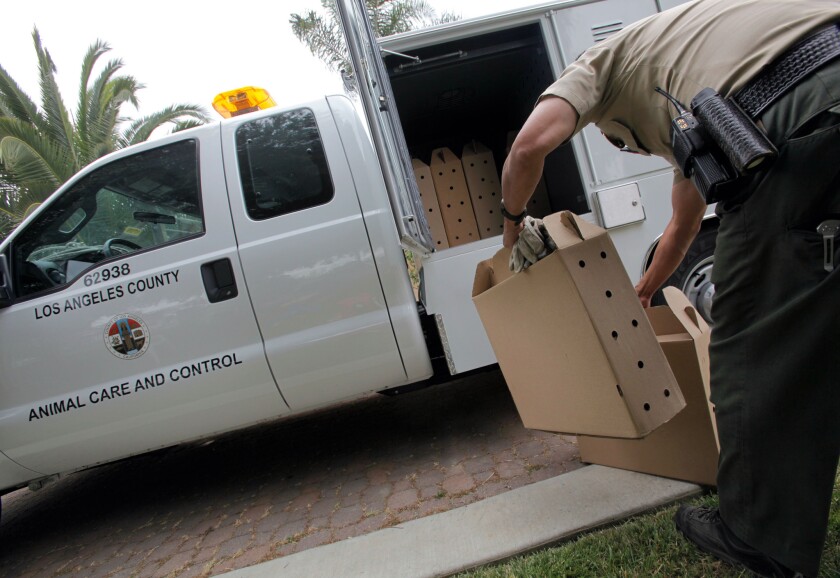 A federal appeals court ordered immigration authorities Tuesday to reconsider a decision that defined cockfighting as an offense of moral turpitude.
Agustin Ortega-Lopez, a Mexican citizen who lives in Oregon, was prevented from contesting his deportation because he had been convicted of participating in cockfighting, a misdemeanor that immigration judges ruled was a crime involving moral turpitude.
The prosecution said the immigrant's role in the cockfighting was minimal.
"He was hardly the Don Corleone (or even the Fredo) of this enterprise," U.S. 9th Circuit Court of Appeals Judge John B. Owens, a President Obama appointee, wrote for a unanimous panel, referring to characters from the mob drama "The Godfather."
The panel cited a previous ruling that said an offense of moral turpitude, outside the context of fraud, almost always is a crime that involves an intent to hurt someone, actual infliction of harm or an action that affects a "protected class of victim."
A protected class generally includes people who, because of their race or other characteristic, may be particularly vulnerable.
"The crime at issue involving harm to chickens is, at first blush, outside the normal realm," of crimes involving moral turpitude, the panel said.
The court said the immigration judges had failed to analyze whether cockfighting involved a protected class.
Ortega-Lopez came to the U.S. in 1992 without permission. He is married and has three children who are American citizens.
N. David Shamloo, his lawyer, praised the decision.
The court "sent a message to the executive branch that it can't just extend the duties that mankind has owed to other men to chickens."
The federal law against cockfighting was passed to protect people, not chickens, he said.
Shamloo said his client, a laborer, has been free while the case was pending.
Ortega-Lopez pleaded guilty to cockfighting in 2008 after he was advised by his lawyer that it was not a crime of moral turpitude, Shamloo said.
But the immigration judge who first heard Ortega-Lopez's case called animal fighting "base and depraved" and noted that all 50 states outlaw cockfighting.
Cruelty to children amounts to moral turpitude, the judge reasoned, and animals are defenseless living beings "akin to children," the 9th Circuit said.
"Unlike hunting or racing, animal fighting is a spectacle, the entire purpose of which is the intentional infliction of harm or pain on sentient beings that are compelled to fight, often to the death," the immigration judge wrote.
But the 9th Circuit noted that courts have determined that not even felony false imprisonment and kidnapping were crimes of moral turpitude.
"Congress has declared cockfighting a scourge that warrants prosecution, and we have no quarrel with that," the 9th Circuit said. "Yet that is not our inquiry here — rather, we must determine whether the conviction" involved moral turpitude.
"In answering this question, the government urges us to hold that cockfighting is a vile and depraved practice, which in its view ends the story," the panel said. "It does not."
"The fact that cockfighting is outlawed throughout the nation is not enough to justify categorizing it a crime of moral turpitude," the 9th Circuit said.
"More is required," the panel said.
Immigration judges will now have to reconsider the case.
Twitter: @mauradolan
---
UPDATES:
3:25 p.m.: This article was updated with additional details from the decision.
1:20 p.m.: This article was updated with additional information about Agustin Ortega-Lopez and comments from his lawyer.
This article was originally published at 12:40 p.m.
---
The stories shaping California
Get up to speed with our Essential California newsletter, sent six days a week.
You may occasionally receive promotional content from the Los Angeles Times.