L.A. school district will double staff helping with iPad rollout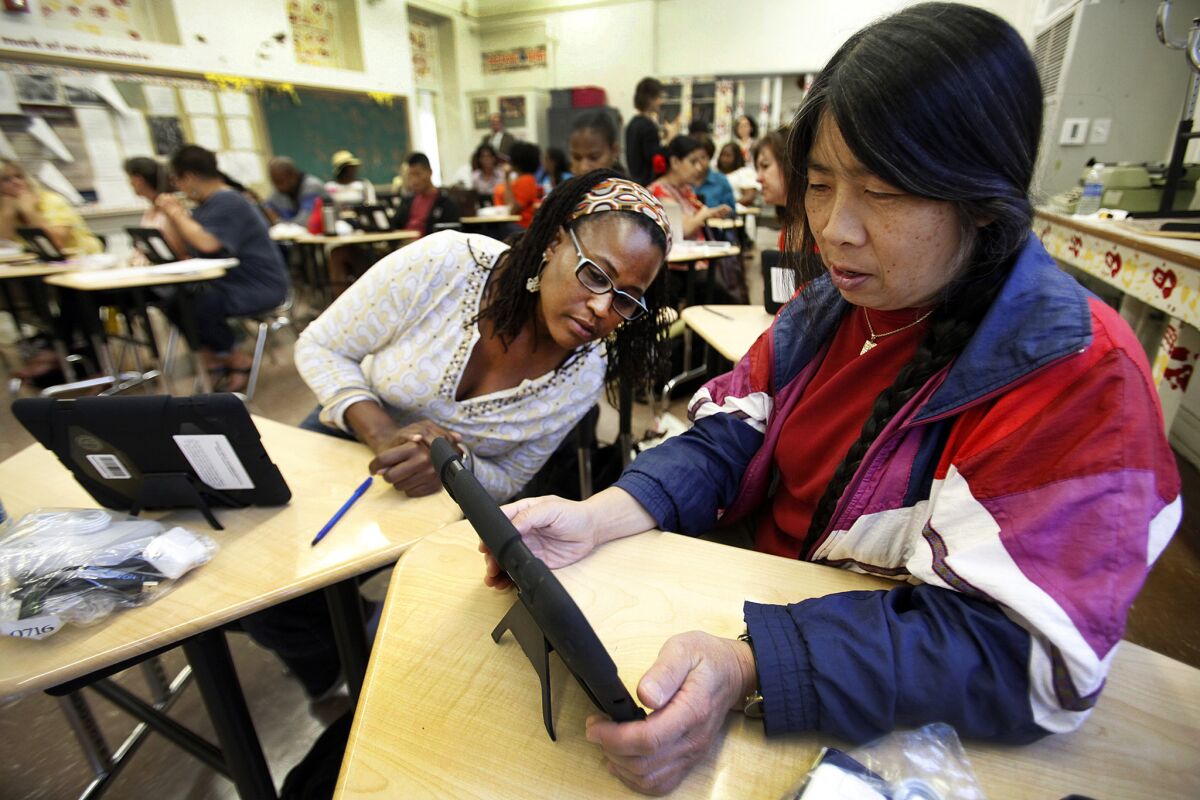 In response to problems with providing iPads to all students, teachers and campus administrators, the Los Angeles school system will double the number of people who will help with technical and instructional issues.
Getting such aid to L.A. Unified schools and teachers was one key recommendation from a critical evaluation of the district's $1.3-billion technology program.
The technical assistance this year will involve about 120 employees at a cost of about $3.9 million to the general fund and about $5.3 million charged to school construction bonds.
The report, released Wednesday, found that the speed and size of the district's effort created serious, widespread difficulties. They included technical glitches, inconsistent and incomplete training and poor communication within the district and with the public.
The result was reduced use of the iPads. And the curriculum being developed by Pearson, at a cost of about $200 per device for a three-year license, barely was being used at all.
District officials said they accept the findings and, for the most part, saw no surprises in the report.
Increasing the number of technicians, said project director Bernadette Lucas, will help schools fix technical issues faster. And adding more digital teaching specialists will assist instructors in using the iPads more effectively in the classroom.
The original timetable was for every student to have an iPad--at about 1,000 schools--by the end of 2014. Instead, all students will have them at 58 schools. The remaining campuses have a smaller number of iPads, while students at 20 high schools will try out laptops.
L.A. schools Supt. John Deasy last month suspended purchases under the iPad contract. There is no schedule yet for a new bidding process.
Lucas said the slower deployment represents an opportunity to concentrate on instruction. The district has revamped its training, focusing on developing a qualified "leadership team" at each school, consisting of the principal and small group of teachers. There also are training sessions across the school system that anyone can attend—even those at schools that don't yet have devices for every student.
One training for principals took place this month at the Hollywood studios of the Jim Henson Company, which were donated for the day. Principals got updates on web filtering, useful applications, what parents need to know and plans for sending the devices home with students. They also received a morale boosting studio tour that included a discussion of digital puppetry.
The technology project evaluation was conducted by the Washington, D.C.-based American Institutes for Research, which has a five-year $2.5-million contract.
The report recorded widespread complaints with the Pearson curriculum, and little use of it. Among 245 classrooms visited in May, only one was using the Pearson materials.
That picture should improve with a more intense focus on training, and it also helps that teachers now have access to the full curriculum, said Gerardo Loera, the district's head of Curriculum, Instruction, & School Support.
Twitter: @howardblume
---
The stories shaping California
Get up to speed with our Essential California newsletter, sent six days a week.
You may occasionally receive promotional content from the Los Angeles Times.