L.A. overrules tenant activists, allows Beverly Grove apartments to become condos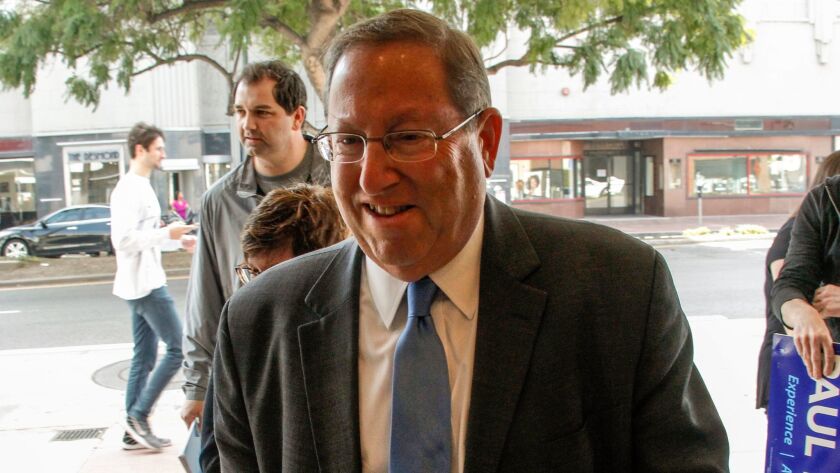 Los Angeles lawmakers voted Friday to allow a pair of Beverly Grove apartment buildings to be converted into condominiums, overriding the objections of tenant activists who argue that flawed data is fueling the elimination of sorely needed rental units.
The furor over the buildings comes as activists and lawmakers have raised concerns about how the city gauges the vacancy rate — a crucial figure for deciding whether apartments can be converted into condos.
"When you use bad data, it leads to more condo conversions, which leads to the loss of more rental housing," said John Henning, a land use attorney and neighbor opposed to the plan.
But City Councilman Paul Koretz, who represents the area where the apartments are located, said he had reluctantly decided to back the plan because there was no basis to turn down the developer under the existing rules. The council ultimately voted 11-2 to reject the appeals against the project, with Koretz vowing to reexamine those rules.
"If we're going to move city policy towards preserving affordable housing — and we must — we're not going to accomplish it on a case-by-case basis," Koretz said.
The two buildings, known as the Mendel and Mabel Meyer Courtyard Apartments, have long been a focus of tenant activists worried about the loss of rent-stabilized apartments. Nearly two years ago, they successfully pushed the city to recognize the buildings as a historic property, in an effort to protect them from being demolished.
But activists were unable to prevent renters from being ejected through the Ellis Act, which allows tenants to be evicted from rent-controlled buildings if the owner is tearing down a building or getting out of the rental business. Instead of demolishing the buildings, real estate developer Guy Penini sought to turn them into an eight-unit condominium project.
Henning and the Los Angeles Tenants Union fought the plan, charging that it would worsen the housing crisis. They also complained that L.A. was relying on faulty information: The city is supposed to turn down condo conversions if the vacancy rate in the surrounding area has fallen below 5% and the rental housing market has been significantly affected over time by apartments being turned into condos, shops or factories, in addition to other factors.
Planning officials pegged the vacancy rate in the area surrounding the Flores Street apartment buildings at around 6%, using information about idle Department of Water and Power meters. At the Friday hearing, senior planner Jane Choi said that meter data has been valuable because it provides a unit-by-unit measure.
But critics point out that information now dates back more than a year and a half. The Department of Water and Power can no longer provide current data about idle meters to the planning department: City planner Claire Bowin said that after overhauling its computer systems, the utility could only give them a "snapshot" of how many meters were idle on a particular day, instead of showing how many had remained idle for 10 months or longer, data the department needed. Bowin said the planning department discovered that discrepancy only earlier this year.
Critics of the condo conversion have also questioned whether the idle meter information was a reliable way to gauge vacancies at all. Tenant activists pointed to an analysis of Census Bureau data, undertaken by a UCLA researcher, that showed the vacancy rate in the area surrounding the Flores Street apartments for multifamily rentals was under 5%.
Sylvie Shain, a member of the tenants union, said there was also evidence of a "significant cumulative impact" on rentals, including a 17% drop in the number of rent-controlled units in the immediate area since 2005.
"We need to do everything in our power to make sure that we retain rent-stabilized housing," Lincoln Heights resident Adam Overton said.
Attorneys representing Penini said the city data on vacancies was timely when the application was turned in. They pointed out that planning officials said in five years, there had been only six applications for condo conversions in the 14-square-mile area surrounding the project — not enough to cause a significant effect on the rental market, they argued. And Elisa Paster, who is representing Penini, said that after the buildings were deemed historic, a condo conversion was "the only way for the project to pencil."
"We should not be singled out and made out to be villains when we are allowed and in fact encouraged to do this," Paster said in an email.
The two lawmakers who voted against the condo conversion were Gil Cedillo and Mike Bonin. Cedillo said if there is uncertainty over the vacancy rate, the city should side with the tenants, especially as the city faces a shortage of affordable units. "When you're in a hole, it's time to stop digging ... Are we going to make the choice to stop digging?" Cedillo asked.
Koretz has called for L.A. to bar developers from turning apartments into condos unless the area vacancy rate has been updated in the past year. Planning officials are also reexamining how they determine whether condo conversions will have a significant effect on the rental housing market. And Bowin said planning staffers are now crafting a new method to gauge the vacancy rate in each area, since it can no longer rely on information about idle meters.
Condo conversions boomed before the last recession, but only 19 applications were turned in for condo conversions citywide in the past five years, according to Choi.
Twitter: @LATimesEmily
---
For reporting and exclusive analysis from bureau chief John Myers, get our California Politics newsletter.
You may occasionally receive promotional content from the Los Angeles Times.