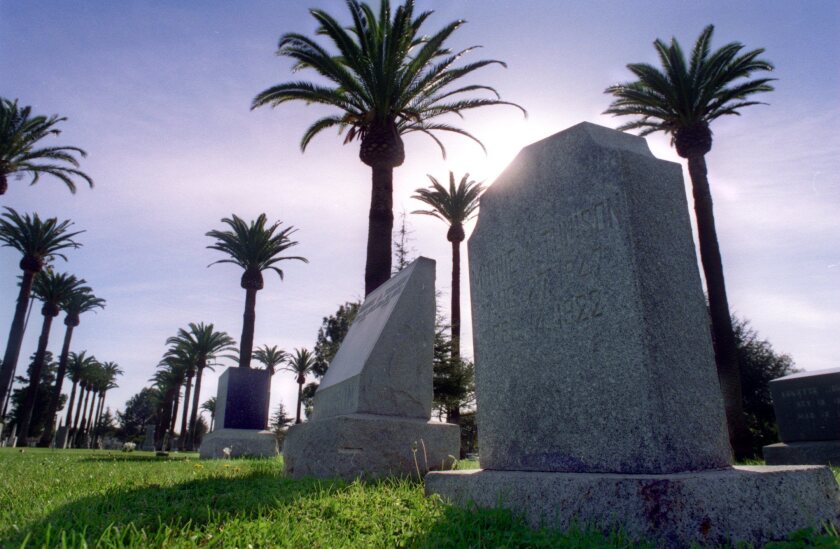 One of the last remaining Confederate monuments in California was vandalized days after the Fourth of July.
The Sons of Confederate Veterans monument was erected in the Santa Ana Cemetery in 2004. On Sunday, it was discovered covered in red paint with the word "racists" written vertically down one side.
The 7-ton granite monument is dedicated to those who fought for the Confederacy in the Civil War. It includes the names of 33 people with ties to the Confederacy, including Jefferson Davis, Robert E. Lee and Stonewall Jackson.
In the past two years, as monuments and statues dedicated to Confederate soldiers have been taken down throughout the country amid an outcry over the glorification of a history tied to slavery and racism, the Orange County Cemetery District Board grappled with a decision regarding the monument's future.
Orange County Cemetery District general manager Tim Deutsch said the board initially agreed that the monument could stay put with some modifications, which included limiting the names inscribed on the memorial to soldiers who died in Orange County after the war. More than 300 Civil War soldiers are buried in Santa Ana.
But more recently, the district couldn't find details on the original board action regarding the monument's approval. When the Sons of Confederate Veterans failed to respond to the board's letters about modifications and permit violations, members approved its removal on July 2. Until it is removed, Deutsch said the monument remains concealed from public view under a tarp after efforts to remove the graffiti failed.
Debate over the place of Confederate symbols in American history escalated in 2015 after a self-proclaimed white supremacist massacred worshipers at a Charleston, S.C., church. Following the mass shooting, President Obama called for the removal of the Confederate flag from places of honor, saying it was a "reminder of systemic oppression and racial subjugation." Soon after, South Carolina lawmakers voted to take the flag down from the Statehouse.
The debate has continued, and escalated to a new level in 2017. A Unite the Right rally turned violent when a group protesting the removal of a Robert E. Lee statue in Charlottesville, Va., clashed with demonstrators on the opposite side. The chaos ended with a white supremacist plowing his car into a crowd of demonstrators, leaving one woman dead.
Gordon Bricken, an amateur historian and former mayor of Santa Ana who helped establish the monument, uncovered much of Santa Ana's Civil War connections before his death in 2013. With the help of a group of Civil War buffs, he was able to locate the graves of more than 800 Civil War veterans in Orange County.
His daughter, Patricia Bricken, told the Orange County Register that the monument was never meant to glorify the negative history often attached to the Confederacy.
"That's part of our freedom, is that we should be able to erect monuments to whoever we want, especially on private land," she said. "We didn't force it down anybody's throat at all."
---