South Carolina church massacre survivor: Witness to horror — and justice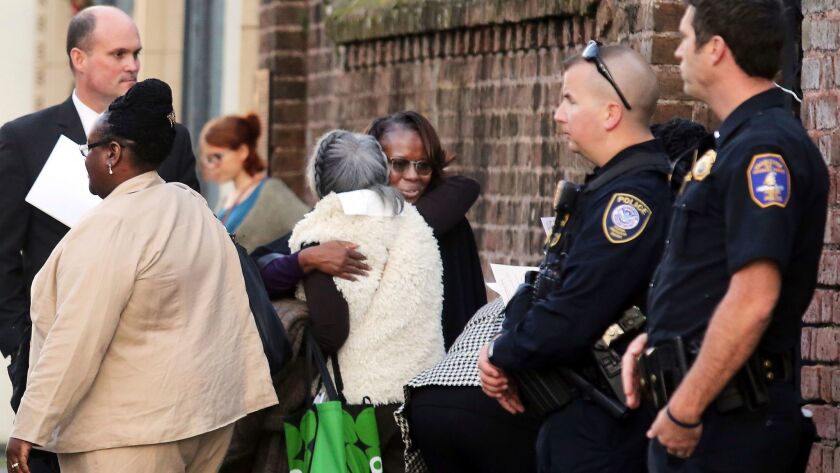 Reporting from CHARLESTON, S.C. —
She was there the night Dylann Roof gunned down her son and eight other parishioners who welcomed him to their church. She was there when Roof's trial opened — the first to testify about the horror of that night.
And she was there last week when a judge sentenced him to death.
Through it all, Felicia Sanders has been a dignified presence who also has embodied the roiling and sometimes conflicting emotions unleashed by the massacre Roof carried out at Emanuel African Methodist Episcopal Church. She has called the young white supremacist the embodiment of evil — "There is no place on Earth for him, except the pit of hell" — but also has asked God to have mercy on him and in court treated him with a grace observers found astonishing.
When Sanders stood to speak before a judge pronounced sentence, she addressed him by his full name: Dylann Storm Roof.
"You deserve respect," the 59-year-old African American hairstylist informed the 22-year-old high-school dropout, softly and matter-of-factly, even if he had shown no respect for her loved ones.
Roof did not lift his head to look at her.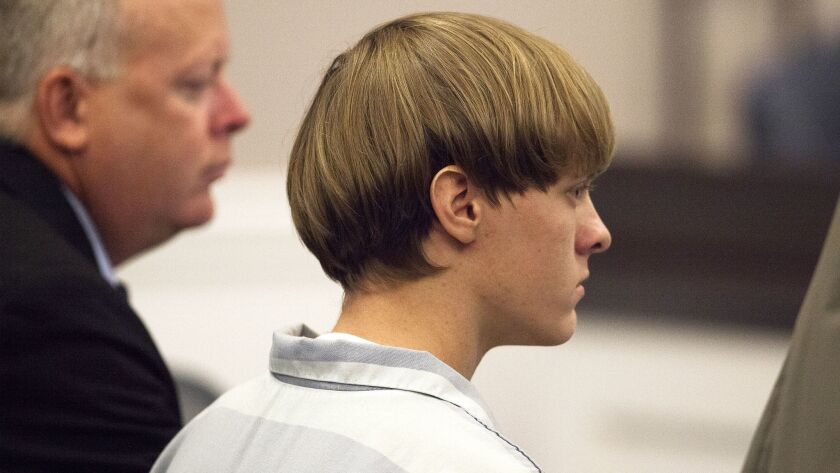 One of three survivors of the June 17, 2015, mass shooting, Sanders attended every day of the historic hate-crimes trial.
"You took my loved ones away from me and since June 17, I've gotten to know you," she said at his sentencing. "Yes, I know you."
"You are in my head, all day," she told him, explaining how unsettled she is now. "I can't hear balloons pop. I can't see the fireworks. I can't hear something as small as an acorn drop from out of a tree. And most importantly, I cannot shut my eye to pray. Even when I try, I cannot, because I have to keep my eye on everyone around me."
Day after day, throughout the monthlong trial, she and her husband, Tyrone, sat on a wooden bench on the front row of the courtroom as prosecutors presented evidence — gruesome crime scene photographs of their loved ones splayed on the fellowship hall's floor, video of Roof firing guns in his backyard, his interview with FBI agents.
"I had to do it," Roof told FBI investigators after his arrest. "Black people are killing white people every day on the streets, and they rape white women. What I did is so minuscule compared to what they're doing to white people every day."
Sanders said she and the 11 others gathered for Bible study were Roof's friends.
"I just love people ... even this guy himself," she told reporters after the jury found Roof guilty in December of all 33 federal charges. "If only he had waited right after we said the prayer, we would have all gathered around him and found out his needs or his wants, and invite him to come back."
A lifelong member of Emanuel, the oldest AME church in the South, Sanders attended Bible study every Wednesday.
She had strong ties with everyone who assembled in the church basement that fateful night. One of them was her son, Tywanza Sanders, a 26-year-old poet who worked two jobs at a barbershop and Steak 'n Shake and left her enough poems to read for the rest of her life. Susie Jackson, her 87-year-old aunt, who supported her through breast cancer, was her best friend and "the sweetest person I know."
Others were connected by faith. Every Sunday, she sat next to the Rev. Dan Simmons, 74, a retired pastor and backbone of the church. She grew up with Myra Thompson, 59, an English teacher and guidance counselor who was overjoyed to lead Bible study that night for the first time.
When a young white man walked into the church basement, she assumed he had come in search of the Lord.
Her beloved pastor, the Rev. Clementa Pinckney, a 41-year-old state senator, welcomed the stranger, pulling out the seat next to him and handing him a Bible and worksheet on the book of Mark's parable of the sower — about faith growing like a seed planted in good soil.
Roof sat passively with his head down during the 40-minute class. It wasn't until the group stood up, closing their eyes for a final prayer, that Sanders heard a boom. At first, she assumed the electrical transformer had blown and then it dawned on her: Roof had shot the Rev. Pinckney.
As bullets flew around the room, Sanders grabbed her 11-year-old granddaughter, ducked under a table and covered her face so tightly she worried the girl might suffocate.
"Granny, I'm so scared," her granddaughter said.
"Be quiet," she hushed. "Just play dead."
The tactic saved both their lives. Lying on the linoleum floor — Tywanza on one side and Aunt Susie on the other — Sanders dragged her leg through the blood of her loved ones so Roof would think he had shot her.
A third worshiper, Polly Sheppard, a retired nurse, also survived. As she prayed out loud under a table, Roof asked her if he had shot her. He told her he would let her live so she could tell the story.
Tywanza was not so fortunate. As Roof approached Sheppard, Tywanza stood up in an attempt to distract him.
"Why are you doing this?" he asked.
"Y'all are raping our women and y'all are taking over the world," Roof replied.
"You don't have to do this," Tywanza pleaded. "We don't mean you no harm."
"That's when he put five bullets in my son," Sanders testified. "I couldn't move. I was just waiting on my turn."
Before he died, Tywanza screamed for Aunt Susie, reaching over to her and grabbing a handful of her hair.
"We watched him take his last breath," Sanders said. "I watched my son come into this world and watched my son leave this world."
Less than 48 hours later, at Roof's bond hearing, she peered into Roof's impassive face, projected on a courtroom TV screen.
"You have killed some of the beautifulest people that I know," she told Roof, her strong voice trembling. "Every fiber in my body hurts and I'll never be the same. … Tywanza was my hero. But as we say in the Bible study: we enjoyed you, but may God have mercy on you."
Still, Sanders struggles to understand Roof.
"I feel sad for you," she told him before the judge sentenced him to death. "When I look at you, I just see somebody is cold, who is lost, who the devil has come back to reclaim."
"Yes, I forgive you. That was the easiest thing I had to do. But you can't help someone who don't want to help themselves and that is you."
She no longer attends Sunday service at the historic church that served as a nucleus for so many generations of her family and friends. Yet she still clings to her faith, saying God is the only thing she has to lean on. She now attends Bible study at a different church near Emanuel, with a predominantly white congregation.
On the last day of the trial, she clutched her tattered, bloodstained Bible as she walked up to a lectern to address Roof.
Even though it's all "torn up, shot up," she told him, she still cherished her book. "It reminds me of the blood Jesus shed for me and you, Dylann Roof. … It will never lose its power."
Jarvie is a special correspondent.
MORE ON DYLANN ROOF
South Carolina killer Dylann Roof tells jurors: 'Nothing wrong with me psychologically'
Jury condemns Dylann Roof to death for Charleston, S.C., church shooting that killed 9
Dylann Roof hears from his victims' relatives: 'You're Satan himself, and instead of a heart, you have a cold, dark space'
---
Must-read stories from the L.A. Times
Get the day's top news with our Today's Headlines newsletter, sent every weekday morning.
You may occasionally receive promotional content from the Los Angeles Times.