L.A. Metro will study how to make driving more expensive — in your car or in an Uber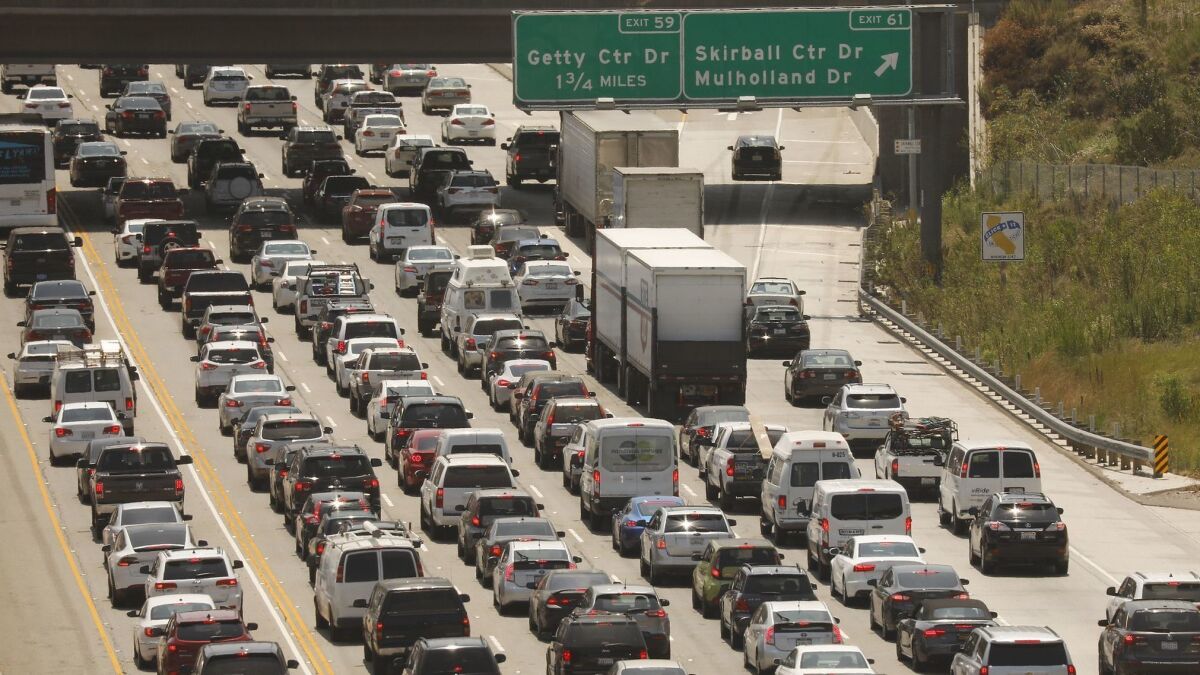 In an attempt to tame traffic, Los Angeles County transportation officials Thursday took their biggest steps yet toward making driving in the region more expensive, approving studies on how to impose more tolls, taxes or other fees on private driving and ride-hailing trips.
The Metropolitan Transportation Authority voted unanimously to move forward with the region's first comprehensive analysis of congestion pricing. One study will analyze the effects on traffic if drivers were charged a per-mile tax or an entry fee to certain neighborhoods, or if more carpool lanes were converted to toll lanes.
Another study will detail how many trips are made by Uber and Lyft, what effect the ubiquitous for-hire cars have on traffic congestion, and whether adding a fee could shift some riders toward carpooling or public transit.
That same study also will examine whether to levy a fee on shared bicycles, electric scooters and other devices. Agency estimates show that charging $1 a day for each device, regardless of the number of trips, could collect $580 million over a decade.
The proposals to charge more to drive, bike or scoot in the region were introduced as a way to raise funds for transportation projects before the 2028 Olympic Games. But Metro directors voted Thursday to separate those goals.
"This has to be about congestion relief and not to generate more revenue," Los Angeles Mayor Eric Garcetti said. "This is an effort that can't be and shouldn't be rushed. That isn't to say that we want to go slow and kill this thing off. But we have to be deliberate."
Each study will take a year to two years and will examine how a fee structure could affect traffic flow, transit ridership and low-income commuters. No new fees would be imposed until the studies are finished, officials said.
If both proposals are approved, Metro would launch a pilot program of congestion pricing and a tax on Uber and Lyft at the same time, officials said.
Imposing more tolls would offer a smoother drive for those who choose to pay, officials say. Getting more drivers off the road could free space to speed up bus service, while the billions of dollars in revenue could fund a vast expansion of the transit network, Metro said.
Early critics of the congestion pricing proposal have said additional fees could be a burden for low-income households that spend a significant share of their monthly income on transportation.
"What's prohibitively expensive for someone of limited means is a drop in the bucket for the affluent," Eric Preven, who serves on the Studio City Neighborhood Council, said during Thursday's meeting.
But addressing concerns about low-income households does not apply only to drivers, said Los Angeles City Councilman and Metro director Paul Krekorian. Buses sit in the same traffic that private cars do, making service slower and less reliable, and inconveniencing some of L.A. County's poorest residents, he said.
"The assumption often is, when we talk about congestion pricing, that we need to be concerned about car-dependent people," Krekorian said. "The truth is, a hugely disproportionate percentage of our riders are transit dependent."
Metro's bus riders have a median household income of less than $18,000, and four out of five passengers have no access to a car. Metro has argued that charging drivers more to use freeways and streets would free up space for buses to run faster, potentially improving their efficiency.
A modest form of congestion pricing is already in place on the 110 and 10 freeways, where drivers who are alone in their cars can pay by the mile to use carpool lanes. As traffic congestion in the lanes rises, so do the tolls — to a maximum of $20 for a one-way trip.
To make the charges palatable to drivers, experts say any congestion pricing scheme must be coupled with frequent, reliable public transportation, so people don't feel as though they're being pushed out of their cars with no other options.
Metro has toyed with the possibility of using the revenue from a congestion fee to expand transit and further subsidize fares, making using the service much cheaper or even free. Right now, taxes cover about 80% of the system's operating costs.
The proposal to tax Uber and Lyft dismayed many Angelenos, who have become reliant on the vehicles that cost far less than in other major U.S. cities. In Los Angeles, a rider using UberX would pay $11 or more for a 5-mile ride starting in downtown. In Manhattan in New York, the same ride costs more than twice as much.
That low price point is one reason that the ride-hailing companies, once heralded as possible partners for transit agencies, have instead become fierce competition. In some urban areas, Uber and Lyft have dramatically increased congestion, studies show.
A recent study of travel patterns in major U.S. cities found that 60% of customers would have walked, biked or taken transit — or just stayed home — if Uber and Lyft had not been available. San Francisco found that the companies create up to 26% of traffic during rush hour in the city's most congested areas.
The rise of Uber and Lyft is one of many factors contributing to L.A.'s plummeting transit ridership, which has fallen 20% in the last five years despite the billions of dollars spent on new rail lines. Ridership is at its lowest level in more than a decade, driven by a shift to driving instead of using Metro's sprawling bus and rail network.
Metro officials have said that they could smooth out gridlock during rush hour by charging a premium fee to drive at certain times of day or in certain areas. That could encourage people to shift their commute times or switch to transit or carpooling, they said.
If Metro pursues that policy, officials should work with major employers to encourage more flexible start times and telecommuting, easing pressure on workers who face long commutes and rigid work schedules, said Metro director and Los Angeles County Supervisor Janice Hahn.
"Most people are on the road because they have to be somewhere at a specific time," Hahn said. "I'm not sure that many people have the luxury of saying, 'I'll wait an hour before I get in my car.' "
For more transportation news, follow @laura_nelson on Twitter.
---
The stories shaping California
Get up to speed with our Essential California newsletter, sent six days a week.
You may occasionally receive promotional content from the Los Angeles Times.