Southern Californians are on a car-buying spree, and that's cutting deeply into transit ridership, study says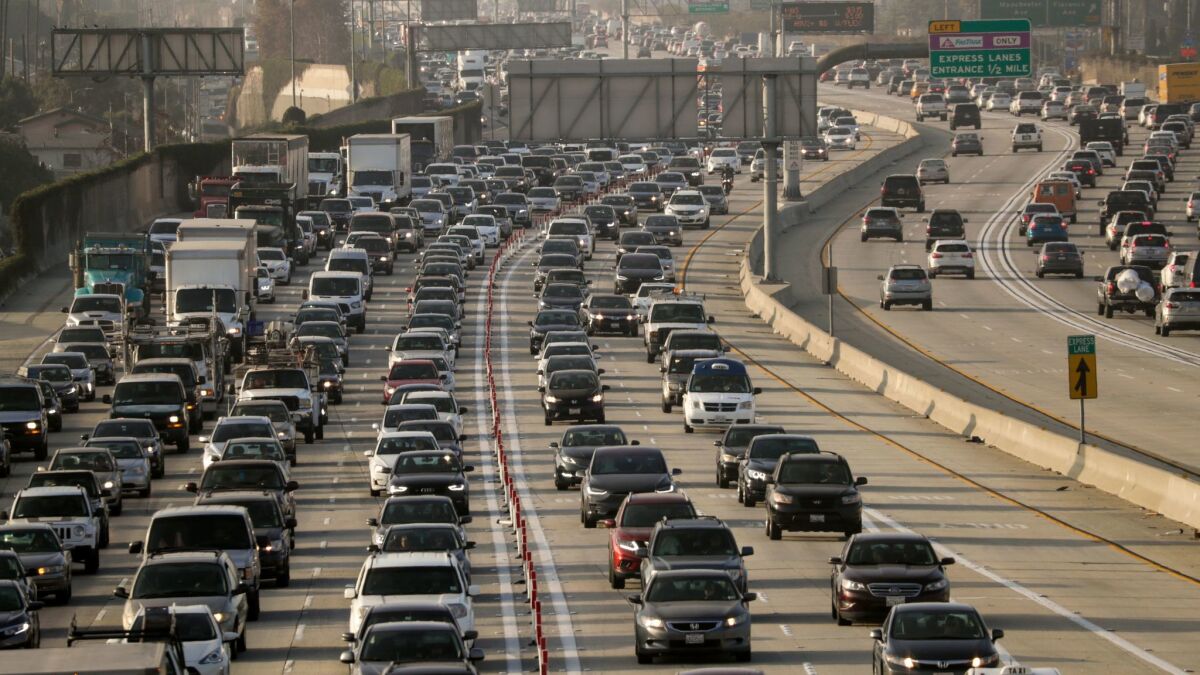 The vast majority of public transit agencies across Southern California, from modest municipal carriers to the West Coast's largest bus system, have watched their ridership numbers fall off a cliff over the last five years.
As data has revealed multi-year decreases of up to 25%, experts and officials have stopped debating whether the decline exists, and have instead turned their attention to why.
Their frequent theories? Cheap gas, concerns about security on transit, gentrification and the suburbanization of poverty, changing immigration patterns, and the rise of transportation companies such as Uber and Lyft.
While those factors may still play a role, a surge in vehicle ownership across Southern California is largely to blame for the ridership decline, according to a new UCLA study.
The study of U.S. Census data and ridership figures, prepared by the UCLA Institute of Transportation Studies, called the increase in car ownership a "smoldering, if not a smoking, gun" to suggest why transit ridership across the region fell by 72 million trips over a five-year period.
From 2000 to 2015, residents in Los Angeles, Orange, Riverside, Imperial, Ventura and San Bernardino counties bought nearly four times as many cars per resident as they did from 1990 to 2000, researchers found.
During the 15-year period, the share of Southland households that had no access to a car fell 30%.
The hike in car ownership was higher among immigrants, who have historically been loyal transit riders, particularly during their first years in the United States. The share of immigrant households without a car fell by 42% over the 15-year period, the study said.
"That exploding level of new automobile ownership is largely incompatible with a lot of transit ridership," said Michael Manville, one of the study's authors and an assistant professor of urban planning at the UCLA Luskin School of Public Affairs.
The study said that families put even modest pay increases toward cars, aided by the rise of low- and zero-interest auto loans.
When low-income riders can scrape together enough money for a car, they become less likely to take transit and more likely to drive, in part because Southern California's sprawling suburban areas, plentiful parking and extensive freeway network encourage driving, researchers said.
Any change that takes a group of loyal transit riders away from the system will have a significant impact on overall ridership numbers because so few Southern California residents rely on transit or ride it regularly.
More than three-quarters of the region's 19 million residents rarely, if ever, get on a bus or a train. Fewer than 3% of residents take more than 25% of the Southland's transit trips, and riders are overwhelmingly poor and non-white.
Researchers said they also found some evidence that neighborhoods with a high concentration of transit riders in 2000 had become slightly wealthier, and had fewer immigrants, 15 years later.
That suggests some low-income residents may have been displaced to areas with less frequent transit service, they said, but added it would be "premature" to declare that gentrification was a significant factor in falling ridership.
Shifting some of those riders toward cars could spell trouble for transportation agencies, which have long served a group of riders who have no other transportation options.
On the Los Angeles County Metropolitan Transportation Authority, which provides the lion's share of Southern California transit trips, the average Metro rider is not white, has no access to a car, and has a median income of about $16,000.
The exodus of passengers from Metro's buses and trains represents 72% of the total ridership losses across California, researchers found. Bay Area transit agencies, including San Francisco's Muni, have bucked the declining ridership trend, with trips increasing by 20%.
"We need to take this study as an opportunity to figure out how we make transit work better for us," said Hasan Ikhrata, the executive director of the Southern California Assn. of Governments, the metropolitan planning organization for the six-county area. "The region needs to provide choices for people, and let people decide how to take these choices."
Bringing low-income riders back to public transportation might seem a logical option for agencies concerned about ridership losses, the study said, but pursuing policies to achieve that goal could make the region poorer.
Although costly to buy and maintain, cars can dramatically improve the lives of immigrants and low-income residents in Southern California, providing faster and more efficient access to classes, better jobs and other opportunities.
To address the grim transit figures, researchers said, Southern California will need to improve transportation options and confront the fact that driving remains "artificially inexpensive" — meaning what commuters pay to drive through insurance, gas and tolls does not reflect the true cost to the region.
New York has begun to contemplate tolls on bridges and tunnels that would fund the dysfunctional subway system, and drivers in London have paid tolls to enter parts of the central city for more than a decade.
But so far in Southern California, similar proposals to raise the cost of driving — which could include removing parking or charging higher rates by tolling on busy roads — have been politically unpopular.
Another option, researchers said, would be to persuade the vast majority of Southern Californians who rarely set foot on a bus or a train to try commuting that way from time to time — a task far more difficult, they said, than serving people who are on the bus because they have no other choice.
For more transportation news, follow @laura_nelson on Twitter.
The stories shaping California
Get up to speed with our Essential California newsletter, sent six days a week.
You may occasionally receive promotional content from the Los Angeles Times.