Corinthian Colleges must pay nearly $1.2 billion for false advertising and lending practices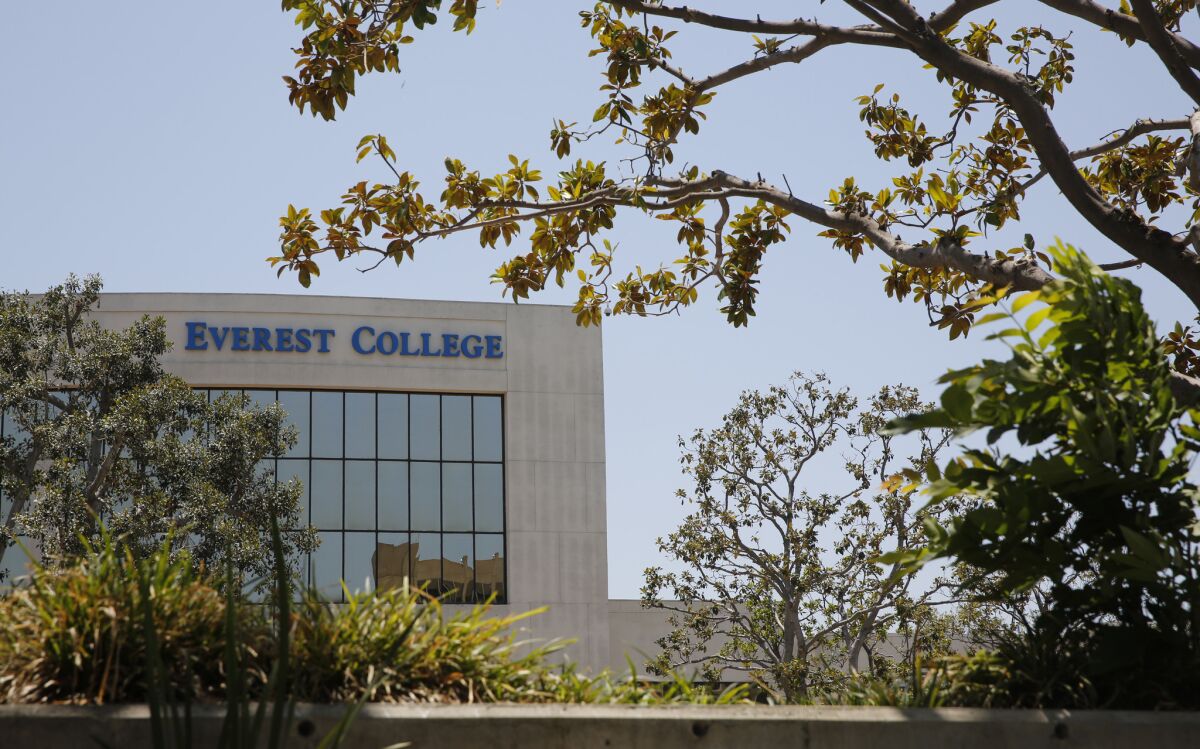 California Atty. Gen. Kamala D. Harris won a more than $1.1-billion judgment Wednesday against the now-defunct Corinthian Colleges, after a San Francisco judge ruled that the company's advertising practices misled students and violated the law.
Granting a default judgment, San Francisco Superior Court Judge Curtis Karnow found that Corinthian Colleges provided untrue or misleading statements about graduates' job placement rates, duping both students and investors, and that the Santa Ana-based company unlawfully used U.S. military seals in advertisements, among other claims.
The for-profit college operator, which filed for bankruptcy protection in May, was also faulted for advertising programs or degrees that it didn't offer, such as training programs for X-ray and dialysis technicians, according to court papers.
The judgment found that Corinthian and its subsidiaries had unfair and unlawful debt collection practices, including barring students from attending classes if they were behind on loan payments, and that they failed to disclose their role in the "Genesis loan" program.
Corinthian Colleges, along with its Heald College business, were also faulted for misrepresenting the likelihood of whether academic credits earned at their programs could be transferred to the Cal State system, according to court papers.
In his 21-page judgment, Karnow ordered restitution of $820 million for students and civil penalties of just more than $350 million.
"For years, Corinthian profited off the backs of poor people -- now they have to pay. This judgment sends a clear message: There is a cost to this kind of predatory conduct," Harris said in a statement.
Harris filed suit against Corinthian Colleges Inc. and its subsidiaries in 2013, accusing the company of targeting low-income students with a "predatory scheme," touting untrue job placement rates.
Troubles mounted for the company, with another lawsuit filed by the U.S. Consumer Financial Protection Bureau and a probe by the Department of Education into Corinthian's falsified job placement rates.
In April 2015, the U.S. Department of Education levied a $30-million fine against Corinthian, alleging that its Heald College system boosted official placement rates by paying temporary employment agencies to hire students for brief stints after graduation.
When the company filed for bankruptcy protection last year, it listed debts of $143 million and assets totaling $19.2 million. About five years earlier, it claimed assets of nearly $1.4 billion.
In the lawsuit filed in California, Harris' office sought a default judgment last month, and at a hearing scheduled for Tuesday, attorneys for Corinthian did not appear, according to court papers.
Earlier this month, attorneys for Corinthian asked to withdraw from the case, writing in court papers that "there is literally no representative of any defendant with whom" they could confer about the case. The judge denied the lawyers' request.
The judgment issued Wednesday applies to Corinthian students as well as those who attended Heald, Everest College, WyoTech, Everest's online programs and Everest College Phoenix.
Harris' office has the authority to distribute whatever funds it obtains from the judgment to students who attended Corinthian and its related schools in California from 2010 onward.
The attorney general's office set up a website for affected students.
For breaking news in California, follow @MattHjourno.
The stories shaping California
Get up to speed with our Essential California newsletter, sent six days a week.
You may occasionally receive promotional content from the Los Angeles Times.