Wildfire in Yolo County spreads to 60,000 acres; only 5% containment
On Saturday night, the County fire in the Yolo County countryside roared to life as firefighters ordered evacuations and battled to get a toehold on the 32,500-acre blaze in the face of hot, gusty winds.
When Marian Flanders and her husband saw thick plumes of smoke from their kitchen window in Yolo County, they divvied up a list of tasks they needed to get done in case they had to escape.
She loaded their horses onto a trailer and dropped them off at a boarding stable, drove their two cats to the vet, and stuffed a pillowcase with her jewelry and important paperwork. He turned on the sprinklers, opened the gate in case fire crews needed to get through and cleared stray branches from their four-acre property.
That much, they agreed on. A more agonizing choice came Sunday afternoon, when the evacuation zone was expanded to include their Esparto home. She wanted to leave; he wanted to stay behind to save his house and a lifetime of possessions.
It was a drama familiar to many Californians, who in recent years have faced a relentless, year-round fire season. Fire officials said this week that red flag conditions — a perilous mix of low humidity, strong winds and high temperatures — could continue to fuel the County fire burning near Flanders' neighborhood.
Flanders broke down in tears and begged. By then, smoke hung in the air like dark orange soup, almost impossible to see through. It looked like the kind of smoke, she said, that could kill you.
"All the stuff I can deal with. I can't deal with losing all that — and you, too," Flanders, 72, told her husband, Leo Romero, 71. "Fire of this magnitude is not fightable. It's not defensible by one person and a couple of hoses."
A firefighting air tanker drops fire retardant on a hillside ahead of the County Fire Monday in Esparto, California.
(Justin Sullivan / Getty Images)
Firefighters watch as flames from the County fire climb a hillside in Guinda. California authorities have issued red flag weather warnings and mandatory evacuation orders after a series of wildfires fanned by high winds and hot temperatures ripped through thousands of acres.
(Josh Edelson / AFP/Getty Images)
A cow walks through a burning pasture in Guinda. The latest blaze, the County fire, sparked in Yolo County has burned 44,500 acres.
(Josh Edelson / AFP/Getty Images)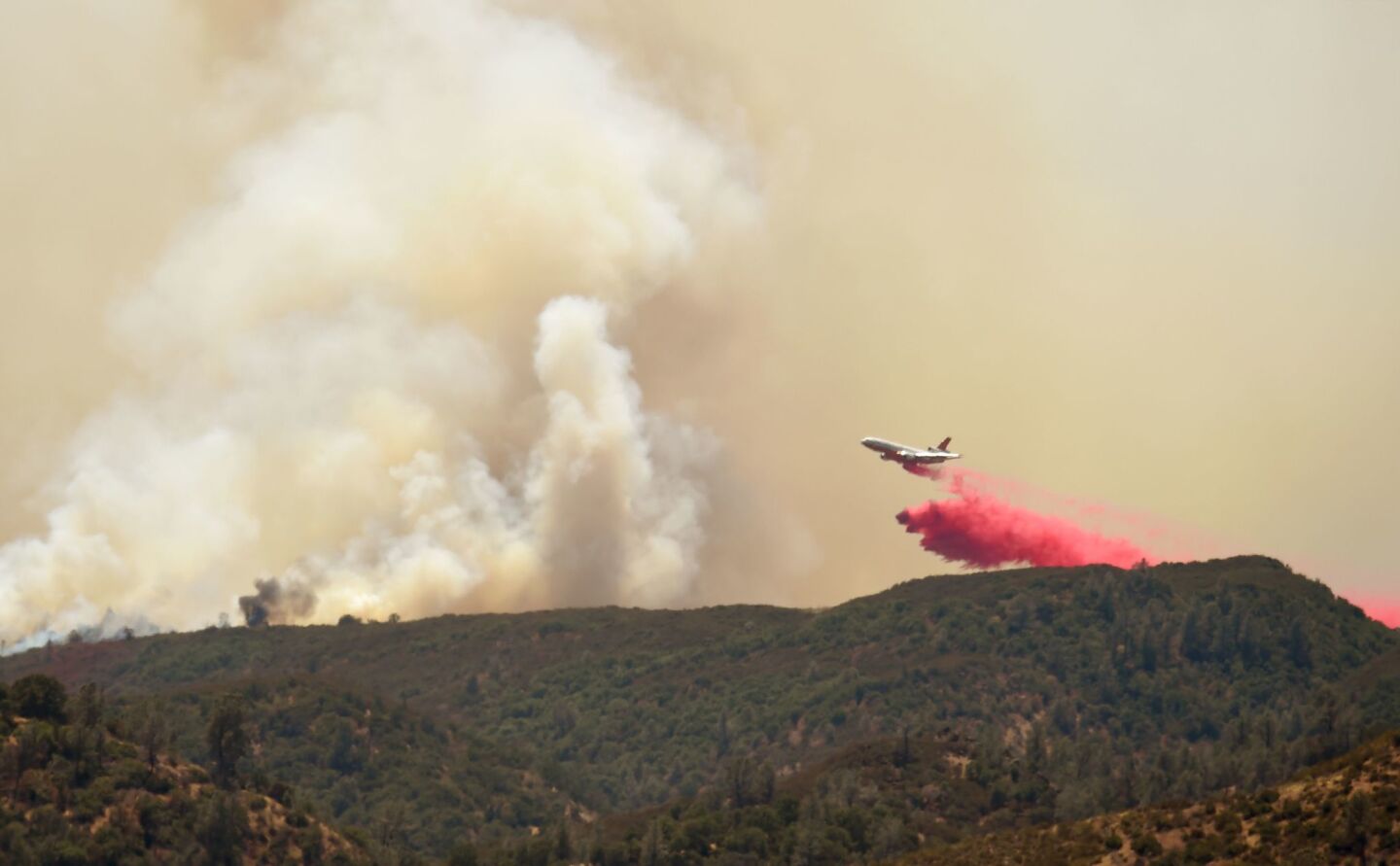 An air tanker drops retardant ahead of a fire line as the County fire burns near Brooks.
(Josh Edelson / AFP/Getty Images)
Flames rise around an outbuilding as the County fire burns in Guinda, Calif. Evacuations were ordered as dry, hot winds fueled a wildfire burning out of control in rural Northern California.
(Noah Berger / Associated Press)
A meteorite falls from the sky, caught in a long time exposure image over the County fire at sunset as it burns out of control in Brooks.
(PETER DASILVA / EPA / Shutterstock)
Eventually, Flanders persuaded Romero to leave. Others in their neighborhood, however, decided to stay. In the day that followed, the wildfire roughly doubled in size, as did the number of firefighters taking it on. By Monday evening, the County fire had ripped through 60,000 acres and 2,115 fire personnel were fighting it. The blaze was 5% contained.
On Monday night, an evacuation advisory was expanded to include Berryessa Highlands, Markley Cove Resort and Pleasure Cove Resort. Authorities said residents should be prepared to evacuate in case fire conditions worsen.
"Usually fire season is maybe late August, September, October," said Sen. Bill Dodd (D-Napa), whose district includes Yolo County and other areas hit hard recently by wildfire. "But, boy, it's just getting earlier and earlier."
The ordeal was stressful for Flanders and Romero, who have lived in their home — at the top of the first of several foothills — for five years and never been so close to a wildfire.
"It's the kind of stress that you can't remember your name sometimes," Flanders said. "Or which key is your house key, or can I get the padlock unlocked with my key."
She said she wouldn't have known about the mandatory evacuation order if she hadn't checked the California Department of Forestry and Fire Protection's website Sunday. She said she didn't receive an emergency alert or a door knock, nor did she see fire crews nearby.
"It felt like we were alone with no help in sight," she said.
The County fire began Saturday afternoon and by dusk had spread to a few thousand acres in and around Guinda, a rural community about 45 miles northwest of Sacramento.
As the fire continued to spread Sunday, it pushed west into Lake and Napa counties, and authorities significantly increased the area under mandatory evacuations to include a sparsely populated area of rugged terrain from Lake Berryessa to California 89, about 25 miles away. The blaze is burning in tall grass, brush and dense oak, Cal Fire said.
Satellite imagery from the National Weather Service and photos posted on social media showed winds had carried the smoke 75 miles into the Bay Area, blanketing the region in an eerie yellow haze.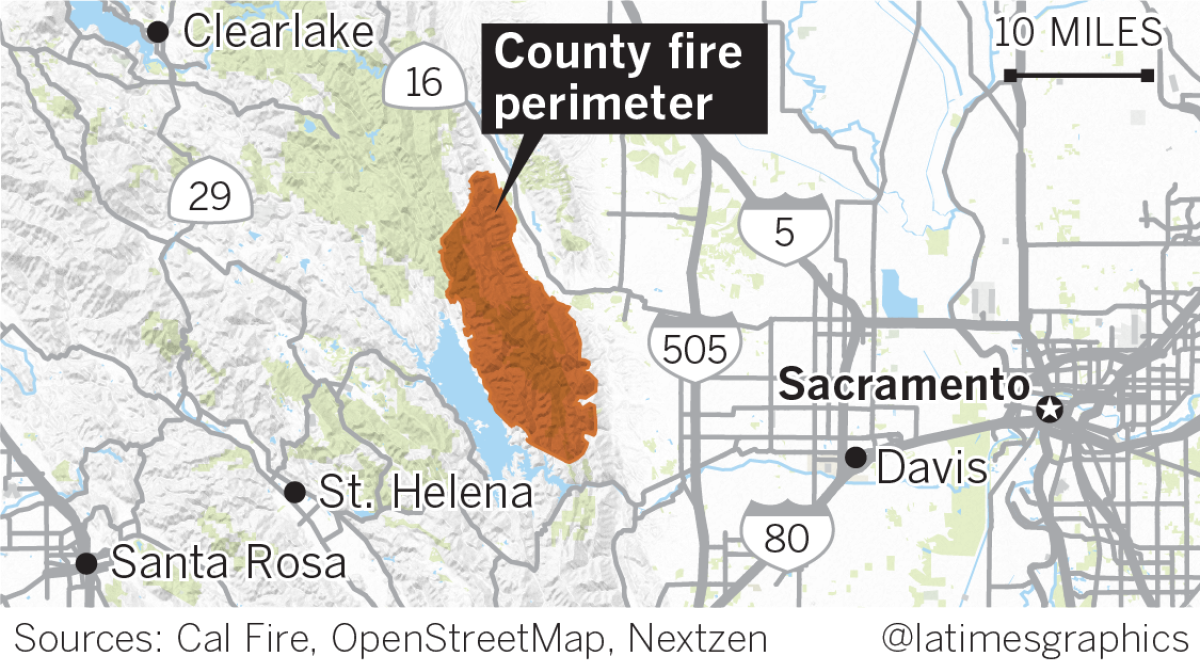 Times staff writer Melanie Mason in Sacramento contributed to this report.
alene.tchekmedyian@latimes.com
---
UPDATES:
10:35 p.m.: This article was updated with a new evacuation advisory.
9:15 p.m.: This article was updated with an interview with an evacuee and details about the fire's growth.
This article was originally published at 8:40 a.m.
---
Life is stressful. Our weekly mental wellness newsletter can help.
You may occasionally receive promotional content from the Los Angeles Times.