Emergency shelters get a boost as L.A. County increases homelessness spending by $143 million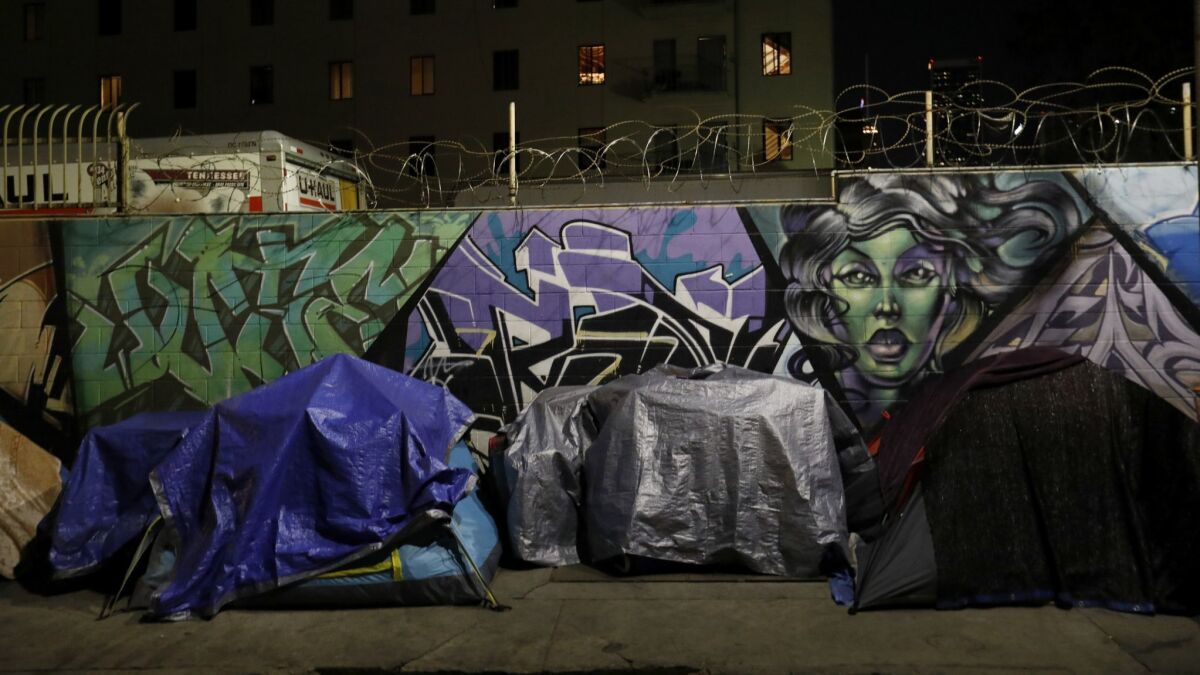 The Los Angeles County Board of Supervisors voted Tuesday to increase spending to address homelessness by $143 million in 2018-19 — the second year of money flowing from the Measure H sales tax increase that voters approved last year.
The new budget calls for $402 million in spending on programs that include homelessness prevention, rent subsidies, outreach, preservation of affordable housing, employment services and shelters.
Most of the increase was anticipated last year when the supervisors adopted a tentative three-year budget that assumed less would be spent in the first two years as new programs got up to speed.
Revisions adopted Tuesday add nearly $28 million to that tentative budget. Highlighting the growing emphasis on temporary shelter to serve people living on the streets while more permanent housing is being built, most of the increase was designated for emergency shelter beds.
About $5 million would go to shelter construction and $18.32 million to operating new beds. The addition would raise total spending on shelters to $93 million and support 1,267 additional beds over the 2018-19 fiscal year, according to a summary of the budget included in the motion.
Funds allocated from other Measure H programs and county health departments would raise the number of new emergency beds to 3,250.
Though the new spending plan does not specifically designate funds for Los Angeles Mayor Eric Garcetti's recent shelter initiative, those could be included, said Phil Ansell, director of the county's homeless initiative.
"A portion of the increased Measure H funding for interim housing could be used for operating costs for the new shelters which the city of Los Angeles is seeking to establish," Ansell said.
Garcetti has asked for $20 million in the new city budget to construct 1,500 shelter beds that would be operated with county funds.
The other main spending categories approved Tuesday were $73 million for rapid rehousing programs, designed to transition people quickly into permanent housing, $49 million for rent subsidies and $30 million for outreach.
Before the vote, all five supervisors assembled on the steps of the Hall of Administration to give an assessment of what Measure H funding accomplished in its first year.
"We are making some headway," board Chairwoman Sheila Kuehl said. "We have a long way to go. But what we are going to share with you today is really encouraging."
In the nine months since the sales tax increase kicked in, Kuehl said, "thousands of individuals and families in every part of L.A County have already been helped through the expansion of outreach, shelter, rapid rehousing and supportive housing as well as benefits advocacy for homeless disabled adults."
Supervisor Hilda Solis said that more than 5,200 families and individuals secured permanent housing funded by Measure H. Also, Solis said, more than 10,000 people entered crisis or bridge housing and contracts had been awarded for 302 new shelter beds.
Later, the supervisors voted unanimously to approve the new budget without change.
In a separate action, the supervisors unanimously approved a motion directing the county and the Los Angeles Homeless Services Authority to fund an additional outreach team to work weekends in the San Gabriel Valley and to develop a plan for reserving interim housing and motel vouchers for people brought in through that outreach.
"The need to serve our homeless is not 9-to-5, five days a week. It's 24 hours, all day, all week," said Supervisor Kathryn Barger, the measure's co-sponsor.
The measure also called for county staff to report in 60 days on how to expand access to homeless services across the county outside normal business hours.
Aside from the added funds for shelters, the new budget makes only minor adjustments to the tentative plan adopted last year.
That could change next year, Ansell said.
The county will develop a "final" plan for Measure H spending in 2019-20 "based on experience and outcomes as of that time and the level of funding available," Ansell said.
The initial three-year plan was crafted loosely to the $355 million in projected annual revenue from the Measure H sales tax hike. It's still too soon to gauge the actual revenue, which could exceed or fall short of the estimate.
The increase to the plan in the second year is being covered with unspent funds from the first year's budget and a $5-million shift from the fiscal year 2019-20 budget.
But the projected growth next year to $431 million would exceed the projected revenue.
That shortfall would have to be made up with any unspent funds from the first two years or increased revenue from the sales tax hike or other sources.
The stories shaping California
Get up to speed with our Essential California newsletter, sent six days a week.
You may occasionally receive promotional content from the Los Angeles Times.