L.A. County has repeatedly violated state open records laws, L.A. Times lawsuit alleges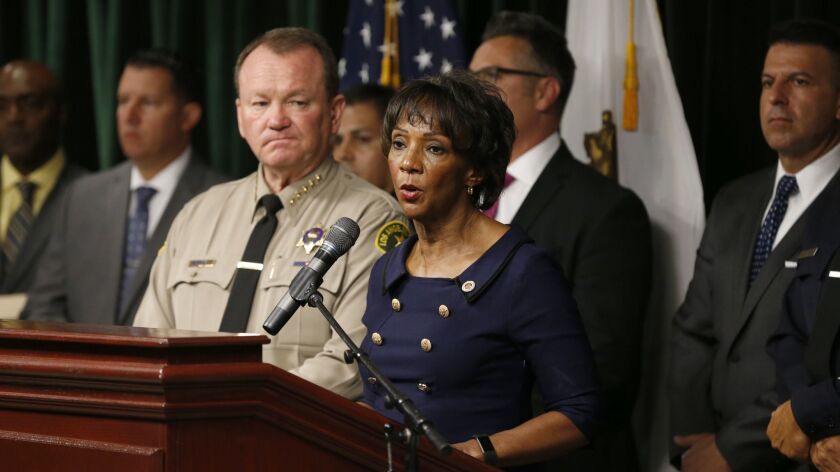 The Los Angeles Times has sued L.A. County, accusing it of repeatedly and routinely flouting laws designed to ensure government transparency.
Over the last year alone, county officials have refused to release information about the status of homicide investigations, allegations of sexual misconduct against prosecutors and even mundane information such as email addresses for Sheriff's Department employees, the lawsuit says.
County officials also ignored a request for copies of two instruction manuals coaching employees on how to respond to such requests, according to the lawsuit. One of the manuals is titled "California Public Records Act 'Emergency Kit' for County Counsel."
The California Public Records Act, like similar laws around the nation, was designed to ensure voters and taxpayers can quickly access the volumes of documents and data generated by public employees every day.
With limited exceptions, such laws make information such as city contracts with vendors, local government payrolls and the written correspondences of public officials open to inspection. The idea is to ensure transparency, but there is a constant tension between the public's right to know and government officials' desire to avoid embarrassment, or worse.
"It used to be much more common" for news outlets to sue to force compliance with the laws, said Peter Scheer, a board member of the First Amendment Coalition, which advocates for open records.
Budget constraints, he noted, have left many media companies reluctant to take on the expense of a potentially lengthy court fight.
"The largest organizations will still do it, thank goodness," Scheer said.
In the suit filed Tuesday, Times attorneys Jeff Glasser and Kelly Aviles accused county officials of issuing "baseless denials" of requests over the years and attempting to charge "exorbitant fees" when the newspaper requested information that could prove embarrassing — such as emails from top Sheriff's Department officials after it was discovered that one had sent multiple messages mocking Muslims, blacks, Latinos and women from a work account at his previous job.
The result is a "pattern and practice" by the county of denying access to records that are legally and routinely open to the public, The Times' attorneys argued.
In its petition, The Times asked a Los Angeles County Superior Court judge to declare that the records in question are public and to order the county officials to release them immediately. The Times also asked the court to require the county to pay the newspaper's legal expenses.
A spokeswoman for L.A. County Dist. Atty. Jackie Lacey declined to comment on the pending litigation. A spokeswoman for Sheriff Jim McDonnell also did not comment, for the same reason.
Read the L.A. Times' lawsuit against the county »
Among the records at issue in the suit are files involving prosecutors and other employees of the district attorney's office who have been disciplined for sexual harassment or misconduct.
The request for those records, filed Feb. 13 by reporter Marisa Gerber, is timely because the district attorney's office is reviewing whether to file charges in high-profile cases of celebrities such as Hollywood producer Harvey Weinstein, who is accused of sexual assault and similar misconduct.
Last month, the California Legislature released similar records of 18 cases of alleged sexual harassment involving lawmakers and their employees. Those cases included the sharing of pornography and a staff member accused of grabbing a woman's buttocks and genitals.
The records, which had been shielded for more than a decade in some cases, became public after three months of requests from Times reporters and attorneys.
Two years ago, McDonnell's chief of staff, Tom Angel, resigned after The Times reported he had forwarded racist and sexist emails from a work account while he had been second-in-command at the Burbank Police Department.
"I took my Biology exam last Friday," said one of the forwarded emails, which were obtained under the state's public records act. "I was asked to name two things commonly found in cells. Apparently 'Blacks' and 'Mexicans' were NOT the correct answers."
Angel told The Times he did not mean to embarrass or demean anyone and said it was unfortunate that his work emails could be obtained by the public under the state's records laws.
When The Times requested copies of emails Angel and others might have sent from their official Sheriff's Department accounts containing a list of potentially racist or sexist terms, McDonnell was personally involved in deciding how to respond to the newspaper's request, according to testimony taken in a lawsuit that the paper filed in 2016. The Sheriff's Department hired an outside firm to do the search, which quoted The Times nearly $7,000 to produce the records, a fee that is more than 10 times what the county usually charges, the testimony showed.
A judge is expected to decide next week whether the county's proposed charges are allowable under the public records law.
In the 2016 lawsuit, The Times unsuccessfully attempted to obtain through discovery copies of the two instruction manuals coaching employees on how to respond to public records requests.
Twitter: @JackDolanLAT
---
UPDATES:
3:55 p.m.: This article was updated to note that a sheriff's spokeswoman declined comment.
This article was originally published at 3:15 p.m.
---
For reporting and exclusive analysis from bureau chief John Myers, get our California Politics newsletter.
You may occasionally receive promotional content from the Los Angeles Times.