Wife of a U.S. marshal accused of framing his ex-girlfriend in Craigslist 'rape fantasy' plot
When officers arrived at Angela Diaz's condo last June in response to her 911 call, police say, they found her in tears, with a ripped shirt and red marks on her neck. A man had just tried to rape her in her garage, she said.
Anaheim police believed this was the gruesome result of a recent Craigslist ad, in which someone had posed as Diaz and invited men to visit her condo to participate in her "rape fantasy" encounters, even if she screamed and fought back.
Detectives became convinced the electronic trail led to her husband's ex-fiancee, Michelle Hadley, who soon faced 10 felony charges and the possibility of life in prison.
It was a bizarre enough case, but on Monday it took an even stranger turn: Authorities say they were fooled.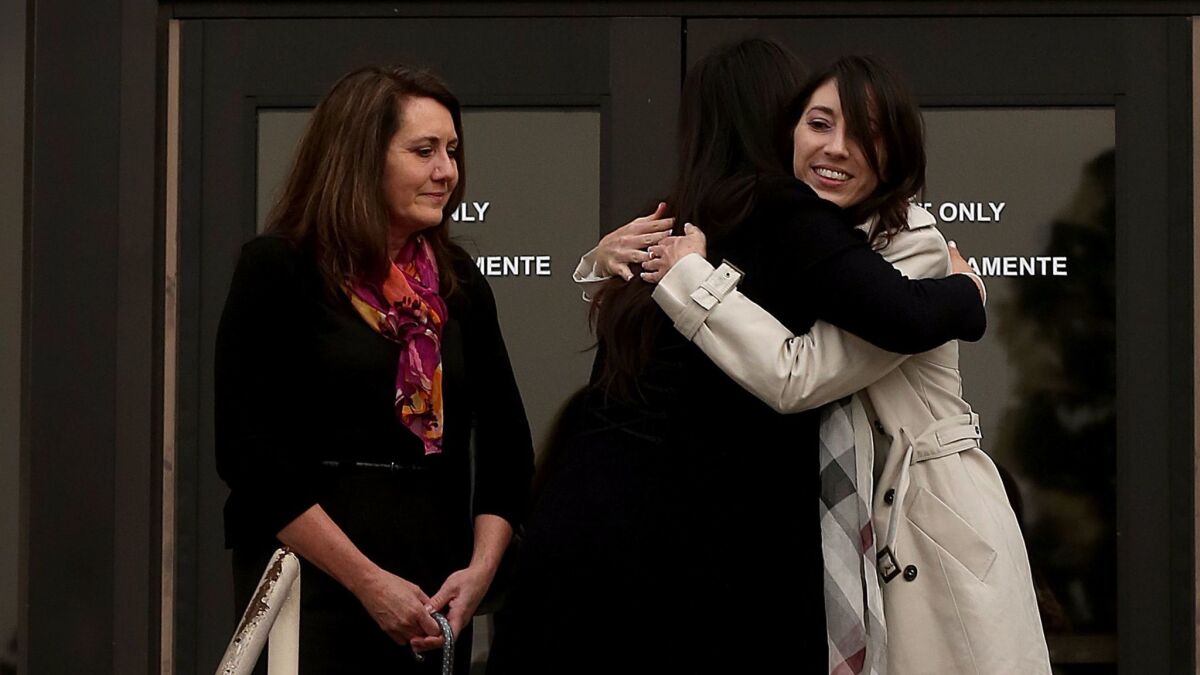 Ms. Hadley is an innocent victim of a diabolical scheme.
— Orange County Dist. Atty. Tony Rackauckas
Hadley was exonerated, and the 31-year-old Diaz — accused of posing as a victim to frame Hadley — is behind bars.
"Ms. Hadley is an innocent victim of a diabolical scheme," Orange County Dist. Atty. Tony Rackauckas said.
Diaz, who is married to a U.S. marshal, faces charges that include kidnapping, false imprisonment and falsely reporting crimes. She was arrested last week in Phoenix, where she now lives, and is awaiting extradition to Orange County.
Rackauckas said he was not certain of Diaz's motive, but speculated that it involved a "love triangle," and that the attempted frame-up may have been meant to "put the dagger into the older relationship."
Prosecutors officially dropped the charges against Hadley Monday afternoon at a brief hearing at the courthouse in Fullerton. "You are free to go," Superior Court Judge Beatriz Gordon told her.
Hadley wept, smiled and embraced family members.
"This has been a huge nightmare for me — probably the most traumatic experience of my life," Hadley, 30, told reporters on the courthouse steps.
She said she had been close to earning her MBA at Chapman University, and "this put a little wrinkle in the plan," though she still hoped to graduate soon.
"Nothing has ever stopped me before," she said.
Prosecutors say Diaz sent emails to herself using specialized software to make it appear that Hadley had sent them, and Diaz made false claims that Hadley had threatened her life and that of her unborn child.
Along with attempting to frame Hadley, Diaz is accused of faking a pregnancy and cervical cancer, forging a check, posing as an attorney and as two of her husband's ex-girlfriends, and forging doctors' notes.
Read the 'Framed' series: She was the PTA mom everyone knew. Who would want to harm her? »
Hadley was first arrested in June 2016 on the day Diaz reported the attempted rape. She posted bail, but was rearrested three weeks later after a 17-year-old boy appeared in Diaz's courtyard in response to the Craigslist ad.
If they didn't act fast, police said, they feared it was a matter of time before Diaz was raped or killed.
Hadley was held on $1-million bail, on charges that included attempted rape.
Hadley spent 88 days in jail before she was released on her own recognizance last October, as evidence accumulated of her innocence.
Though prosecutors believe that the attack Diaz reported in June 2016 was fake, they say that two males did respond to the "rape fantasy" solicitation.
Hadley's attorney, Michael Guisti, described his client as a "wide-eyed, very bubbly" young woman with a "lust for life" whose family had to borrow money for her defense.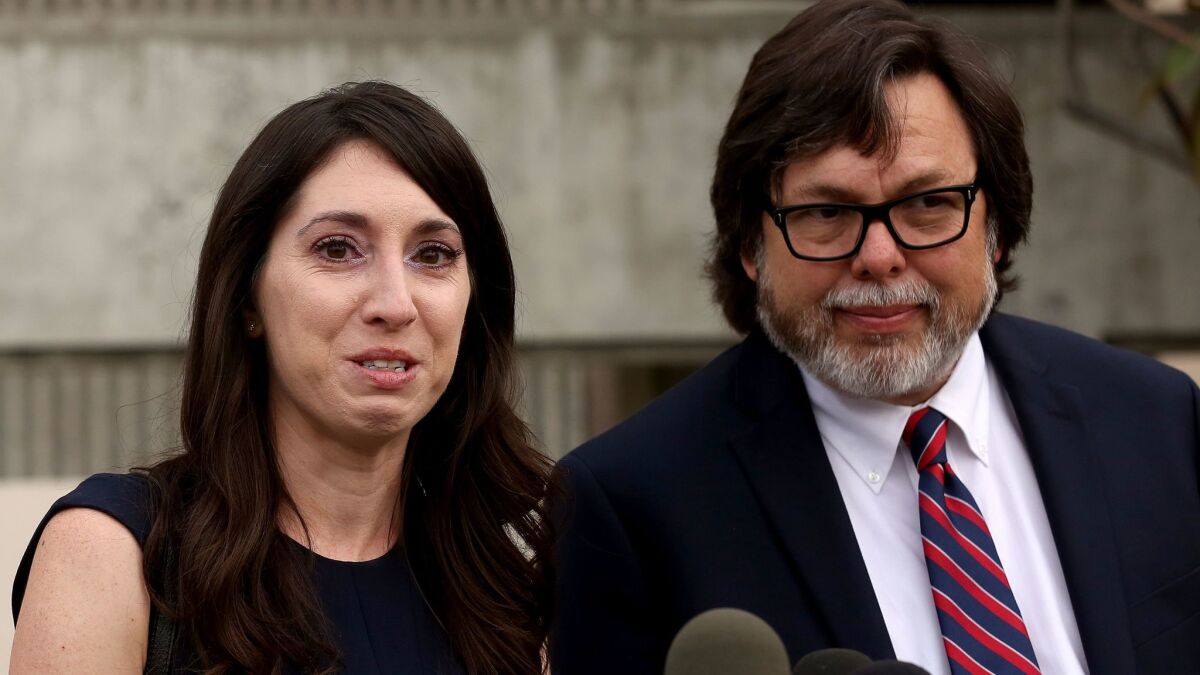 "To have her so thoroughly exonerated by the district attorney is a huge relief to her," Guisti said.
He would not comment on whether his client intended to pursue a civil claim for being arrested.
Guisti said he knew from the start that his client was innocent. As she waited in jail, she was "expecting someone to say, 'OK, you're innocent and we believe you.'"
Deputy Dist. Atty. Richard Zimmer said there was no evidence that Diaz's husband was involved in the case.
Zimmer said Angela Diaz used software to make it seem as if her emails were coming from Hadley's email accounts.
"Everything we had pointed to Ms. Hadley," Zimmer said.
He said that while Diaz gave the appearance of being "an upper-middle-class professional," the investigation revealed her to be "a serial con artist."
"I'm not afraid to say she duped me," Zimmer said. "She duped us. It was very sophisticated, well thought-out. The problem was we couldn't get to the [Internet Protocol] addresses."
Zimmer said the breakthrough in the case came around September, when investigators were able to uncover the real IP addresses behind the Craigslist ads and the harassing emails Diaz was receiving. He said some had originated at Diaz's condo and her father's home.
"That was the real aha moment," he said.
Zimmer said he was sickened by the knowledge that an innocent woman had been arrested: "I've had more sleepless nights these last six months than I've had in 40 years. The last thing our office wants to do is charge an innocent person."
Times staff writer Anh Do contributed to this report.
christopher.goffard@latimes.com
Twitter: @LATchrisgoffard
ALSO
Huntington Beach police officer shoots and kills dog while trying to arrest owner
Oxnard fugitive arrested after trying to carjack farmworker, police say
Classes canceled at Notre Dame High School after anonymous email threat
---
UPDATES:
6:05 p.m.: This article was updated with additional details about the case.
3:35 p.m.: This article was updated with a comment from Hadley after the judge freed her.
2:05 p.m.: This article was updated with comments from Michelle Hadley's lawyer.
This article was originally published at 12:10 p.m.
---
The stories shaping California
Get up to speed with our Essential California newsletter, sent six days a week.
You may occasionally receive promotional content from the Los Angeles Times.