AIDS Healthcare Foundation sues L.A. over Hollywood project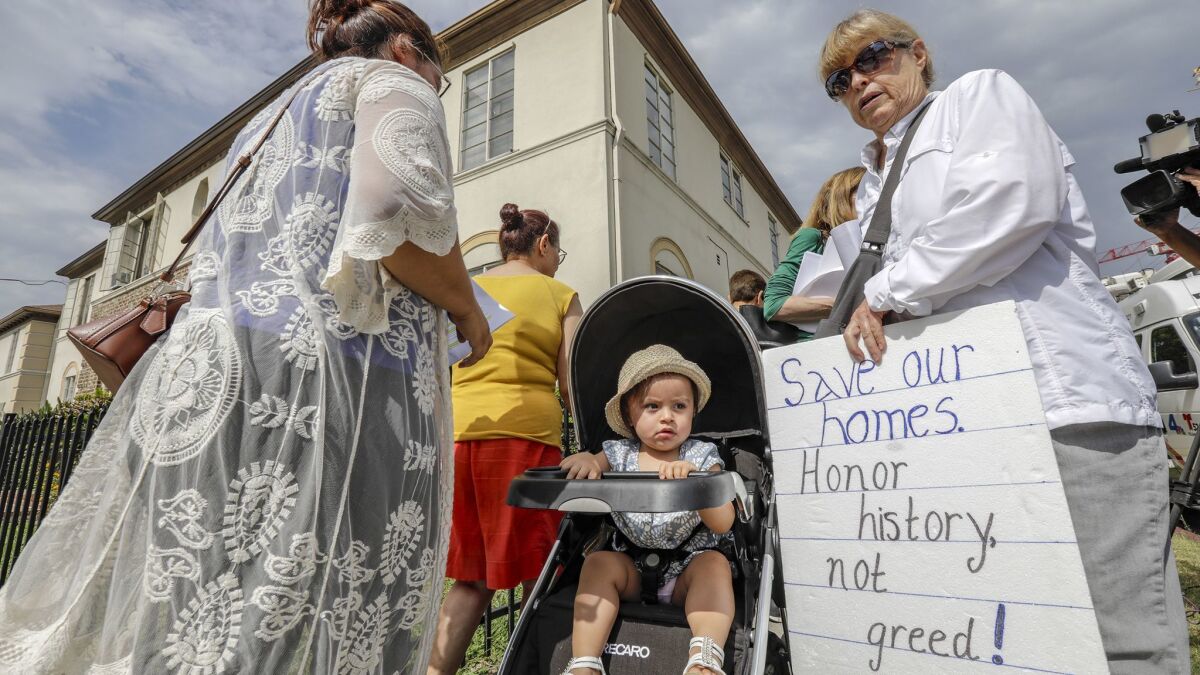 Critics of a vast new development in Hollywood are suing the city, arguing that it violated the California Environmental Quality Act and other laws when city leaders gave the green light for the Crossroads Hollywood project.
The Los Angeles City Council voted last month to approve the planned project, which will include glassy towers with apartments, hotel rooms, shops and restaurants on a Hollywood site that spans more than 8 acres. Business and labor groups and other supporters said it would provide needed housing, generate jobs and give an economic jolt to the area.
Opponents countered that the new development would fuel gentrification, worsen pollution and choke the neighborhood with traffic. Now the AIDS Healthcare Foundation and an unincorporated group called Livable LA are suing to halt or delay the project, arguing that the city failed to properly consider how Crossroads Hollywood would affect the neighborhood.
The groups also argued that city officials failed to fully assess an alternative plan that could have spared dozens of existing apartments that fall under the Rent Stabilization Ordinance, which limits annual rent hikes for tenants. Crossroads Hollywood will include more than 100 units for "very low-income" households, but more than 80 rent-stabilized apartments are being demolished.
The lawsuit charges that Hollywood is falling far short of the number of affordable units that it is required to build under its redevelopment plan, and the new project "worsens that shortfall by providing fewer affordable units than would be necessary to meet areawide affordable housing goals."
L.A. has "shown deliberate indifference to the serious negative impacts and resulting gentrification that this enormous luxury project will have in Hollywood and along Sunset Boulevard," AIDS Healthcare Foundation President Michael Weinstein said in a statement Wednesday.
Los Angeles city attorney's office spokesman Frank Mateljan declined to comment on the lawsuit, saying the office is not able to comment on pending litigation.
Kyndra Casper, a representative for the developer, said in a statement that "the Crossroads Hollywood team fully believes the project will move forward swiftly irrespective of the lawsuit, given its status as a California Environmental Leadership Development Project" — a special designation that allows any California Environmental Quality Act lawsuits against the development to move through the courts more quickly.
"As we are confident that we will prevail on the merits, we will continue working with the community in bringing Hollywood this exciting and transformational project," Casper said.
The AIDS Healthcare Foundation, a nonprofit that treats hundreds of thousands of patients worldwide, has repeatedly gone to court over L.A. planning and development issues.
It sued over a planned Hollywood office complex and reached a settlement that required the developer, Hudson Pacific Properties, to scale back the project. It lodged another lawsuit in an attempt to halt the demolition of Parker Center, which it dropped after the city proceeded with the tear-down. And it is continuing to battle plans for towers next to its Hollywood headquarters.
In addition, AHF counsel Liza Brereton said, the nonprofit is supporting lawsuits over other projects in Hollywood and South L.A.
The group, which unsuccessfully pushed two years ago for a ballot measure that would have restricted real estate development in the city, has since formed a new division focused on providing affordable housing.
Twitter: @AlpertReyes
---
Life is stressful. Our weekly mental wellness newsletter can help.
You may occasionally receive promotional content from the Los Angeles Times.