Hundreds of demonstrators rally in MacArthur Park to denounce Trump's immigration policies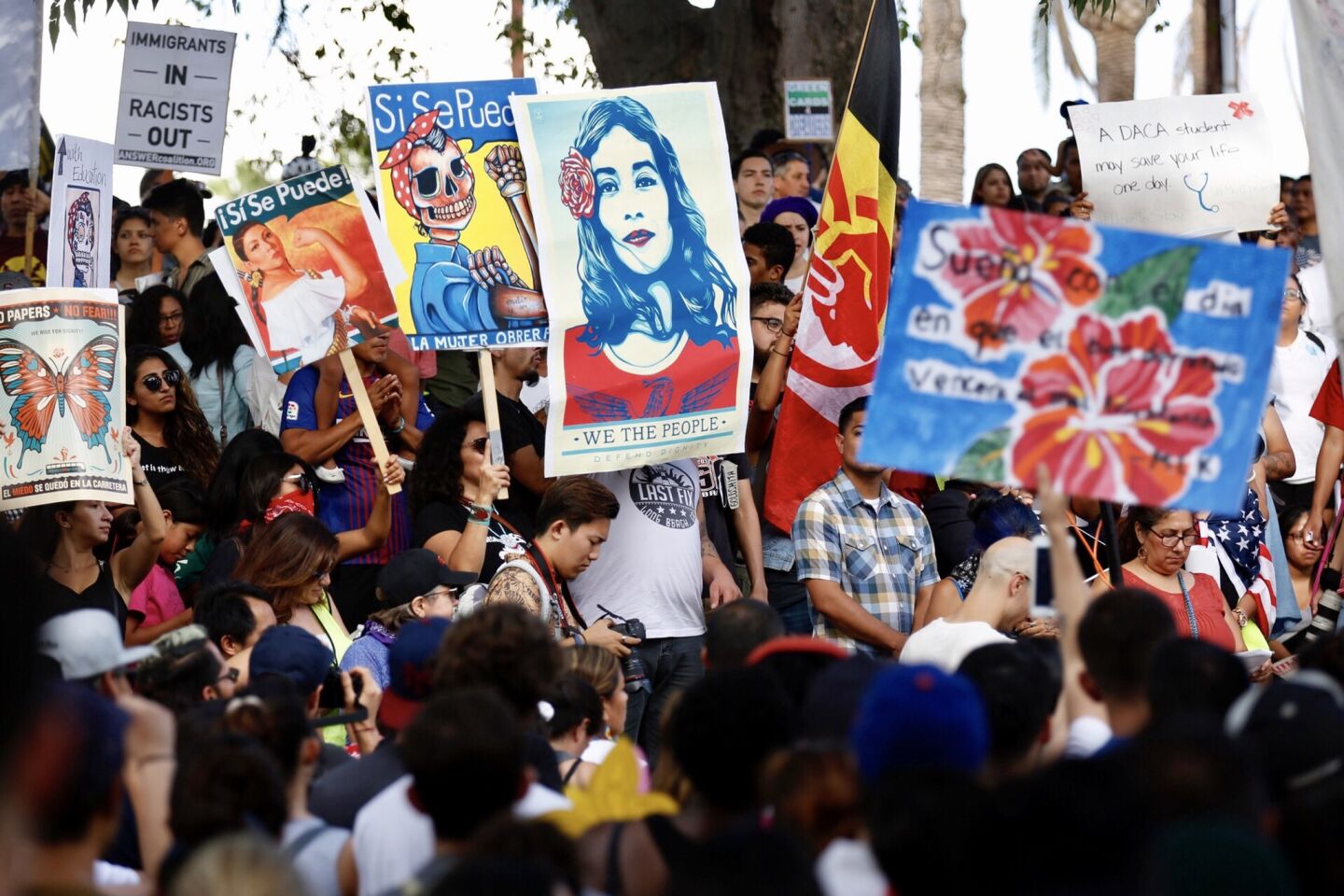 Participants hold up signs during a peaceful rally and march from MacArthur Park to Echo Park in support of DACA.
(Francine Orr / Los Angeles TImes)
Hundreds participates in a march and rally to support DACA starting at 6th and Alvarado streets in Los Angeles.
(Francine Orr / Los Angeles TImes)
DACA supporters march down Beverly Boulevard in Los Angeles.
(Francine Orr / Los Angeles TImes)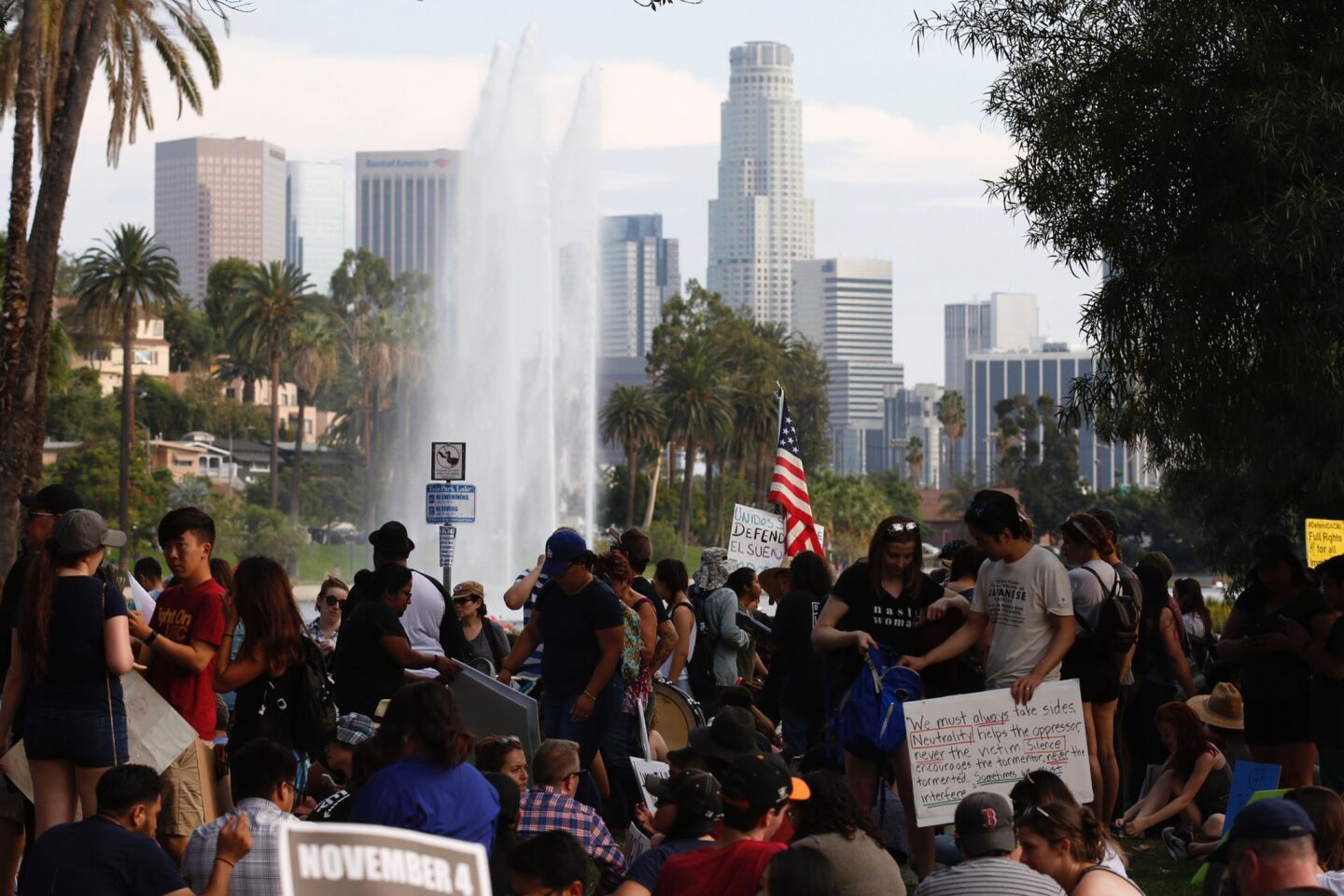 Participants in the DACA march gather at Echo Park Lake in Los Angeles.
(Francine Orr / Los Angeles TImes)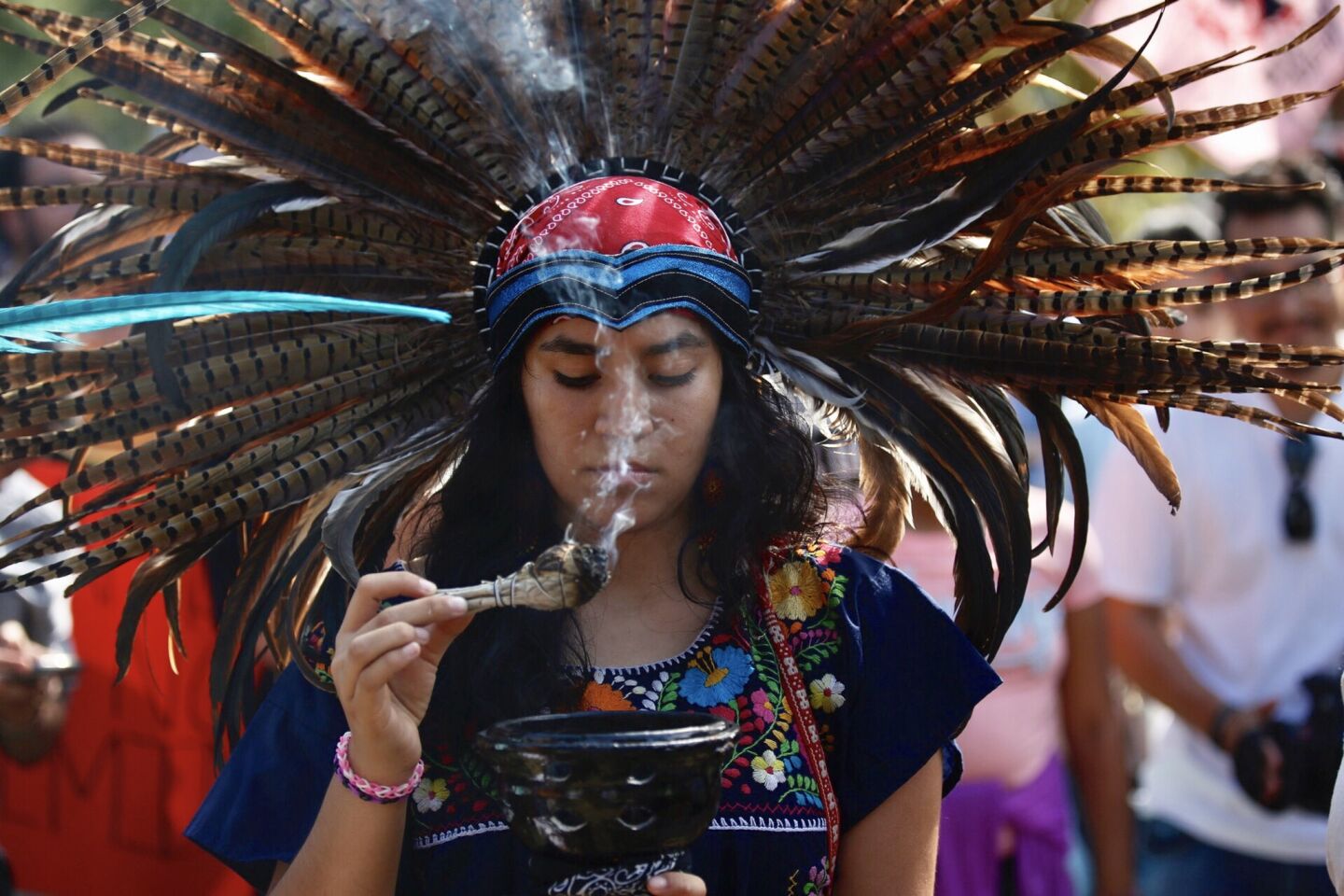 Krystal Escalante, 16, participates in the march and rally to support DACA at MacArthur Park on Sunday.
(Francine Orr / Los Angeles TImes)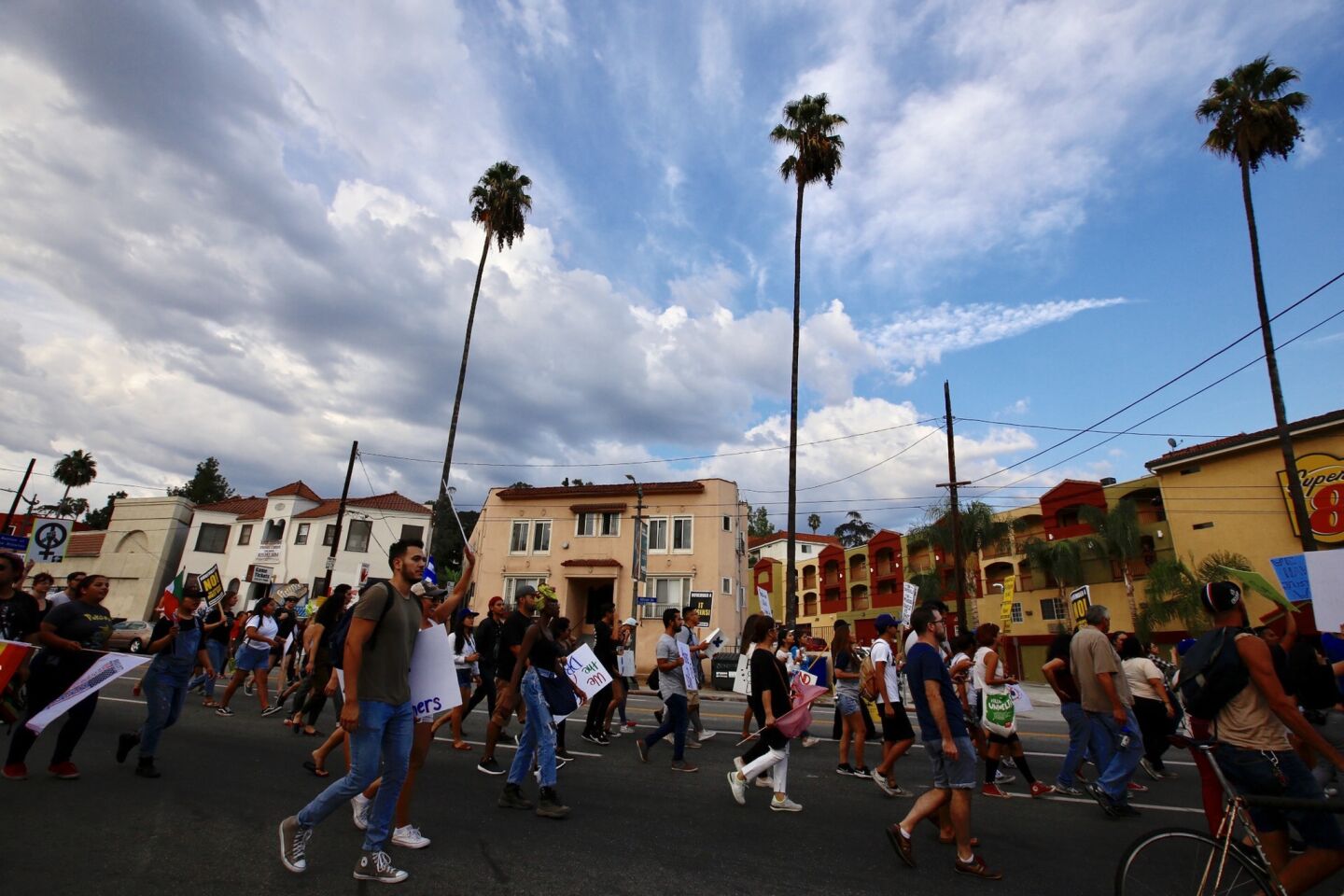 DACA supporters march from Echo Park Lake to Placita Olvera in downtown Los Angeles.
(Francine Orr / Los Angeles TImes)
Jose Luis Gutierrez from Anahuacalmecac International Preparatory High School participants of the march to support DACA in Los Angeles.
(Francine Orr / Los Angeles Times)
Hundreds of activists rallied in MacArthur Park on Sunday to protest efforts by the Trump administration to phase out protections from deportation for roughly 800,000 young immigrants brought into the country illegally by their parents.
The loud but mostly peaceful group of demonstrators swarmed the park west of downtown L.A. about 3 p.m., chanting, "No Trump, no KKK, no racist USA," and "No hate, No fear, immigrants are welcomed here." Some held up posters that said, "Protect Dreamers, deport racists," and others waved Mexican flags.
"I'm angry; I feel upset. So many people are being affected by this," said Andrea Beltrami, 19, a demonstrator who drove to the rally from Huntington Beach with her mom and friends. "They're not just kids — they have families depending on them in other countries."
About a dozen pro-Trump demonstrators gathered on the corner across the street from the park at Alvarado and 6th streets. One man with a bullhorn yelled at demonstrators to turn themselves into a local police station for deportation.
"Do the right thing," he said. "Get out of here."
Police officers patrolled the area on foot, keeping the sidewalk clear and standing in between the two groups. But there were no clashes between rival groups.
Demonstrator Esau Andrade, 22, said he was a beneficiary of former President Obama's Deferred Action for Childhood Arrivals program, or DACA. Known as "Dreamers," young people like him were given a reprieve from deportation and access to work permits if they arrived in the U.S. before age 16 and stayed in school and out of trouble.
Andrade said he received his DACA status about a year after graduating from high school in 2013. He said when he enrolled in the program, he was told that his personal information would not be used against him.
But now he's worried that it could be.
"You put all of your might into a country that you feel at home in and truly have respect for, to — from one day to another — be thrown out and be told you're not worth it," he said.
Andrade said his family brought him to the U.S. at age 3 with a temporary visa, which he overstayed. The Rancho Cucamonga resident said he works as a receptionist at a hair salon, which he couldn't do without his DACA status.
On Sunday, he showed up at MacArthur Park with a small orange sign that said, "Here to stay."
El Segundo resident Fred Macintosh, 55, had a different view on the immigration issue. He was among the dozen or so pro-Trump counter-protesters who also turned out at the park Sunday.
He said a friend in the Philippines has been trying for two years to immigrate to the U.S. legally with three kids. "People here illegally need to wait in line," Macintosh said. "It's not fair to them that they're not able to get in."
After the rally and speeches by activists, the immigrants rights demonstrators marched to Echo Park. They blocked traffic as they passed through residential neighborhoods, where onlookers crowded onto their balconies and outside their homes, taking photos and recording videos. Drivers honked in support of the demonstration, some pumping their fists, others offering a thumbs up.
Following a short break, organizers said, participants were then planning to continue on to Placita Olvera in downtown Los Angeles, across from Union Station.
The primary focus of the march was to defend participants in the DACA program. But organizers of Sunday's march said the demonstration was also intended to protest Trump's plans to build a wall along the U.S.-Mexico border.
Speakers at the MacArthur Park rally included Alma de Jesus Ramirez and Ludi Valdez Word, both Dreamers. Jim Lafferty of the National Lawyers Guild was also lined up to speak.
Last Tuesday, Trump took action to strip away protections for Dreamers. He gave the Republican-majority Congress six months to write a law to resolve their plight.
Later that day, Trump seemed to accept the prospect that Congress might not be able to agree on legislation. "If they can't," he tweeted, "I will revisit this issue!" It was unclear what he meant by "revisit."
The legislative uncertainty created by the president's action translated to even greater personal uncertainty for the many people affected. Protests were immediate in cities nationwide.
alene.tchekmedyian@latimes.com
ALSO
Anaheim considers declaring local emergency as homeless population continues to grow along Santa Ana River trail
Chance of thundershowers in some burn areas, including La Tuna Canyon, forecasters say
Videos capture dramatic lightning storm in Los Angeles
---
UPDATES:
6:55 p.m.: This article was updated to include another comment from a demonstrator and more details from the march.
5:45 p.m.: This article was updated to include a comment from a counter protester.
5:00: p.m.: This article was updated with new comments from demonstrators.
4:25 p.m.: This article was updated with additional comments from demonstrators.
4:00 p.m.: This article was updated with comments from demonstrators.
This article was originally posted at 8:40 a.m.
---
Life is stressful. Our weekly mental wellness newsletter can help.
You may occasionally receive promotional content from the Los Angeles Times.