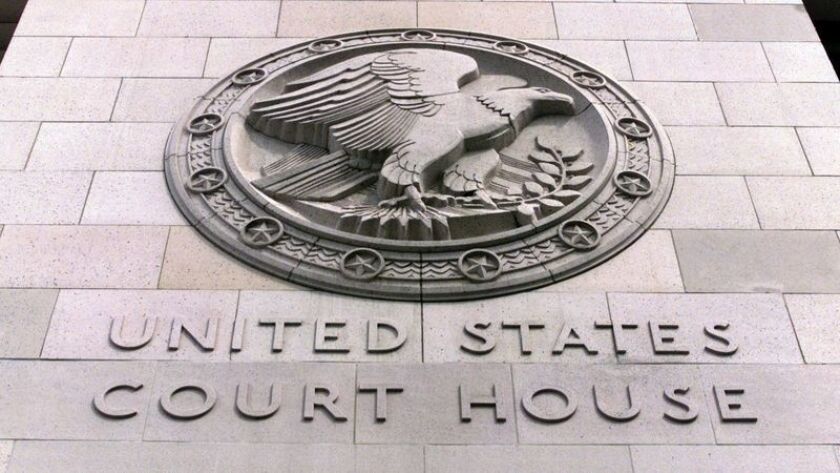 Eight Los Angeles County men are facing federal conspiracy charges alleging that they are behind two trafficking rings that sold drugs over the so-called darknet and shipped them across the country inside stuffed animals and other children's toys.
Jerrell Anderson, 28; Christopher Van Holton, 31; Adan Sepulveda, 26; Kenneth Hadley, 31; and Jackie Burns, 20, all of Lancaster ran a drug trafficking organization called Drugpharmacist that peddled methamphetamine, heroin, cocaine and crack cocaine on two darknet marketplaces, according to the U.S. attorney's office. Three other men were charged in January.
The U.S. Postal Inspection Service and the FBI launched an investigation into Drugpharmacist's operations in June after authorities received a tip from the Cleburne County Sheriff's Office in Arkansas about drugs being shipped from California to out-of-state buyers through the internet.
Investigators said the drugs were stored at various stash houses in the San Fernando Valley before they were shipped. Before being mailed, prosecutors said, the narcotics were packaged in clear plastic containers wrapped in tape that were concealed inside stuffed animals. In August, a man in Knoxville, Tenn., overdosed on black tar heroin purchased from Drugpharmacist that had been placed inside a plush tiger, according to an affidavit filed in federal court.
The five men who were arrested this month are free on bail. If convicted, they each face a maximum sentence of life in federal prison, according to the U.S. attorney's office.
The three other men who were charged in January as part of a separate federal drug investigation also packaged narcotics in children's toys and then shipped them to buyers on the darknet, authorities said.
Investigators say Anh Pham, 49, and Carlos Gallardo, 59, both of Hawaiian Gardens; and Joseph Gifford, 43, of La Crescenta operated as a vendor known as Aeirla to sell methamphetamine and cocaine on the darknet.
Undercover investigators bought drugs from Aeirla 26 times between March 2017 and December 2018. In a two-month stretch last year, the group conducted more than 2,200 online sales, according to the U.S. attorney's office.
Prosecutors said Pham sold the narcotics on the darknet, while Gifford and Gallardo packaged them in superhero action figures, a beach ball, a children's lunchbox and boxes of Christmas cards and chocolates. The drugs were then shipped to buyers across the country.
Pham and Gallardo have pleaded guilty to conspiracy to distribute controlled substances. The U.S. attorney's office said Gifford also agreed to plead guilty to the charge.
Pham and Gallardo are in custody, while Gifford is free on bail as he awaits sentencing, which has been scheduled for May. Each faces a maximum sentence of life in prison.
"Law enforcement continues to shine a spotlight on criminals who use the darknet," U.S. Atty. Nick Hanna said in a prepared statement. "My office will continue to target drug peddlers who use increasingly sophisticated means in their misguided notion they can avoid detection."
Twitter: @Hannahnfry
---