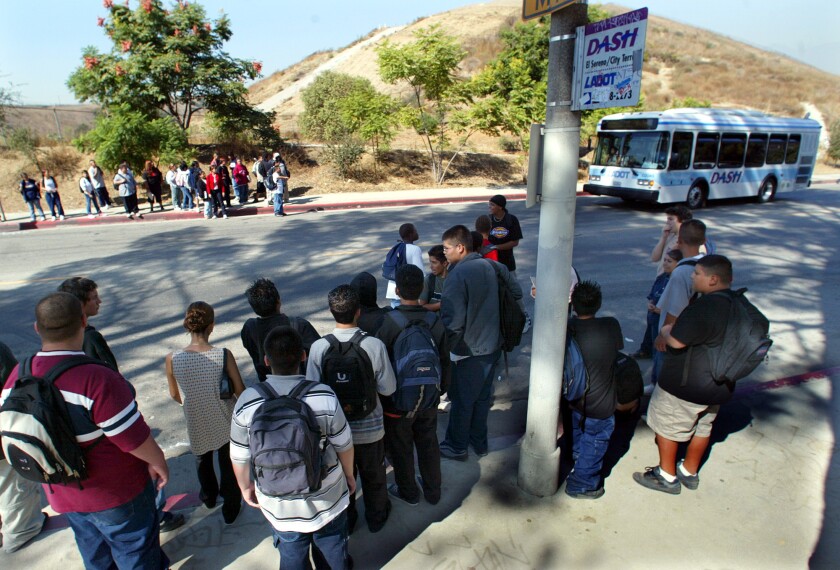 Downtown DASH routes, in addition to 14 other routes, were affected Thursday by a strike, officials said.
The International Brotherhood of Teamsters Local 572, which represents bus operators and mechanics who work on DASH routes downtown, in Hollywood and in South L.A., went on strike Thursday over a contract dispute, according to a statement from Veolia Transportation.
The company operates the routes under a Los Angeles Department of Transportation contract.
"This strike is a surprise to Veolia who has been in productive discussions with the union for months," the statement read.
LADOT cannot be involved in such a dispute between between Veolia Transportation and its employees, said LADOT spokesman Clinton Quan.
Routes A and B downtown are not operating, and routes D, E and a portion of F downtown have limited service, according to LADOT.
Routes D and F are not running now and will not resume service until 3 p.m.
Fourteen other routes, including DASH Hollywood, DASH Midtown and DASH Wilshire Center/Koreatown, are not operating at this time.
Updated information can be found online on the LADOT website.
ALSO:
Suspect dies in deputy-involved shooting in Compton
Wendy Davis' abortion law filibuster may be a 'Texas Spring'
Gay marriage: Dancing, singing at West Hollywood rally after rulings
Twitter: @emfoxhall

emily.foxhall@latimes.com
---