Food guru who brought healthier meals to L.A. schools charged with mishandling district funds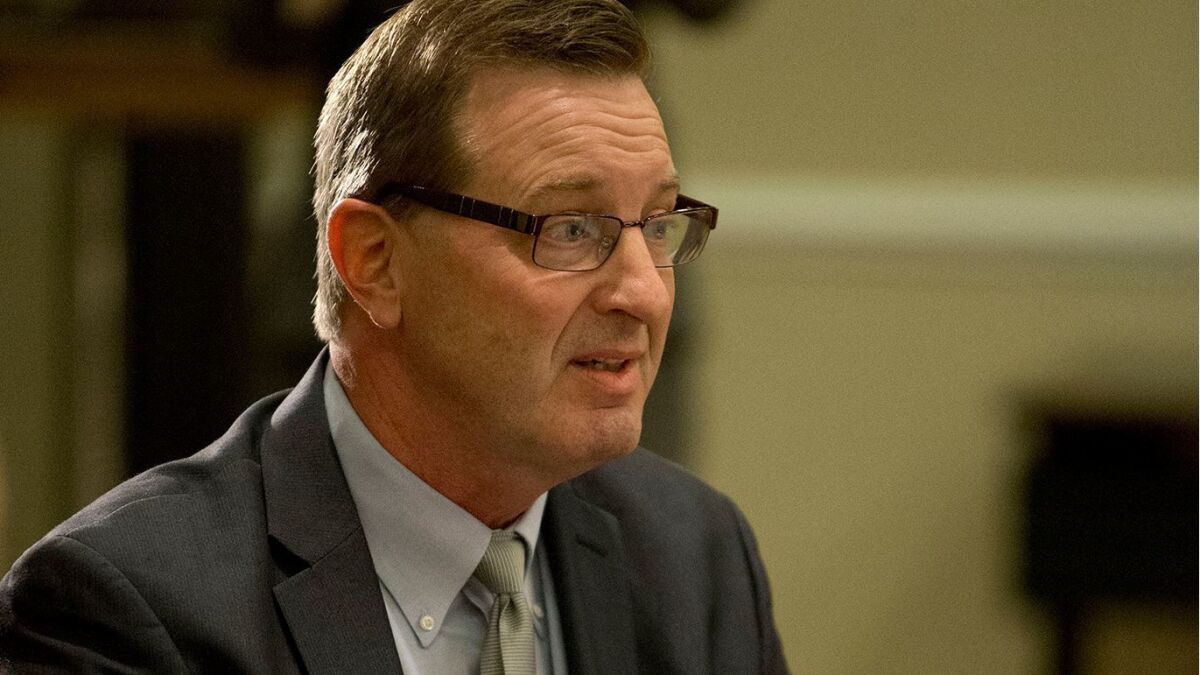 For years, David Binkle was hailed as a pioneer among school nutrition advocates for accomplishing a near-herculean task – using produce and meats provided by local growers to greatly reduce the number of fatty meals served in the nation's second-largest school district.
The Los Angeles Unified School District serves nearly 700,000 meals per day, and the professional chef helped lead a charge that saw vegetarian curries, pad Thai noodles and quinoa salads replace old cafeteria staples like chicken nuggets and corn dogs.
The initiatives won the district numerous awards, drew praise from then-First Lady Michelle Obama as she led a national push to combat childhood obesity, and earned Binkle appearances on Tedx Talks.
But as he was revolutionizing meals for the district's students, prosecutors allege, Binkle illegally funneled roughly $65,000 of the district's money into a private consulting firm he ran, then placed some of that money into his own pocket.
The 55-year-old appeared in court on Tuesday and pleaded not guilty to 15 felony counts including embezzlement and misappropriation of public funds. He posted $220,000 bail and is scheduled to return to court in October.
"While recognizing that everyone is innocent until proven guilty, the charges against Mr. Binkle are extremely upsetting as they do not reflect the professionalism, ethics and character we expect of all L.A. Unified employees," the school district said in a statement.
Emails and calls to Binkle seeking comment were not returned. His attorney, Alec Rose, declined to comment. In a previous statement to The Times, Binkle denied wrongdoing and said allegations of financial misconduct were unsubstantiated.
According to court documents, Binkle repeatedly misappropriated district funds in amounts ranging from $5,000 to $15,000 between 2010 and 2014. Prosecutors also allege that he forged an application to become a vendor with the district and failed to disclose outside financial interests.
If convicted, he faces up to 13 years in prison.
Binkle worked as a chef before joining the district as deputy director of food services in 2008.
His initiatives to push for healthier food won praise from Washington D.C. and Los Angeles, and Binkle enjoyed broad support from school nutrition advocates, local farmers and the union that represented school service managers. Binkle was credited with adopting menus that lowered the sodium and fat content of school meals and with increasing the amount of food served daily in cafeterias.
Binkle dramatically altered the way the district procured ingredients, opting for years-long contracts with providers that included Tyson Foods Inc., Jennie-O Turkey Store Sales, Goldstar Foods, Five Star Gourmet Foods, Driftwood Dairy and Don Lee Farms. Five of the vendors also agreed to contribute approximately $500,000 annually to a marketing program that promoted healthy eating in the district's schools.
But problems began to arise. George Beck, a former food-services deputy branch director responsible for accounting and budgets, previously told The Times he began questioning Binkle's management of the marketing program as early as 2011.
The district took no corrective action however, according to Beck, who says he was laid off in retaliation two years later.
In 2012, Binkle was elevated to the position of director of food services, overseeing a program with a budget of hundreds of millions of dollars.
In November 2014, a scathing report from the district's Office of the Inspector General accused him of failing to disclose his ownership of an outside culinary consulting firm or report payments from vendors to attend school nutrition conferences.
His firm, California Culinary Consulting, presented "at minimum an appearance of a conflict of interest," the audit said. And the marketing program was "being mismanaged and at worst being consistently abused" by Binkle, according to the audit.
A month later, the district placed Binkle on unpaid leave. At the time, he was making an annual salary of $152,000.
In an email to the Times in 2015, Binkle said the state conflict-of-interest law did not require him to disclose anything about his firm because all of his consulting income that year came from outside Los Angeles County.
Binkle said he was "frustrated and baffled" by the allegations. He insisted his use of the marketing funds was aboveboard and had been approved by district supervisors, including the former chief financial officer and then chief deputy superintendent Michelle King, who now runs the district.
"I have done nothing wrong and have nothing to hide, since my actions were approved and encouraged from senior district officials, general counsel or the ethics office," Binkle wrote in the email. "I am confident the truth and facts will show the allegations are unsubstantiated."
Beck said the allegations against Binkle represent a larger problem within the district. Binkle, Beck said, was allowed to operate with virtually no supervision, creating a situation that cost the district money and allowed him to enter into contracts with vendors with essentially no input from other school officials.
"He negotiated these contracts with these firms with no oversight, nobody else participating. It was a huge procurement bureaucracy. There was one contract for vegetarian entrees, and I remember sitting in a meeting with 35 people. Binkle was there. He had one entrée that was $2.25 per item, and our reimbursement was less than the cost of the meal," Beck said. "Every meal that we sold, we were losing money."
When informed of the charges against Binkle by a Times reporter, Beck said he felt vindicated.
"You have absolutely made my afternoon," Beck said.
Binkle remains employed as an adjunct culinary instructor at the College of the Canyons in Santa Clarita, according to a spokesman for the school. He has been employed there since August 2009 and is scheduled to teach a class in the fall.
While they declined to comment on the criminal charges, school nutrition advocates praised Binkle's work in Los Angeles, saying he did his best to provide healthy food to hundreds of thousands of schoolchildren.
"David worked hard to improve the menus, the ingredients, the presentation and the student nutrition experience," said Matthew Sharp, a longtime school nutrition advocate who has worked extensively with Los Angeles schools.
Beck said he still can't believe it took six years, and outside intervention by prosecutors, to get to the bottom of the conduct he uncovered long ago.
"All these internal control entities that were supposed to be exercising internal control were not doing it," he said. "I brought it to their attention, and they did nothing about it."
Times staff writers Sonali Kohli and Teresa Watanabe contributed to this report.
Follow @JamesQueallyLAT for crime and police news in California.
---
UPDATES:
7:10 p.m.: This article was updated with additional background about Binkle's tenure with the district, and comments from former employees and nutrition advocates.
1:55 p.m.: This article was updated with information about Binkle's plea and background about his work in the district.
12:30 p.m.: This article was updated with comments from the L.A. Unified School District.
This article was originally published at 11:25 a.m.
The stories shaping California
Get up to speed with our Essential California newsletter, sent six days a week.
You may occasionally receive promotional content from the Los Angeles Times.