Former state Sen. Kevin de León will run to replace Jose Huizar on L.A. City Council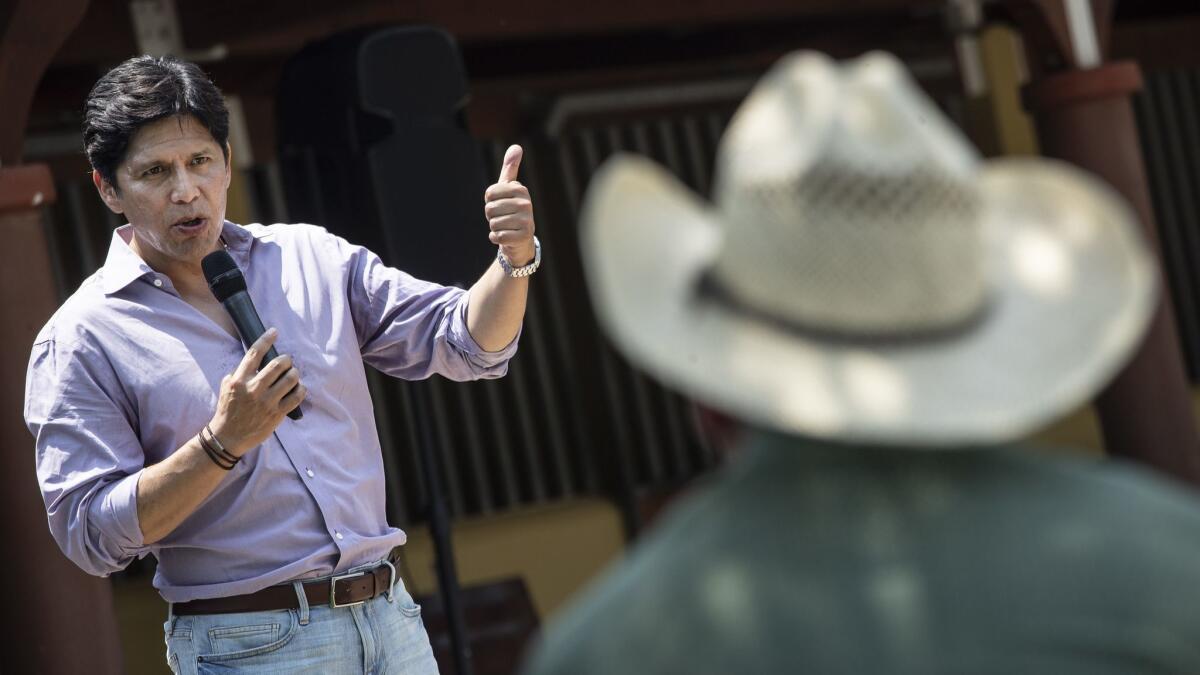 Former state Sen. Kevin de León is looking to shift his political base of operations to Los Angeles City Hall, by seeking the Eastside council seat being vacated by Councilman Jose Huizar.
De León, who waged an unsuccessful bid to unseat Sen. Dianne Feinstein in November, said Monday he intends to continue on his "path of public service" by running to replace Huizar, who is being forced out by term limits.
With Monday's campaign announcement, De León instantly becomes the most high-profile person to run in Huizar's district, which stretches from downtown and Boyle Heights to Eagle Rock. The campaign has already picked up endorsements from nearly two dozen elected officials in the L.A. area, including three on the council: Curren Price, Paul Koretz and Mitch O'Farrell.
De León, 52, served in the Legislature — first in the Assembly, then in the Senate, where he was president — from 2006 until last year. During that period, he represented all or a portion of Huizar's district, securing funding for parks, environmental cleanup initiatives and housing for homeless Angelenos. "It would be an absolute honor to continue that work at the local level," he said.
Several other people have already filed paperwork indicating they plan to run for Huizar's seat. Richelle Huizar, wife of the councilman, launched a campaign in September but abandoned the effort two months later, after FBI agents raided their home.
Investigators removed an array of materials from the Huizars' Boyle Heights home, including a cardboard box labeled "fundraising." FBI agents also have sought evidence involving other City Hall figures, including Price and aides to Mayor Eric Garcetti and Council President Herb Wesson.
No arrests have been made and no charges have been filed. De León said in an interview that he does not expect the investigation to be part of his campaign message. "This election isn't about Jose Huizar," he said.
The election is scheduled for March 2020, with a runoff planned for November if no candidate secures a majority of the vote.
De León recently moved to Eagle Rock from Mount Washington, which is a short distance outside Huizar's district. He recently took a job with the UCLA Luskin School of Public Affairs, working as a distinguished policymaker-in-residence and senior analyst, and will teach his first class in April.
De León secured more than 5 million votes in his November race against Feinstein, falling short by 8 percentage points. Although he prevailed in 40 out of 58 counties, he trailed Feinstein in his own L.A.-area Senate district by more than 6,000 votes, according to an analysis of the results by The Times.
Others mentioned as possible candidates in next year's council race are Los Angeles Unified School District board member Monica Garcia and attorney Sara Hernandez, both former aides to Huizar. Garcia, reached by The Times earlier this month, declined to comment, saying she would discuss the topic at "another time."
Hernandez, who ran unsuccessfully for Congress in 2017 and now works for the law firm DLA Piper, said she has not ruled out the idea of a council bid next year.
Hernandez met recently with residents in Eagle Rock who asked her about running for the seat, an overture she described as "incredibly flattering."
"I care really deeply about this district and plan to raise a family here," she said. "But I would probably only take that step if I was confident about my ability to run a strong grass-roots campaign."
De León, for his part, has also been discussed as a possible mayoral candidate in 2022, when Garcetti's final term ends. Asked whether he intends to serve a full four years on the council, or until 2024, De León declined to answer directly.
"I'm 100% focused on the path ahead, and that's winning this council election," he said.
The issue of whether the seat is being used as a steppingstone could come up on the campaign trail.
Eagle Rock resident Hans Johnson, president of the East Area Progressive Democrats, said some in the district have bad memories of the 2003 council race, when Antonio Villaraigosa — then a former state assemblyman — ran for the seat and told voters he would serve a full four years.
Two years later, Villaraigosa broke that promise, running for and winning his race for mayor.
"There's a lot of resentment still in our part of the 14th District over that," Johnson said.
Times staff writer Ben Welsh contributed to this report.
Twitter: @DavidZahniser
Sign up for Essential California for news, features and recommendations from the L.A. Times and beyond in your inbox six days a week.
You may occasionally receive promotional content from the Los Angeles Times.