FBI corruption probe goes beyond L.A. Councilman Jose Huizar to include other City Hall figures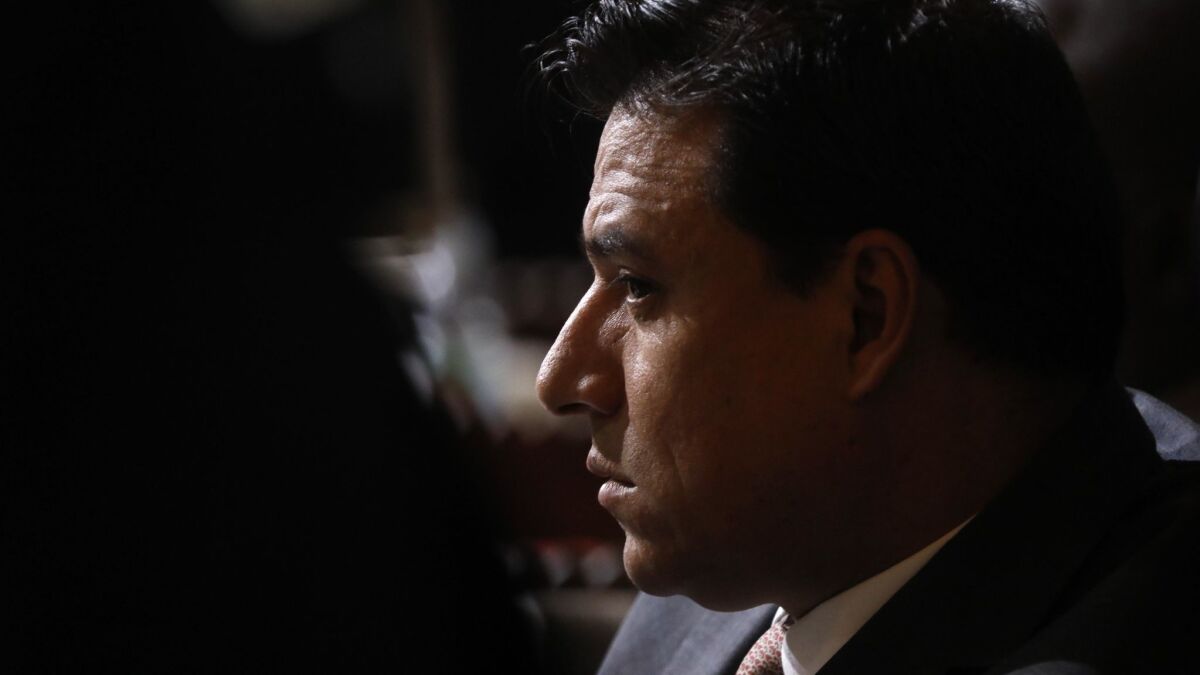 An ongoing FBI investigation into Los Angeles City Councilman Jose Huizar is part of a broader corruption probe in which agents are seeking possible evidence involving Councilman Curren Price and a senior aide to Council President Herb Wesson, as well as several other city officials and business figures, according to a federal search warrant.
The warrant, which was filed in federal court in November but reviewed by The Times on Saturday, said agents were seeking evidence related to an investigation into an array of potential crimes, including bribery, kickbacks, extortion, and money laundering involving 13 people.
Agents served the warrant on Google in July for information from a private email account for Ray Chan, the former head of the Los Angeles Department of Building and Safety for Mayor Eric Garcetti, according to the warrant. Chan also served as a deputy mayor for economic development under Garcetti.
Along with Chan and Huizar, those named in the warrant included Price, who represents part of South L.A.; Deron Williams, chief of staff to Wesson; Joel Jacinto, a Garcetti appointee who serves on the city's Board of Public Works; and other City Hall aides who have worked for Huizar.
The warrant does not say the FBI has gathered evidence of criminal activity by any of the people named in the document, and there were no records attached to the warrant saying what evidence, if any, was discovered in Chan's email account.
No one has been arrested or charged in connection with the investigation.
But the court documents lay out a more expansive FBI investigation into City Hall than has previously been revealed.
Price said Saturday that he does not know anything about the warrant. He also said he had not been contacted by the FBI.
Jacinto told The Times he was unaware he had been mentioned in a federal search warrant. He said neither he nor his wife, who is also named in the warrant, had been contacted by investigators or received subpoenas seeking records or testimony.
"I don't know what it's about, so I can't really comment," Jacinto said.
None of the others named in the warrant could be reached for comment Saturday. An FBI spokeswoman declined to comment.
Huizar's attorneys, Vicki Podberesky and Mary Carter Andrues, did not address the warrant's contents but released a statement Saturday in response to questions from The Times saying that "Huizar and his staff are focused on serving all the residents in Council District 14 and continuing to advance citywide efforts."
Chan, who retired from city employment in 2017, declined to say whether he had received a federal grand jury subpoena when contacted by The Times in November.
The first sign of an FBI investigation into City Hall occurred Nov. 7 when FBI agents hauled an array of materials from Huizar's home and office, including a cardboard box with the word "fundraising" on it. The FBI declined to discuss its investigation but confirmed that the Internal Revenue Service, which looks into unreported income, was involved.
The warrant was first reported in a tweet late Saturday by Seamus Hughes, a counterterrorism expert who is currently deputy director of the Program on Extremism at George Washington University. The document is publicly available on the federal court's online records-retrieval system.
Much of the agents' focus centered on Huizar. Agents were seeking "all financial records" relating to the councilman and his mother and brother, Salvador, according to the warrant. The FBI also wanted "all records relating to projects in and around Los Angeles" in which Huizar, his staff or several other men were involved in "acquiring permits, licenses or other official city processes."
The warrant also named three companies described as "foreign investors" and sought records relating to involvement by the companies or other foreign investors in development projects in and around Los Angeles.
At least one of those companies was listed on a document that was linked to Chan's email account and which appeared to be a long list of business deals in which Chan was involved. The warrant sought any information related to the document.
The agents also wanted records relating to fundraising for Bishop Mora Salesian High School, which Huizar attended as a student and where his wife later worked as a fundraiser; Proposition HHH, a local ballot initiative that raises funds for homeless housing developments; and "other fundraising expeditions/campaign contributions."
The Times reported last month that Huizar personally asked companies that did business at City Hall to donate to Salesian and assigned his staff to help with the effort while his wife worked at the school. During Richelle Huizar's employment at Salesian, money came in to the school from real estate developers, billboard companies, engineering firms and others who were seeking or had received favorable votes from her husband, according to interviews with donors and documents obtained by The Times.
The three foreign companies named in the warrant donated to Salesian's annual gala, according to the documents.
Greenland USA, which was one of the most generous, is one of the three foreign investors named in the warrant. The company is developing the Metropolis project, which consists of four towers along the 110 Freeway in downtown Los Angeles. In December 2014, Huizar and his City Council colleagues approved up to $18.7 million in financial aid for the Hotel Indigo, which is part of Greenland's project.
The other two companies, Oceanwide and Hazens, are developing multistory projects on Figueroa Street in the downtown section of Huizar's district.
In addition, at least one political action committee has received a subpoena from a federal grand jury seeking information on two men with City Hall ties — lobbyist Morrie Goldman and Art Gastelum, the owner of a Pasadena-based construction management firm – along with Huizar and his wife.
The stories shaping California
Get up to speed with our Essential California newsletter, sent six days a week.
You may occasionally receive promotional content from the Los Angeles Times.