California's Dianne Feinstein wins fifth full term in U.S. Senate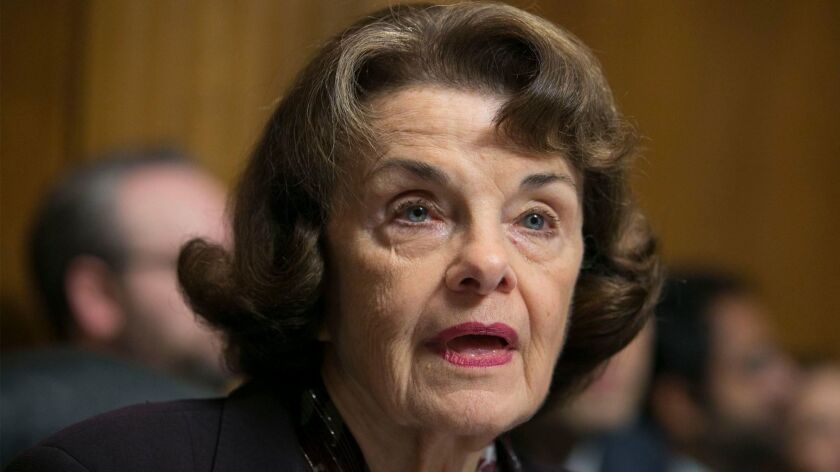 Reporting from Washington —
Dianne Feinstein easily won reelection Tuesday to her fifth full U.S. Senate term, pushing past state Sen. Kevin de León, who struggled to gain traction by challenging his fellow Democrat from the left.
"This is the greatest honor in my life, to represent my city and my state in the Senate of the United States," Feinstein said Tuesday at her election-night party in San Francisco. "This state — the fifth-largest economic power on Earth, over 40 million people, bigger than 21 states and the District of Columbia put together — needs strong representation."
The victory cements her legacy as the longest consecutively serving statewide elected official in California history, but also presents Feinstein, 85, with new challenges in what many view as her final Senate term.
As an old-school pragmatist and one of the few remaining Senate traditionalists, Feinstein may find it difficult to operate amid the heightened partisan rancor that is stripping the last vestiges of cooperation and civility from Congress' upper chamber. The Democratic takeover of the House will only heighten tensions between Capitol Hill and the Trump White House.
"Part of her legacy will be as one of the last Senate institutionalists trying to hold these things together," said Eric Schickler, a UC Berkeley political science professor and an expert on Congress. "There's not a whole lot of space there in the center. There's not a whole lot of cover."
And despite Feinstein's reelection in a state where many residents can't even remember a time when she wasn't in the Senate, her moderate views are increasingly out of step with California and a Democratic Party that are both moving further to the left.
Nevertheless, as the Senate's oldest member and one of its savviest negotiators, Feinstein stands to play a key role in Democrats' efforts to confront the president over the next two years. If Democrats regain the Senate majority in 2020, she could cap her long career as the first woman to lead the Senate Judiciary Committee.
Republicans held control of the Senate on Tuesday, leaving Feinstein as the highest-ranking Democrat on the Judiciary Committee — a position that puts her at odds with Trump over immigration and judicial nominees.
If this is Feinstein's last term — and she is freed from the need to campaign — she could focus on long-held legislative priorities, regardless of whether they appeal to detractors on her left or right, experts predict.
"In many ways she is playing with house money. So she is going to be able to pursue her policy objectives more than pretty much any other senator," said Graeme Boushey, an associate professor of political science at UC Irvine.
Under fire from De León during the campaign, Feinstein embraced some more progressive positions — against the death penalty and federal crackdowns against states that have legalized marijuana.
Though appealing to progressives, De León struggled to generate statewide support. Feinstein dominated fundraising throughout the campaign, and after winning the primary with 44.2 percentage points, polls consistently showed her leading by 20 points heading into election day.
With the race behind her, Feinstein is likely to return to her more comfortable role in the center, compromising with Republicans when possible to get things done.
"I would expect Dianne Feinstein to return to form," Boushey said.
First elected to a partial term in 1992, Feinstein has a moderate to liberal voting record and wrote the nation's only ban on assault weapons, which expired in 2004. She's long played a role in expanding California's national parks, particularly protecting its deserts. She's been a force on the immigration debate in recent years, repeatedly pushing for a guest worker visa program for agricultural laborers.
She's also a bipartisan consensus builder. Feinstein insists on having a Republican co-sponsor on nearly every bill she files, and she's been willing to buck her party to pass legislation she supports.
Feinstein's reputation as a bridge builder might be more important than ever, said Washington University political science professor Steven Smith, an expert on the Senate.
Democrats take the House, Republicans hold the Senate in split-screen midterm vote »
"Her role is likely to be a more quiet one, and that might be just what it takes to appeal to a handful of Republicans who want to get things done," Smith said. "Someone like Feinstein can appeal to them because she tends to ratchet down the rhetoric."
On the other hand, such skills haven't worked as well in the Trump administration. Feinstein tried but failed to forge a bridge over a gun-control measure and legislation to help so-called Dreamer immigrants brought to the country illegally as children.
And during the Supreme Court confirmation hearings for Brett M. Kavanaugh, Republicans personally berated Feinstein and accused her of withholding information about the sexual assault allegations against the nominee to maximize the political impact. Feinstein repeatedly denied such claims, saying she was simply protecting the confidentiality of the accuser, until the letter leaked and the woman decided to come forward publicly.
The episode appears to have damaged the collegial working relationship between Feinstein and Sen. Charles E. Grassley (R-Iowa), chair of the Judiciary Committee.
Republican's full-court press to fill hundreds of empty judicial seats has relegated Feinstein to the "role of bystander" on the committee, Smith said.
Come January, the Judiciary Committee could get a new chairman in Sen. Lindsey Graham (R-S.C.), a close confidant of Trump who railed about Feinstein and Democrats during the Kavanaugh hearing.
Less senior Democrats, frustrated at remaining in the minority, may push to take a more confrontational approach to halt Trump's nominees, even though their options are limited and Feinstein prefers cooperation.
"It's definitely not her disposition. It's definitely not where she wants to be," said Schickler, the UC Berkeley professor. "Folks like Feinstein have tried to resist [bucking Senate norms, but] even within the party itself there's going to be bottom-up pressure to take a more aggressive, a more assertive tact."
More stories from Sarah D. Wire »
Follow @sarahdwire on Twitter
---
UPDATES:
12:20 a.m.: This article was updated with Feinstein's win.
This article originally published at 10:15 p.m.
---
Life is stressful. Our weekly mental wellness newsletter can help.
You may occasionally receive promotional content from the Los Angeles Times.