Driver who fatally ran over woman in Calabasas gets one year in jail
A Malibu horse trainer who crashed into two pedestrians in a crosswalk, killing one of them, and later denied to police that she was the driver in the collision was sentenced Thursday to one year in jail.
Nicole Herschel, 36, the driver of the pickup truck in the June 2016 crash, sobbed in a Van Nuys courtroom as she pleaded no contest to vehicular manslaughter and apologized to Yijing Chen, the daughter of the woman who died.
"I'm sorry," Herschel said, standing in court and looking at Chen. "I think about your mom every day…. I'm very sorry. I didn't see you guys and I didn't know."
The sentencing hearing came against the objections of Chen, who was also injured in the crash. Chen, a Pepperdine University graduate student from China, had unsuccessfully petitioned the Los Angeles County district attorney's office to pursue more serious charges against Herschel.
"I will never have my mother back," Chen said, as her attorney, Alan Jackson, consoled her. "A year from now, she'll get out and enjoy the Malibu sunshine and fresh air."
"It's an absolute tragedy," said Judge Joseph Brandolino before imposing the maximum penalty for the misdemeanor charge. Prosecutors asked that Herschel be taken to jail immediately, but the judge allowed her to remain free until Jan. 26, when she is expected to surrender to the Sheriff's Department.
Just before 9 p.m. on June 5, 2016, Chen and her mother, Hongfen Shen, 53, were holding hands as they walked toward a Calabasas grocery store along Las Virgenes Road. Shen was visiting her daughter from Hangzhou, in eastern China.
After they stepped into the crosswalk at the 101 Freeway onramp, they were struck by a pickup truck, according to an account detailed in a California Highway Patrol report obtained by The Times.
Chen was thrown to the ground, and the truck ran over her left leg. She saw her mother's torso being run over by the truck's right rear tire, according to the interview she gave to investigators.
The driver — later identified as Herschel by authorities — then got out of the truck, she said.
"What happened to you? Why are you guys walking when the light is red?" Herschel said, according to records. Chen told investigators the light was green, according to the CHP report, which determined that Herschel failed to yield to the pedestrians.
The driver then dragged Shen's body toward the curb, returned to the truck, reversed and parked nearby along Las Virgenes Road, witnesses told the CHP.
After police arrived, Herschel denied that she had struck the women, saying she came upon the scene while driving to the grocery store, the CHP records said. Herschel said at the scene that her dog had jumped on her daughter's car seat, and while tending to the dog, she looked and saw the two women in the roadway.
A CHP officer considered her answers "evasive" and inspected her black pickup, a 2015 Chevy Silverado, according to the collision report. Authorities seized Herschel's truck a few days later at a Los Angeles International Airport parking lot, and an officer noticed the truck was recently washed, according to CHP records. The marks along the frame appeared consistent with Chen's mother's footwear, the officer wrote.
"There were obvious signs of scrubbing/rubbing over and adjacent to the marks," the officer said.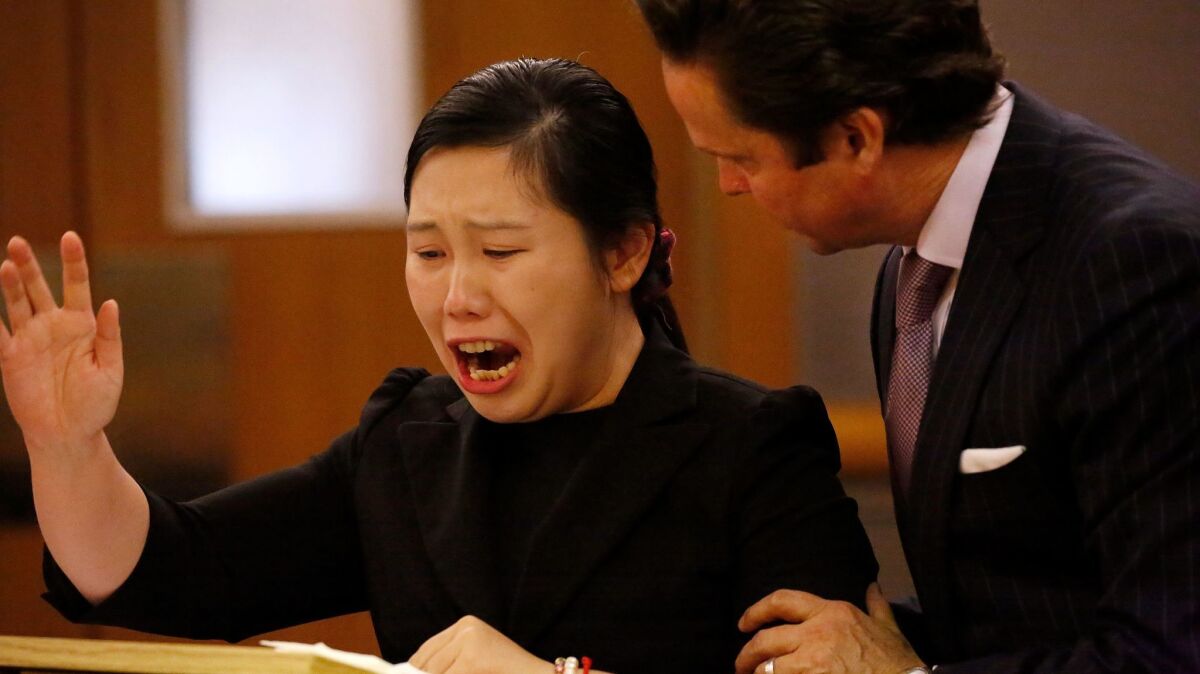 "You didn't help," Chen told Herschel on Thursday in court, in a tearful plea for the judge to impose the maximum penalty. "She did nothing. She only tried to help herself by lying about what she did."
After Chen spoke, Herschel stood and said that she didn't know she had hit the women. She said she moved Chen's mother's body as a way to help, and only stopped tending to her because another person at the scene urged her not to touch them.
She did not call 911, she said, because she did not have her phone.
"I was only trying to help," Herschel said, wiping her cheeks with a tissue as she expressed sympathy for Chen's loss. "My mom is my best friend too."
The CHP had recommended that prosecutors file a felony hit-and-run charge along with misdemeanor charges of manslaughter and tampering with evidence at the scene, alleging that Herschel had moved her truck from the crash site and lied to police.
Prosecutors balked. "This case was filed based on what we could prove beyond a reasonable doubt," said Ricardo Santiago, a spokesman for the district attorney's office.
Chen, who also filed a civil lawsuit against Herschel in 2016, persuaded Jackson, a prominent attorney and former prosecutor, to help pressure the D.A.'s office to increase the charges against Herschel. On Thursday, Deputy Dist. Atty. Paul Seo told the court that the office was not seeking additional charges, clearing the way for Herschel to enter her plea.
Herschel's defense attorney, Nicholas Bravo, said afterward in an email that his client should not have been sentenced to jail. Prosecutors "made no showing or offering of egregiously bad driving" at the time of the accident, nor did prosecutors provide evidence of repeated traffic or criminal violations by Herschel, he said.
"You should not get a year in jail simply for having a traffic accident, which is all that the charged conduct was," Bravo said.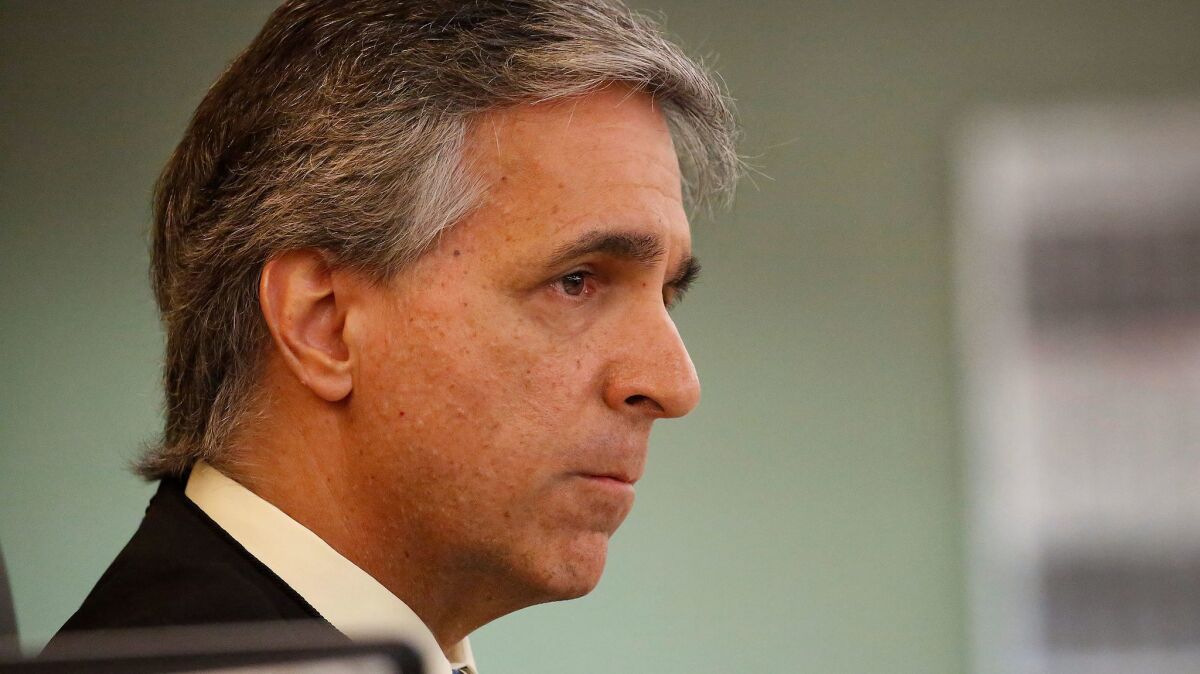 Brandolino, the judge, said he reviewed the collision report before the hearing and said it was Herschel's actions after the crash that factored into the maximum punishment.
"This is not a case that involved intent," Brandolino said. "This is one of those cases where the criminal conduct of the defendant is so disproportionate to the tragic, tragic results."
He acknowledged that an outpouring of letters from Herschel's family and friends — many of whom squeezed into the back two rows of the courtroom — demonstrated her positive character.
"She's a good person, no doubt," Brandolino said of Herschel.
But what befell Chen and her mother was also unfathomable, he said.
"I hope, in some way, the resolution of this case will help you move forward and heal," the judge told Chen.
Twitter: @MattHjourno
---
UPDATES:
4:30 p.m.: This article was updated with additional information from the hearing and comments from Herschel's attorney.
This article was originally published at 1:30 p.m.
---
The stories shaping California
Get up to speed with our Essential California newsletter, sent six days a week.
You may occasionally receive promotional content from the Los Angeles Times.