Brother of man killed while fleeing from ICE is deported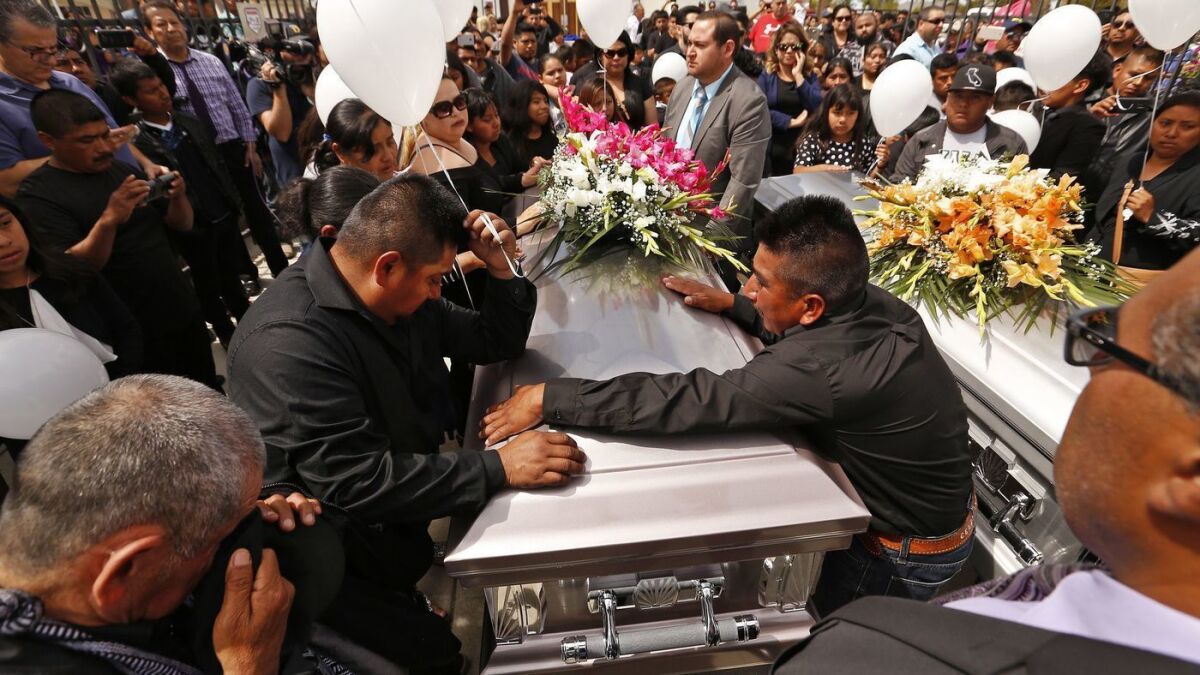 More than a month ago, a Delano couple died when they crashed their truck while fleeing from immigration agents. The man and woman, who were in the country illegally, had not been the intended target of Immigration and Customs Enforcement agents.
Officials later said that the agents were trying to arrest another man and that Santos Hilario Garcia, who died in the crash, matched the description of their target.
On Wednesday, ICE arrested and deported the person they had been after: the dead man's brother, Celestino Hilario Garcia.
Celestino Hilario Garcia was leaving his apartment complex in a car with his wife and a neighbor when he was arrested by ICE deportation officers, according to the United Farm Workers Foundation, which has been working with the family. His wife and four children remain in Delano.
Hilario Garcia has three criminal convictions for driving under the influence, according to ICE. He was granted voluntary return to Mexico on seven occasions from 2002 to 2009. In April 2009, an immigration judge issued him a final order of removal, and ICE removed him to Mexico twice, once in April 2009 and again in May 2009.
The sequence of events that culminated in the fatal accident began on the morning of March 13. ICE agents followed Santos Hilario Garcia, and his wife, Marcelina Garcia Profecto, as the couple left the apartment complex to drop off their teenage daughter at school.
The agents apparently mistook Santos for Celestino. Minutes later, after a brief stop, the couple — who had six children — fled at high speed from the agents. They died after slamming their truck into a utility pole.
In an interview with The Times in April, Celestino blamed ICE for their deaths.
"It was his car, it was in his name. If I lent him my car, then it's my fault," Celestino said. "It was his car. His car…. They had time to check the plates."
Celestino was informed about their deaths by one of their daughters. He burst into tears before going to the spot where his brother's car had overturned. At the scene, Delano police showed him his brother's Mexican consular identification card — which is what they used to identify him.
"We're not animals, we're people," Celestino said. "They want to clean their hands of this, but it's not going to be that easy."
The deaths resulted in protests, with some Delano officials and residents blaming ICE and the Trump administration for being too aggressive in their crusade against illegal immigration. ICE has blamed the deaths on California's "sanctuary" policies, which the agency says put it in a position to target, and sometimes arrest, immigrants without legal status who were not initially sought for removal.
The Delano case took on a new dimension when the local police department asked prosecutors to look into whether two ICE agents had given false information to police after the crash. Ultimately, Kern County prosecutors said they would not file charges.
Celestino lived in the same apartment complex as his brother, but in a different apartment with his family. After his brother's death, he said, he and his wife were helping support their nieces and nephews.
Diana Tellefson Torres, executive director of the United Farm Workers Foundation, called the arrest a "new blow" to Santos and Marcelina's six children.
"ICE already contributed to the deaths of the parents of these six children who are now orphans," Torres said in a statement. "Can ICE be more callous in visiting even greater anguish upon this family that has already suffered so much?"
Twitter: @Brittny_Mejia
The stories shaping California
Get up to speed with our Essential California newsletter, sent six days a week.
You may occasionally receive promotional content from the Los Angeles Times.