ICE enforcement ends in death of farmworkers, leaving anger and questions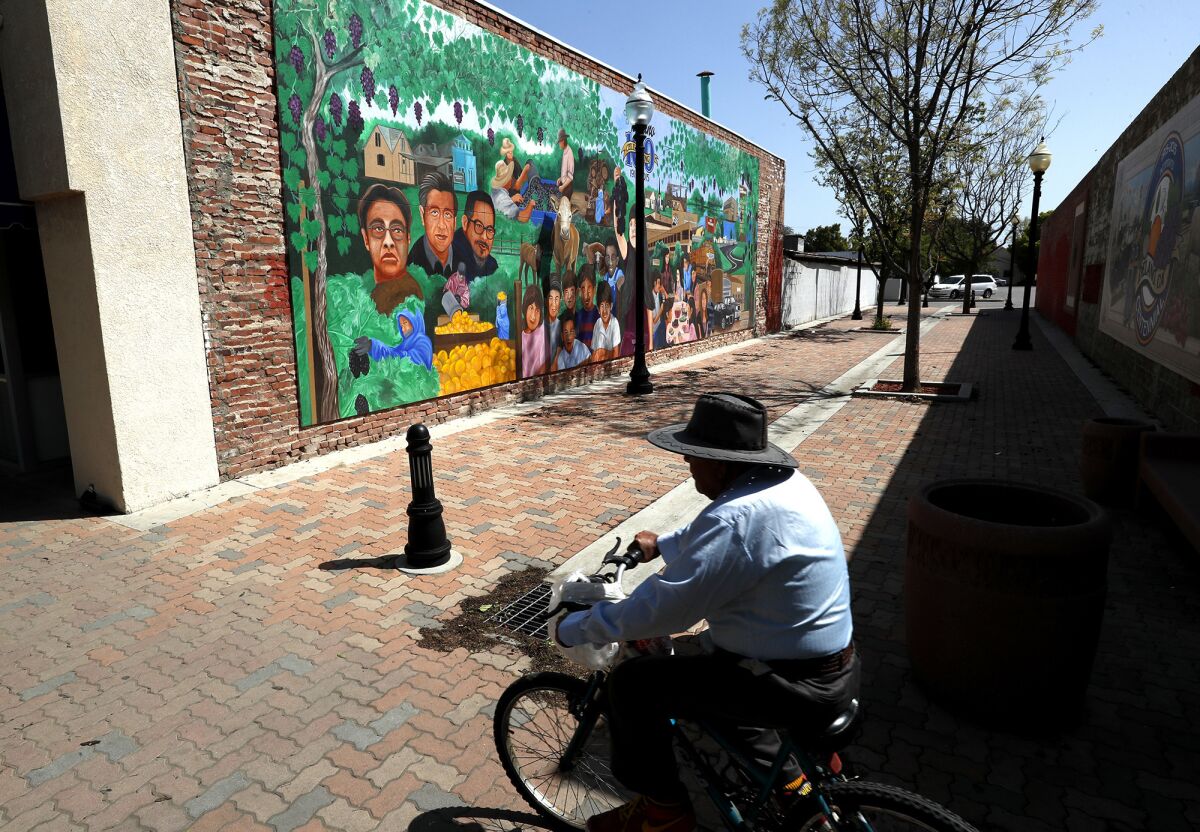 Reporting from Delano, Calif. —
Celestino Hilario Garcia, his eyes bloodshot and his voice raw, struggled to explain that his brother's and sister-in-law's deaths were not his fault.
A month ago, Immigration and Customs Enforcement agents had trained their sights on Santos Hilario Garcia. In the early morning darkness, they followed in two black Jeeps as he and his wife, Marcelina Garcia Profecto, dropped their teenage daughter off at Robert F. Kennedy High School.
Minutes later, the couple were dead, having crashed their truck as they tried to escape the agents. ICE officials later said that the couple had not been their target — Garcia happened to have matched the description of the person they were after.
That person was Celestino, a Mexican immigrant who, like his brother, was in the country illegally.
"It was his car, it was in his name. If I lent him my car, then it's my fault," Celestino said. "It was his car. His car…. They had time to check the plates."
Blame has been a recurrent theme since the fatal crash in this Central Valley town of vast farmlands.
There have been protests, with some Delano officials and residents blaming ICE and the Trump administration for being too aggressive in their crusade against illegal immigration. ICE has blamed the deaths on California's "sanctuary" policies, which the agency says put it in a position to target, and sometimes arrest, immigrants without legal status who were not initially sought for removal.
Aggressive immigration enforcement by the Trump administration has become an issue across the nation. Last month, top federal officials and the president condemned Oakland's mayor, Libby Schaaf, after she warned the community of upcoming ICE sweeps.
The Delano case took on a new dimension when the local police department asked prosecutors to look into whether two ICE agents had given false information to police after the crash. On Wednesday, Kern County prosecutors said they would not file charges.
"There is no credible evidence that either agent lied," Kern County Dist. Atty. Lisa Green said. "I approached this case, and every other case, by trying to do the right thing, for the right reason. Politics had nothing to do with it."
The decision is unlikely to settle matters, particularly since ICE will not say why deportation officers were after Celestino. And it still is unclear why the couple initially stopped for the agents before speeding off.
"Santos Hilario and Marcelina did not get justice today from the Kern County district attorney, and they deserved it," said Diana Tellefson Torres, the executive director of the United Farm Workers Foundation. "They and their six orphaned children are just the latest casualties of the federal government's recent targeting of hardworking immigrant farmworkers who feed all of us."
Delano, with a population of about 52,000, is a town of farmworkers.
About 76% of the city's residents are Latino, and nearly 40% are foreign born — many of them now deep in the labor of filling buckets with plucked blueberries and tying grapevines to metal wires to help them grow properly.
The town's median household income is $36,265.
Interim Police Chief Raul Alvizo's parents labored in the fields, as did he as a teenager. Mayor Grace Vallejo was a migrant farmworker, bouncing from town to town across the state with her parents and siblings.
About 30 miles north of Bakersfield in Kern County, Delano is a center for growing table grapes. The sign welcoming people to the city features a cluster of grapes. A mural along Main Street, celebrating the city's 100th anniversary, shows farmworkers working under bunches of the fruit.
The city's vineyards were the scene of a September 1965 grape strike, led by Filipino workers who were soon joined by civil rights icon Cesar Chavez to fight back against unfair treatment. The movement led to the formation of the United Farm Workers of America.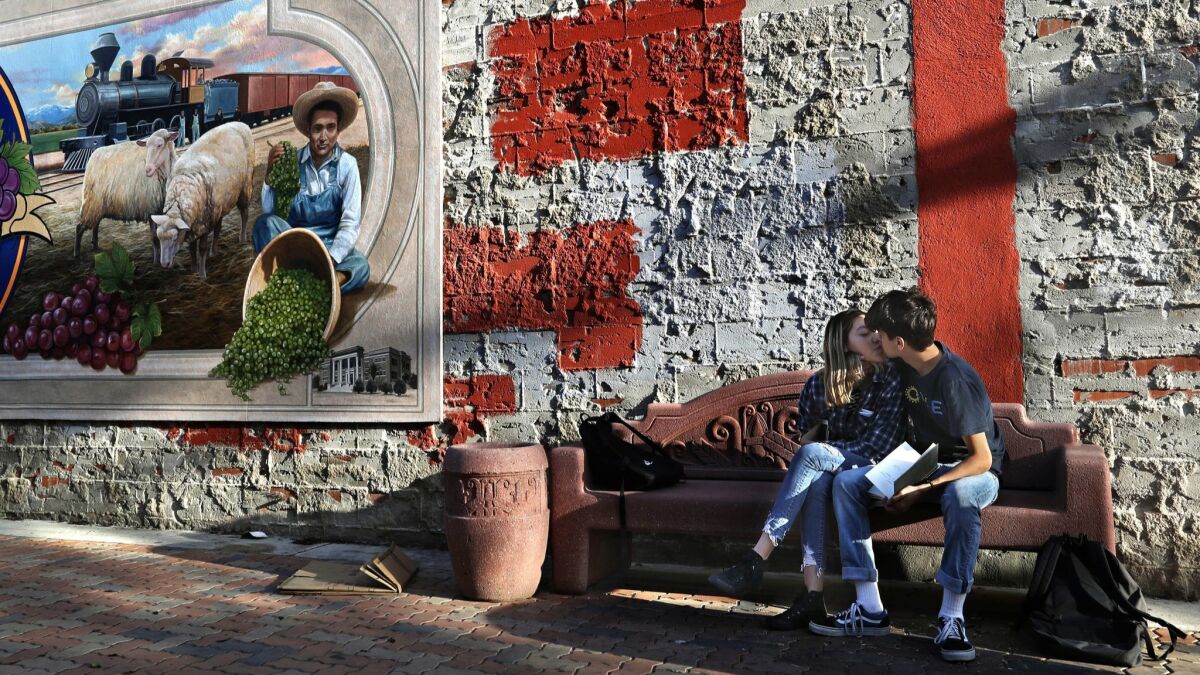 On a recent afternoon, under a clear sky, six women with bandannas covering their faces fanned out among rows of grapevines.
"We leave our homes not knowing if we're going to come back," said one, who is originally from the Mexican state of Sinaloa.
"Imagine the necessity to work but with the fear that when we leave, that immigration is going to stop and take us," another said. "And our children? What is going to happen to them?"
The workers refused to give their names, fearing being targeted for arrest and deportation.
After the crash that killed Garcia and Profecto, many immigrants were afraid to leave their homes. Business owners and residents in Delano, many of whom could see their own story in Garcia's and Profecto's, set about raising money for the couple's children.
At Tony's Barbershop, Osbaldo Prieto, whose mother is a farmworker, gave the couple's two sons free haircuts in preparation for the memorial service this month. The mayor's niece donated haircuts to the four daughters.
Emmanuel Perez, who left for the U.S. from Ciudad Juárez, Mexico, in 1978, was a farmworker for more than a decade.
The week of the crash, Perez, who owns a furniture store on Main Street, donated beds, a dining set and sofas to the family.
"We felt bad, because that's how we came," Perez said, taking a shaky breath as tears filled his eyes. "We came here to progress…. These people came probably the same way. Now their kids are going to be the ones suffering without their parents."
After leaving Mexico, Garcia and his wife landed first in Arizona and later in Delano. Celestino and his wife came also, raising four children in the city.
"In Mexico, there is work, but there aren't opportunities to progress or have a better future for your kids, better education — that's what I wanted for my kids. That's what my brother-in-law wanted," said Celestino's wife, who asked that she not be named. "He wanted his kids to get ahead and have a better education than what they could get in Mexico."
Garcia and Profecto had built a life in a drab apartment complex alongside dozens of other farmworkers' families.
In the predawn hours of March 13, ICE agents were outside, watching for Celestino, who said he had not lived there since 2014.
Citing an ongoing review, ICE declined to say why Celestino was wanted for removal. He said he did not know why the agents were after him.
Garcia and Profecto had just dropped their daughter off and turned their blue pickup onto a busy road when emergency lights flashed behind them. They stopped, but as the deportation officer got out of his Jeep, the pickup took off.
Ramiro Sanchez, an ICE deportation officer, said he followed in the same direction but was not in "pursuit with emergency lights/sirens," according to a Delano police report. Dimas Benitez, an ICE agent in a second vehicle, also stated the two were not in "pursuit."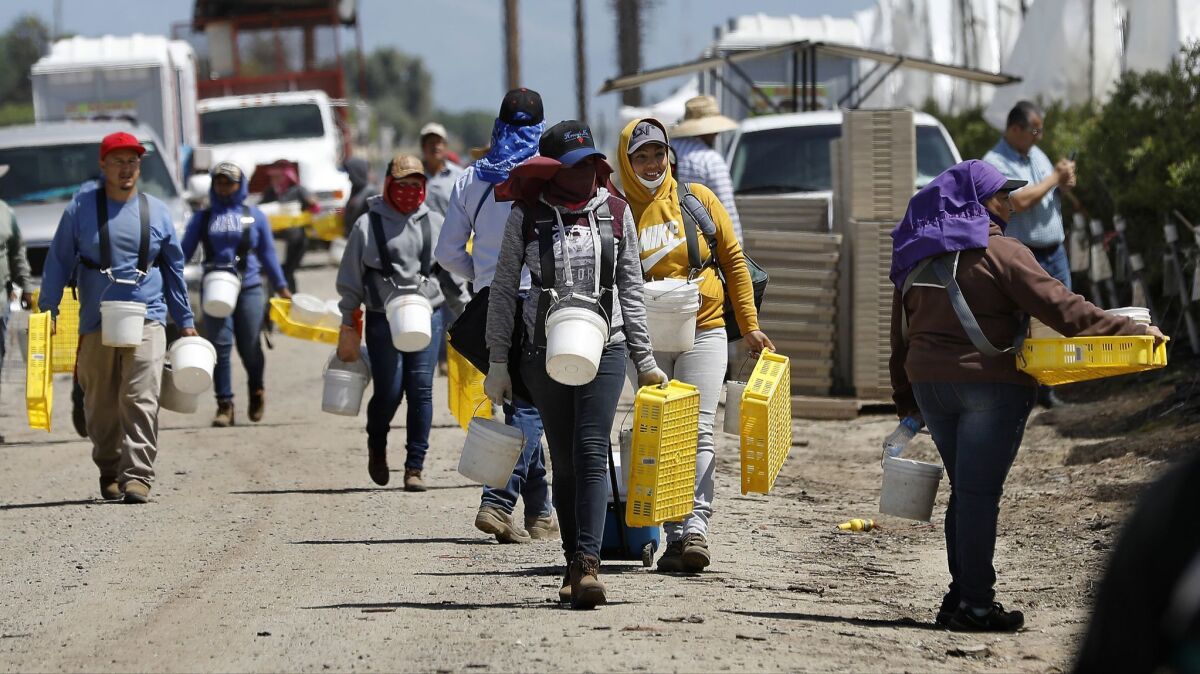 Surveillance video, shot at the midway point from the initial stop and the collision, showed the immigration agents' vehicles traveling in the same direction as the couple's truck with their emergency lights activated.
ICE said it is reviewing the incident but noted that three separate witnesses who spoke with Delano police about the crash said they did not see anyone pursuing the couple. They previously cited sanctuary policies that "have pushed ICE out of jails" and "force our officers to conduct more enforcement in the community — which poses increased risks for law enforcement and the public."
"It also increases the likelihood that ICE will encounter other illegal aliens who previously weren't on our radar," spokesman Richard Rocha said in a statement.
"The unfortunate outcome of the decision made by the vehicle driver to erratically evade ICE officers is why ICE encourages all of those we encounter to comply with officers' commands in order to ensure our ability to carry out our mission as safely as possible," the agency said in a statement.
Although Garcia had been convicted in 2014 of driving under the influence and was voluntarily returned to Mexico three times from 2008 to 2017, he was not an arrest target. Profecto had no prior encounters with ICE and no criminal record.
Celestino was informed about their deaths by one of their daughters. He burst into tears before going to the spot where his brother's car had overturned. At the scene, Delano police showed him his brother's Mexican consular identification card — which is what they used to identify him.
"We're not animals, we're people," Celestino said. "They want to clean their hands of this, but it's not going to be that easy."
At his brother's funeral service, next to the church hall where Cesar Chavez's union voted to join the Delano grape strike decades ago, Celestino sobbed. As two pewter gray caskets were taken out to waiting hearses, he draped his body over one of them.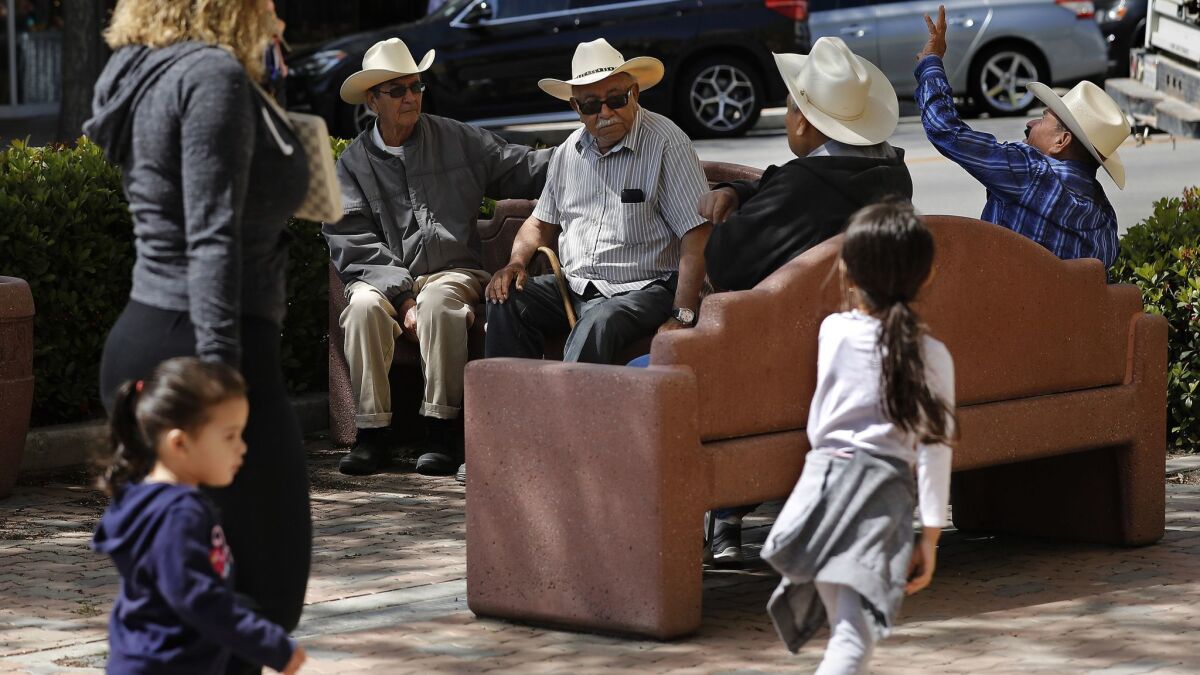 Times staff writer Ryan Menezes contributed to this report.
To read this article in Spanish, click here
For more California news, follow @brittny_mejia
The stories shaping California
Get up to speed with our Essential California newsletter, sent six days a week.
You may occasionally receive promotional content from the Los Angeles Times.