Dodgers fans reflect on a World Series lost: 'I think I've aged 20 years in the last three days'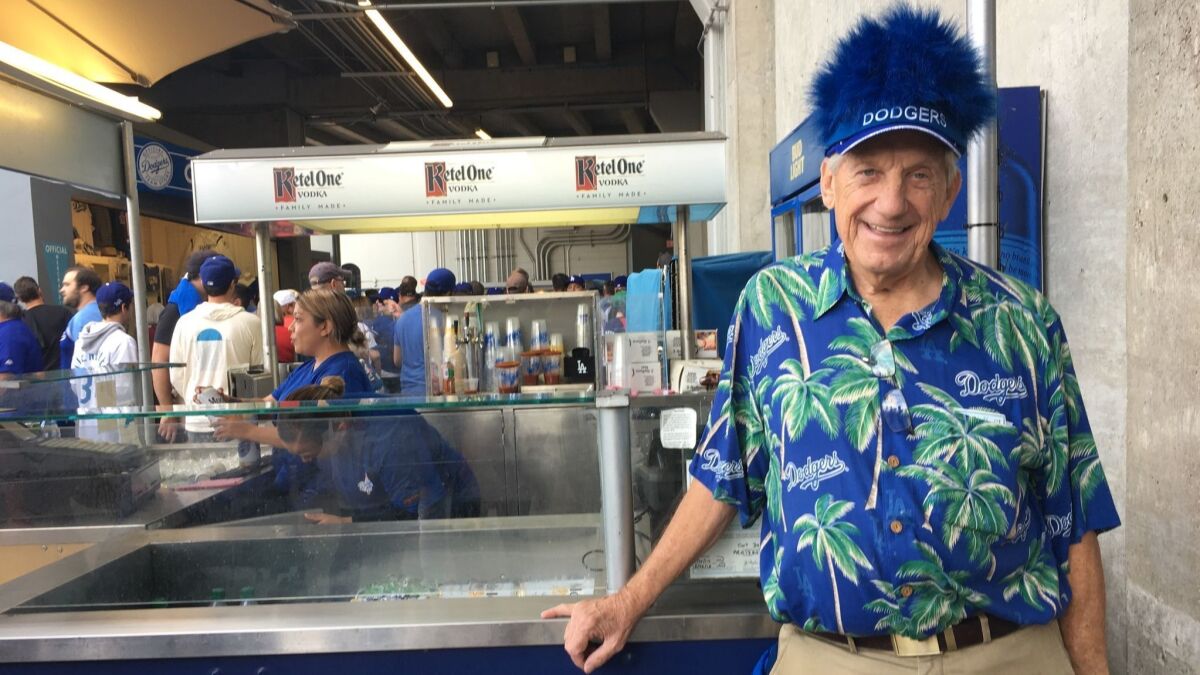 Amid all that Dodger blue — the jerseys, the T-shirts, the World Series caps from this season and last — there was a rowdy contingent of red-clad Boston Red Sox fans Sunday night at Dodger Stadium, where the home team lost its second World Series in a row.
It's been a brutal ride for long-suffering Dodgers fans, now 30 years removed from their team's last World Series championship.
And with every Red Sox home run off Clayton Kershaw and then Pedro Baez, the stands shook with cheering Boston fans.
In the bottom of the ninth, just before Boston won 5-1, chants of "Let's go, Red Sox" echoed throughout the stands. (After the game, the chant turned to "Yankees suck.")
Even before Sunday's game, some ever-faithful Dodger fans hinted that they were a bit weary. The declarations of certain victory that fans spoke of Saturday were more subdued going into Game 5.
"I'm just crossing my fingers and hoping to the man above that we win," said Danny Martinez, 32, of Huntington Park, before the game.
A man with a Dodgers logo tattooed on his shoulder — "marked for life," as his twin brother, Roger, said — Martinez described this World Series as an emotional roller coaster.
"I think people are a little quieter this year," Janette Roberts, 58, of Gardena, said of her fellow Dodgers fans.
There was a different vibe in the stadium, she said. Roberts attended the World Series last year, when the Dodgers were red-hot after a 104-win regular season and the ecstatic fans could almost taste that championship champagne.
Still, Roberts attended Sunday's game in a Dodger blue tutu and glittery blue lipstick. She clung to a little hope, as Dodger fans tend to do.
Isaac Tellez, 39, of Bella Vista, Ark., attended the game with a stuffed Yasiel Puig doll that his daughter dubbed "Puigy."
Tellez was walking through a Walmart in Arkansas with his daughter last year when he thought she was pulling a fast one on him.
Elia, 11, likes to persuade her dad to give her money for the claw machines. He thought she was joking when she told him there was a stuffed Puig in the machine.
"I was like, 'Girl, we're in northwest Arkansas. There's no Puig in there.' And there he was."
Elia won the Puig on her first try for just $1. Now, Dad carries the stuffed Puig on all his travels and sends her photos.
On Sunday, Tellez reflected on what it's been like to be a Dodgers fan during this World Series.
"I think I've aged 20 years in the last three days," he said.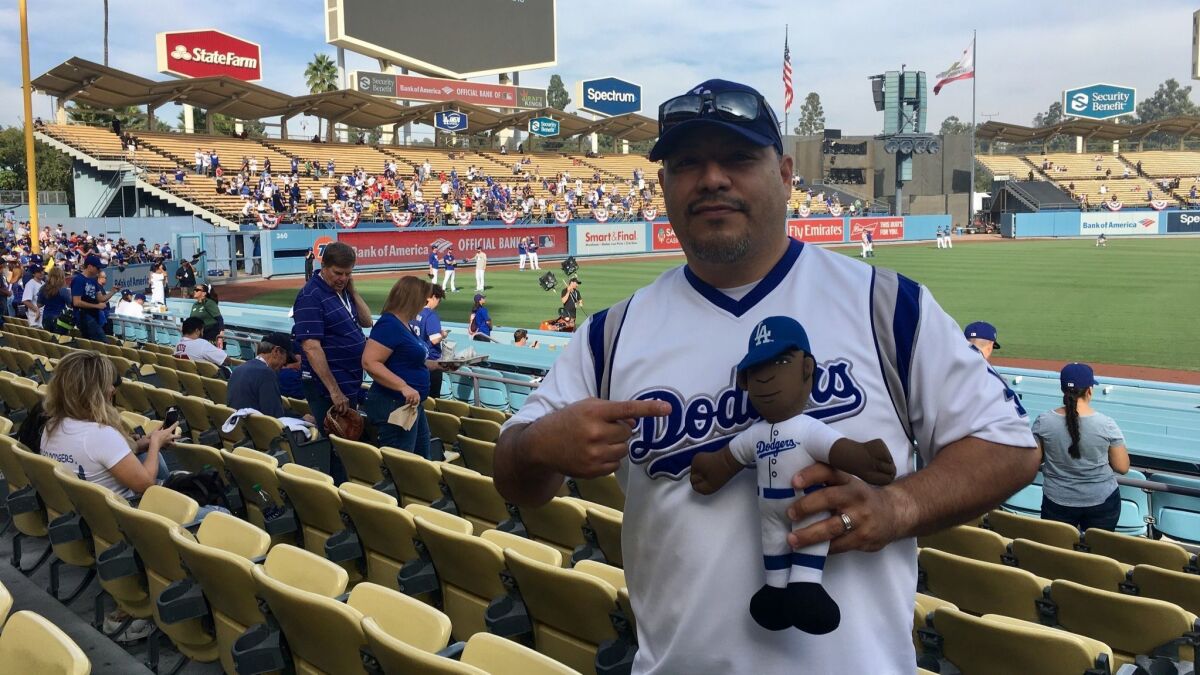 Tellez grew up in El Paso, but since he has a bunch of family in Los Angeles, he's been a Dodgers fan for as long as he can remember. All of his relatives are, too.
On Friday night, Tellez attended a family wedding downtown. That was the night of Game 3, the longest World Series game in history, and he kept everyone — including the bride and groom — updated on the score.
"We were trying to celebrate a union and trying to celebrate a Dodgers win at the same time," he said.
Years ago, Dodger fan Michael Horner was watching a late spring training game at Camelback Ranch in Glendale, Ariz. There was a young man on the mound who was struggling to get strikeouts and getting walloped by batters.
"I said, 'What are they doing with this young kid?'" Horner recalled. "This kid was terrible. Why in the world was he playing for the Dodgers?
"His name was Clayton Kershaw."
Watching the Dodgers' ace become one of the best pitchers of his generation has been a delight for Horner, 82, of Pasadena, who said his initial impression proved he was a bad judge of baseball talent.
Horner came to Game 5 of the World Series wearing a Dodgers-themed Hawaiian shirt and a blue Dodgers cap with a Farmer John Hot Dogs logo and a fuzzy blue wig on top. Kershaw was on the mound once again.
Asked how he was feeling with his Dodgers trailing three games to one in the best-of-seven series, Horner said: "Depressed."
"I'm a long-standing, long-suffering fan," Horner said. "I have been the last 50 years. I'm a dedicated fan, despite all the misery and suffering."
"Baseball, you suffer through it," Horner said. "It's a great game."
Twitter: @haileybranson
---
The stories shaping California
Get up to speed with our Essential California newsletter, sent six days a week.
You may occasionally receive promotional content from the Los Angeles Times.