Dry, warm conditions keep California's national forests parched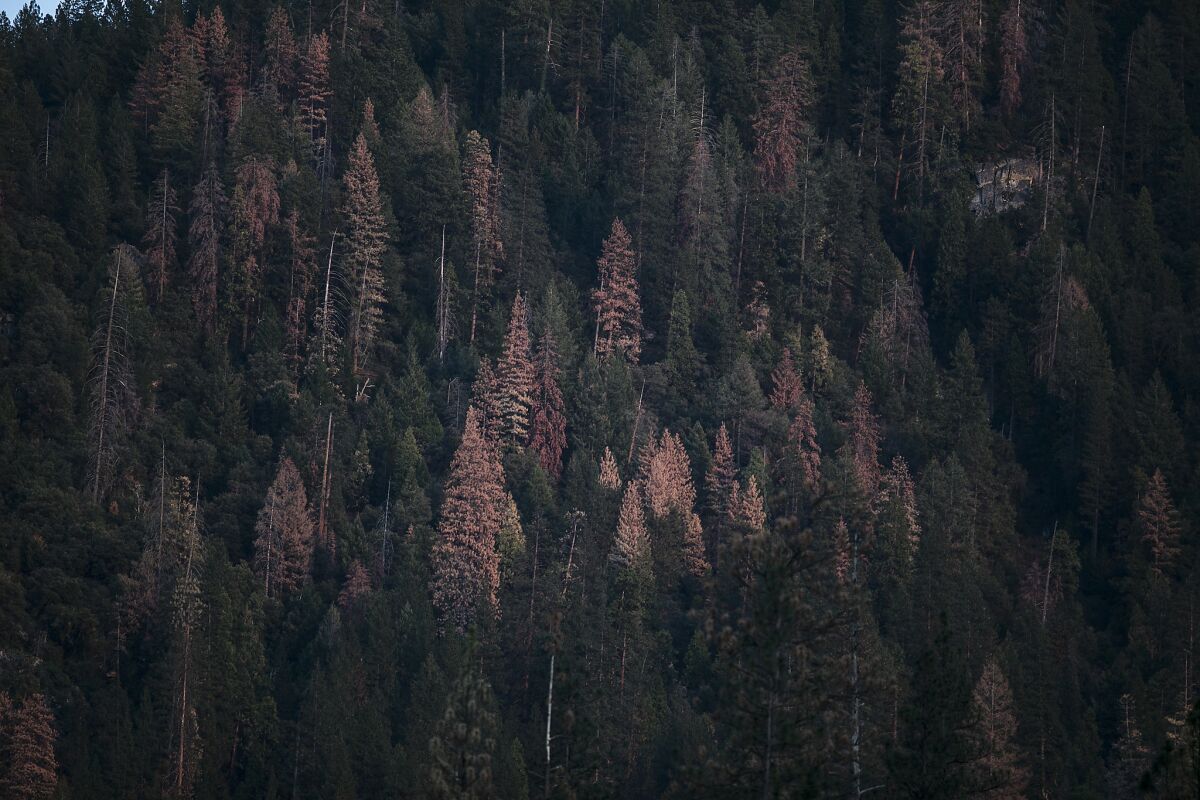 California's dwindling snowpack and warmer temperatures continue to increase the risk of fires in already parched national forests.
With the state's snowpack at only 5%, water resources in the 18 national forests in California are low and trees are water-starved, said climatologist William Patzert of the Jet Propulsion Laboratory.
"The national forest is stressed out," Patzert said. "The absence of snowpack has endangered the national forest."
Warmer temperatures are rapidly drying out the state, he said. California had its second-warmest March since record-keeping began in 1880, according to the National Oceanic and Atmospheric Administration.
The first three months of this year were the warmest on record in 136 years for the globe, according to NOAA.
The mortality of the national forest is further complicated by the invasion of bark beetles, he said. The tiny brown insects chew away at the pines, making them brittle and transforming them into the perfect fuel for a fire, he said.
Traditionally by spring, the forest is green and lush due to a substantial rainy season. But four years of drought and warm temperatures have taken their toll.
It means fuel — made up of parched chaparral and grass — has built up for four years.
"The situation is incendiary," Patzert said.
Before the drought, wildfire season usually coincided with strong Santa Ana winds in fall and early winter. But the drought has changed that, and the season is year-round, Patzert said
And in Southern California, most wildfires are started by people.
For example, a raging wildfire in Riverside County was started by an unattended cooking fire. The blaze, which started Saturday, has scorched 1,020 acres of dry brush and prompted 300 evacuations.
Dry conditions also contributed to smaller brush fires during the weekend.
Parched conditions statewide have forced firefighters to augment their staffing because any small fire can quickly explode into a devastating blaze, according to the California Department of Forestry and Fire Protection.
But maybe the key to preventing a fire from starting is people, officials said.
"Everybody has to try to be very, very careful," Patzert said.
For breaking news in California, follow @VeronicaRochaLA.
---
The stories shaping California
Get up to speed with our Essential California newsletter, sent six days a week.
You may occasionally receive promotional content from the Los Angeles Times.