Lavish meals, pet airfare, Italy trip: Rep. Duncan Hunter and wife accused of misspending $250,000 in campaign funds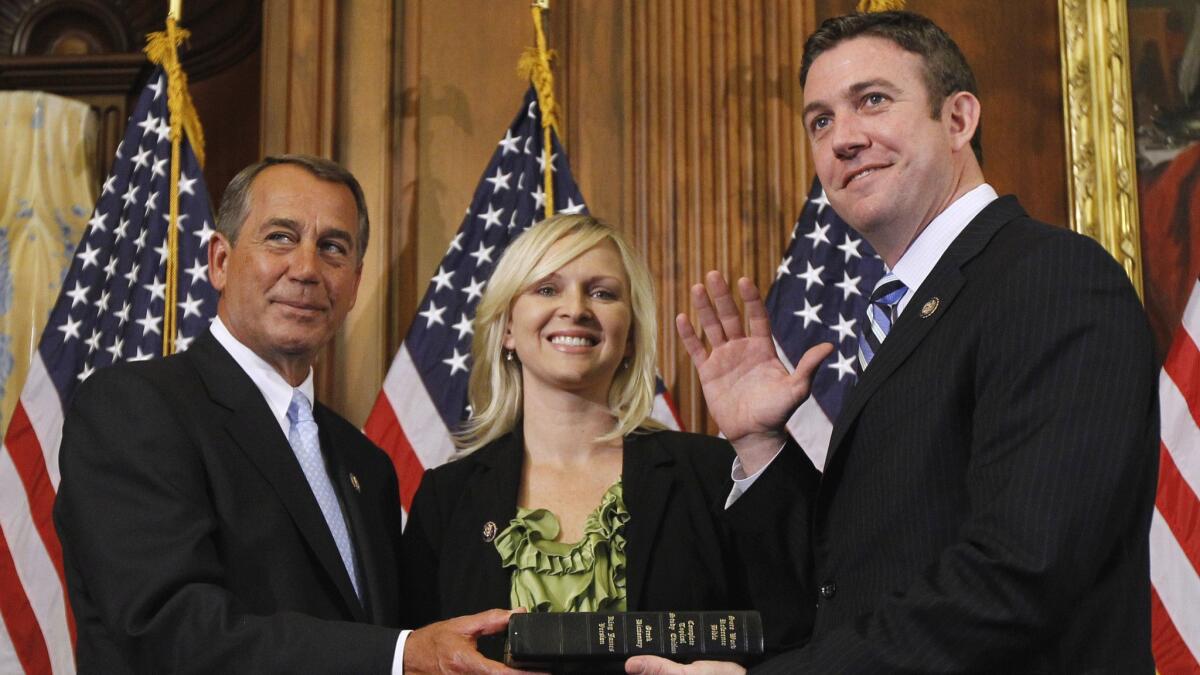 They dropped more than $14,000 on a family vacation in Italy. They racked up $3,300 at In-N-Out, Carl's Jr, Taco Bell and other fast-food restaurants. Over the years, prosecutors allege, Rep. Duncan Hunter and his wife, Margaret, picked up Fandango movie tickets, a $250 airplane ride for the family rabbit, video games and vitamins from Costco — and once, 30 tequila shots for a bachelor party.
"Our treat," Hunter (R-Alpine) and his wife told their friends when they picked up the $1,164 tab at the Montage resort in Laguna Beach for food and drinks.
A federal grand jury indicted the couple Tuesday, alleging they funded a lavish lifestyle of travel, fine dining, gifts and other expenses by illegally using campaign money, then filed false campaign finance reports with the Federal Election Commission to cover it up.
Prosecutors said the Hunters spent more than $250,000 on personal expenses that they concealed as campaign-related gifts, donations and travel.
Family dental bills, the indictment alleges, were listed as a charitable contribution to "Smiles for Life." Tickets for the family to see "Riverdance" at the San Diego Civic Theatre became "San Diego Civic Center for Republican Women Federated/Fundraising." A golf outing was characterized as "a Christian thing" with a supporter. SeaWorld tickets worth more than $250 were called an "educational tour."
For all the spending, authorities said the couple was actually broke. After his election to Congress in 2008, Duncan and his wife overdrew their bank account more than 1,100 times, racking up more than $37,000 in overdraft fees, the indictment said.
The couple is accused of treating the campaign coffers "as if they were personal bank accounts," U.S. Atty. Adam Braverman said in a statement. "Elected representatives should jealously guard the public's trust, not abuse their positions for personal gain."
During the time period the indictment covers — 2009 to 2016 — Hunter was reelected four times, while his wife, Margaret, handled his campaign finance reports and was paid as his campaign manager.
His campaign called the indictment politically motivated and linked to his support for President Trump. It said in a statement that the federal attorneys involved in the indictment attended a "Hillary Clinton for President" fundraiser on Aug. 27, 2015, and should have recused themselves from the case.
The campaign said Hunter has no plans to drop out of his reelection race. But House Speaker Paul D. Ryan said Tuesday that Hunter — chairman of the House Transportation and Infrastructure Committee's Coast Guard and Maritime Transportation Subcommittee — will be removed from his committee assignments until the case is resolved.
Gregory Vega, Hunter's attorney, said an indictment only three months before the election and almost two years since the investigation began "reflects a loss of impartiality and appears to be an effort to derail Congressman Hunter's reelection."
The San Diego Union-Tribune and the FEC identified some of the questionable spending more than two years ago, triggering a federal investigation by the Justice Department.
Defending himself against the investigation has largely drained Hunter's campaign war chest. He and his wife sold the family home and moved in with his parents. The five-term congressman holds a seat his father, Rep. Duncan Hunter Sr., once held for decades.
It was more than $1,300 in video game purchases that first drew the newspaper's attention. At the time, Hunter blamed his son for those purchases, saying he had used the wrong credit card to sign up for a recurring purchase.
But the 47-page indictment details years of unchecked spending and deception, starting in 2009, when Duncan Hunter requested campaign credit cards for himself and his wife. At the time, his campaign treasurer warned him: The cards could be used only for campaign-related expenses.
On Jan. 25, 2010, according to the indictment, the congressman spent more than $1,000 in campaign funds on a three-night skiing trip with a friend. That same day, his family bank account had a negative balance and incurred six separate fees for insufficient funds. He had about $35 in his personal account.
Later in 2010, the treasurer pressed Hunter about a $160 round of golf and beer at Riverwalk Golf Club with a friend, asking if the expenditure was campaign related.
"Yessir. All good," he replied.
Soon after, his wife spent $700 on a dozen tickets for "How the Grinch Stole Christmas," falsely labeling the charge as "holiday gift certificates," prosecutors said. They spent $2,000 to send a family member to a Pittsburgh Steelers game for a birthday celebration.
When the treasurer questioned him again, Hunter asked if he was "trying to create some kind of paper trail" on the congressman, according to the indictment.
The spending allegedly continued for years. The Hunters took family vacations to Boise, Idaho, and Washington, D.C. Margaret Hunter booked flights for her sister and two other family members to attend a funeral in Tucson in 2012, saying the charge was for a flight to Baltimore for a "winter meeting" at a Republican gathering, documents said.
"We really need to up the 1k daily limit to 4 or 5," Margaret Hunter told the treasurer in February 2015, referring to the campaign card. The following month, Duncan Hunter told his wife he was planning to buy his "Hawaii shorts" but had run out of money. She advised him to buy the shorts from a pro golf shop. That way, they could describe the purchase as "some [golf] balls for the wounded warriors," the indictment alleges.
During the family trip to Italy in 2015, Hunter tried to set up a day tour of a U.S. naval facility there to justify the use of campaign funds, according to the indictment. Navy officials said they could offer a tour only on a certain day.
"Tell the Navy to go [expletive] themselves," he told his chief of staff. No tour occurred.
Margaret Hunter later told the campaign treasurer that the trip charges were "mostly military/defense meet related." About the same time, she emailed her friend: "Italy was amazing. Truly our best family trip so far," she wrote, according to the indictment. "Like that saying, 'If traveling was free you'd never see me again!'"
Hunter has previously said he did not handle the campaign's credit card and did not do anything improper. He attributed any violations to honest mistakes and repaid several thousands of dollars to his campaign before the investigation began.
According to the indictment, Hunter repaid $48,650 to the campaign after repeated questioning by the news media and the FEC about expenses he now deemed "personal in nature," but he continued to conceal more than $200,000 in spending.
The allegations mean Hunter's district, one of the most conservative in the state, could be more competitive than it has been in years, making Republicans' effort to retain a House majority in the midterm election in November even tougher. While Hunter still stands a chance of winning — Trump won the district by 15 percentage points — the prospect of an indictment was the main reason Democrats kept this race on their target list.
California election law does not provide a way for Republicans to replace Hunter with another GOP candidate, and the only way to remove Hunter's name from the ballot is by court order.
Hunter's legal troubles could help his challenger, former Obama administration employee Ammar Campa-Najjar, who has cast himself as a progressive Democrat.
California Republican leaders urged voters to not rush to judgment.
"In our country, individuals are presumed innocent until a jury of their peers convicts them," California Republican Party chair Jim Brulte said. "The congressman and his wife have a constitutional promise to their day in court, and we will not prejudge the outcome."
Twitter: @sarahdwire
Twitter: @cmaiduc
alene.tchekmedyian@latimes.com
Twitter: @AleneTchek
Sign up for Essential California for news, features and recommendations from the L.A. Times and beyond in your inbox six days a week.
You may occasionally receive promotional content from the Los Angeles Times.