DWP nonprofits ordered to recognize Garcetti allies as trustees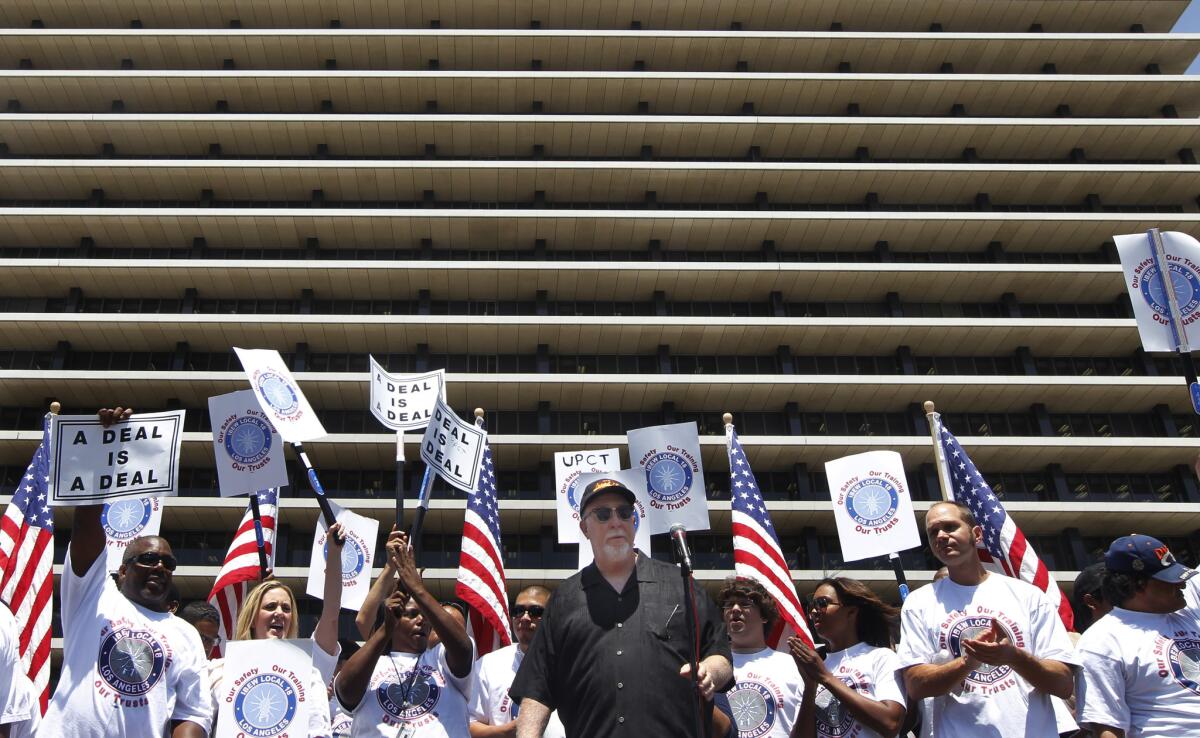 A Superior Court judge is ordering two Los Angeles Department of Water and Power nonprofits to recognize trustees allied with Mayor Eric Garcetti, the latest twist in an enduring saga over the details of their spending.
The mayor's office heralded the decision as a victory. "With today's ruling, DWP trustees can take their seat at the table to make sure ratepayer money is not misspent," Garcetti spokesman Jeff Millman said in a written statement.
Garcetti and other city leaders have been warring with DWP union leader Brian D'Arcy as they seek financial records detailing how more than $40 million in ratepayer money was spent by two entities -- the Joint Training Institute and Joint Safety Institute.
The nonprofits are run by boards split between union and management appointees. As the fight drags on, union trustees have refused to meet with two newly selected management appointees, mayoral counsel Richard Llewellyn and DWP board member Michael Fleming, who were appointed by DWP commissioners earlier this year. If the trustees met, the new appointees could potentially gain access to the nonprofits' financial details.
At the Friday hearing, the judge did not specifically order the trustees to hold a meeting, questioning how the court would monitor it. However, the preliminary injunction requires the union to recognize Llewellyn and Fleming's rights and powers as "lawfully appointed" management trustees.
Attorney D. William Heine Jr., who represented the union, argued that Fleming and Llewellyn, "the mayor's lawyer," were hostile to the trust goals. "They want to shut them down," Heine argued in court.
But Judge Michael P. Linfield was unswayed by arguments that Llewellyn and Fleming represented Garcetti and could therefore have a conflict of interest.
In a tentative ruling posted on the court website Thursday, the judge said the union had shown no evidence that the two were "agents of the mayor," nor had it shown that the mayor had interests against those of the trusts. At a Friday hearing, Linfield said he had only gotten "hearsay" about the issue.
Heine said they were still gathering evidence to make that case. He declined to answer questions after the hearing about whether the union would appeal the decision, referring reporters to a union representative who did not immediately return a call seeking comment Friday.
The union is already battling an earlier ruling nudging it to open up the nonprofit books: Earlier this year, D'Arcy appealed after another Superior Court judge ordered him to release financial records for the nonprofits to City Controller Ron Galperin and be interviewed under oath by city auditors. He won a stay of that ruling from an appeals court while it decides the case.
The Friday decision comes roughly a week after Galperin said he wouldn't sign checks for an expected $4 million payment to the nonprofits. That same day, City Atty. Mike Feuer filed a lawsuit that seeks to have a court-appointed receiver take over the two groups.
Times staff writer Jack Dolan contributed to this report.
Follow @latimesemily for what's happening at Los Angeles City Hall
Sign up for Essential California for news, features and recommendations from the L.A. Times and beyond in your inbox six days a week.
You may occasionally receive promotional content from the Los Angeles Times.