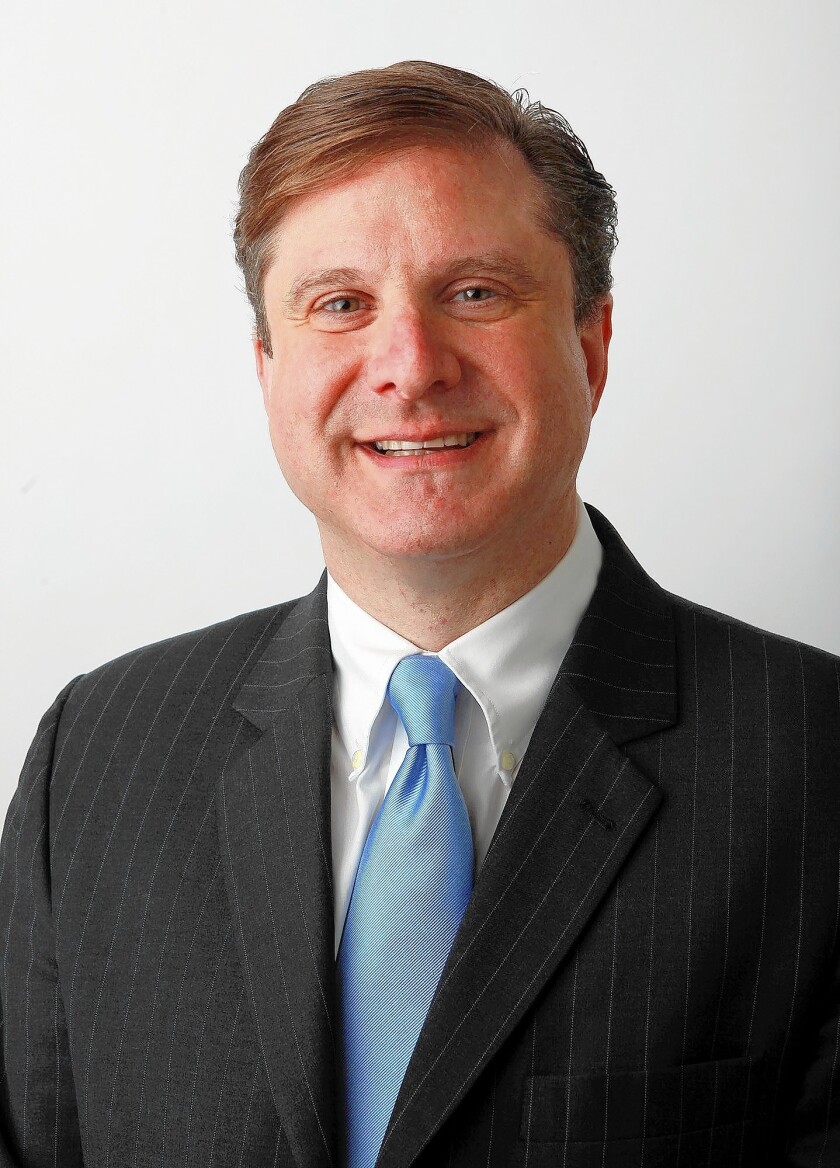 As an annual deadline looms for Los Angeles to pay nearly $4 million to a controversial pair of Department of Water and Power affiliates, one city leader announced his refusal to sign the checks and another sued to have a court-appointed receiver take over the nonprofits.
Los Angeles City Controller Ron Galperin said on Wednesday that he can't write the checks in "good conscience" because the nonprofits, which are jointly run by DWP managers and union leaders, have refused to produce detailed records showing what they've done with more than $40 million in previous payments.
City Atty. Mike Feuer filed his lawsuit hours later, hoping a receiver would impose transparency on the groups.
The moves are the latest salvos in an increasingly tense legal battle between the city's top elected officials, including Mayor Eric Garcetti, and the DWP union's politically powerful boss, Brian D'Arcy, a trustee of the nonprofits.
In September, The Times reported that DWP officials had only scant information on what the groups had done with tens of millions of public dollars they've received over the years. Since then, D'Arcy has argued that the money is no longer public once it lands in the nonprofits' bank accounts, and he has systematically thwarted every attempt by city leaders to gain access to detailed financial records.
The nonprofits, the Joint Training Institute and the Joint Safety Institute, were created in the early 2000's after a grueling round of job cuts at what stands as the nation's largest municipal water and power utility. Since then they have been receiving annual payments each July of up to $4 million, with essentially no public oversight of how the money is spent.
"On behalf of the ratepayers, I urge the court to appoint a receiver to run the trusts to restore oversight," Garcetti said on Wednesday after Feuer filed the suit. "This is the ratepayers' money, and they have the right to follow their money."
City officials decided to ask for the receiver after their lawyers spent weeks searching for, but failing to find, a low-risk way out of making the annual payments, which have been enshrined in the fine print of DWP union contracts for years, including the one Garcetti approved last fall.
Their search grew more focused after D'Arcy, at a union rally outside DWP headquarters a couple of weeks ago, warned city leaders they were asking for "trouble" if they withheld the money.
In recent days, however, the mayor began to publicly concede the city would probably have to pay up.
But when the invoices from the nonprofits landed on Controller Galperin's desk early this month, he couldn't bring himself to put pen to paper.
"As the City Controller, I have a duty to protect the public's money and to ensure that City funds are spent appropriately," Galperin wrote in an email to The Times. The city charter, he said, requires him to withhold a payment "if there is any question that they may be improper."
In January, Galperin subpoenaed D'Arcy demanding he turn over the nonprofits' detailed financial records and sit for an under-oath interview with city auditors. D'Arcy didn't show at the appointed hour, and then sued to quash the subpoenas. A Los Angeles Superior Court judge ordered D'Arcy to comply, but the union boss refused again and obtained a stay until the case is considered by an appellate court.
D'Arcy did not respond to a request for comment on Wednesday.
If he formally challenges Galperin's refusal to pay, the City Council would be called on to settle the issue. That could favor D'Arcy, whose union has contributed directly or through one of its political committees, to at least nine of the council's 15 members. The union also has a reputation for retaliating against council members it views as enemies.
In 2011, Working Californians, one of the union's campaign affiliates, spent more than $614,000 trying to unseat Councilman Bernard C. Parks after Parks attempted to give the council more control over DWP employee retirement benefits.
Parks survived the challenge but the message from the union was clear, said Jaime Regalado, emeritus professor of political science at Cal State Los Angeles. "They're willing to spend bucks and play tough if you cross them," he said.
Parks issued a statement Wednesday supporting Galperin, saying the nonprofits "shouldn't get a dime until they can verify how $40 million was spent."
Working Californians also spent more than $87,000 trying to defeat Councilman Mitch O'Farrell in last year's election, according to Ethics Commission records. O'Farrell said he supports Galperin's decision not to pay and doubts the council would overrule it, despite the political heft of the union.
"I would be surprised if any of my colleagues are going to fall on their sword to see that the city writes a $4 million check to these two institutes when they're withholding information," O'Farrell said.
Earlier this week, Garcetti spokesman Jeff Millman said that while the mayor's office believed the city was obliged to make the annual payment, the nonprofits' bank accounts were "effectively frozen" because a newly appointed batch of DWP management trustees had not, and would not, authorize spending for the current fiscal year, which began July 1.
But the DWP would still pay the nonprofits' employee salaries, Millman said. The groups are staffed by a handful of well-paid workers, including current union president Jon Pokorski; all are free from their previous duties at the utility.
The broad purpose of the nonprofits, city records show, was to "identify" safety and training as core values at the department, and to promote "communication, mutual trust and respect" between DWP managers and the electrical workers' union.
Late last year, former DWP general manager Ron Nichols, who was a trustee of the nonprofits, said he could not provide a list of what, specifically, the groups had accomplished. He also pointed out that the roughly $4 million that goes to the nonprofits each year is dwarfed by the $117 million the DWP spends on its own training and safety programs.
Times staff writers David Zahniser and Emily Alpert Reyes contributed to this report.
Follow @jackdolanLAT for more news about the DWP controversy.
---