How you protect yourself when an earthquake hits might be all wrong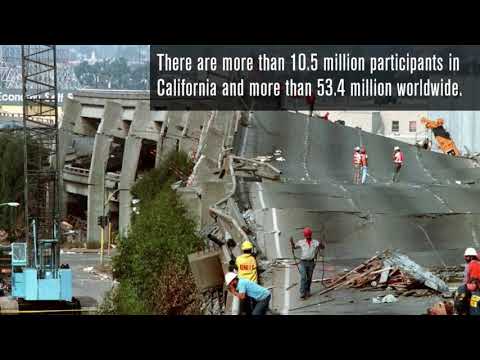 The Great ShakeOut Earthquake Drills are an annual opportunity for people to practice earthquake preparedness.
Your well-rehearsed earthquake response plan could be all wrong.
Sure, you might know "drop, cover and hold on" by heart. But earthquake safety experts are revising their graphics for what to do in an earthquake.
They fear the public may have missed key points on what to do in most situations when the shaking starts.
So, as California held its annual statewide "ShakeOut" earthquake drill Thursday, let's go through the changes, and I'll add some helpful tips throughout.
Tip 1: Drop wherever you are. Don't try to run three doors down to find a desk.
If you're sitting at a desk, great: Get underneath it.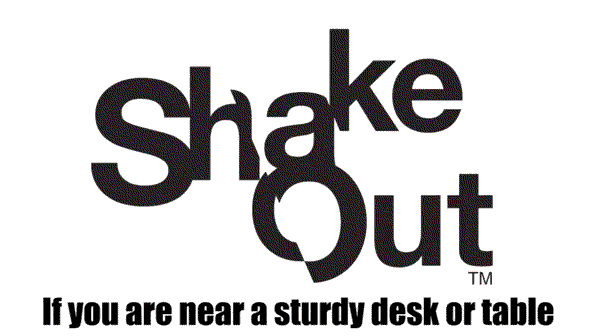 But if you're far away from a table, don't try to run to the office three doors down to get to one.
"Trying to get somewhere can be dangerous itself. You really want to drop where you are," said Mark Benthien, spokesman for the Southern California Earthquake Center.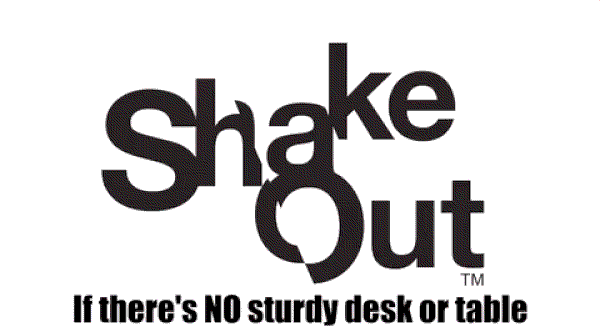 Why? Because you expose yourself to danger by running in an earthquake.
Often, a more worrisome hazard is objects falling or flying around the room — like bookcases, TVs, microwaves — that can strike your head and kill you.
"Getting down and protecting your head: You're a much smaller thing than if you're running through the room and putting yourself through the trajectories of those things," Jones said.
Tip 2: Cover yourself, even if you can't get to a desk.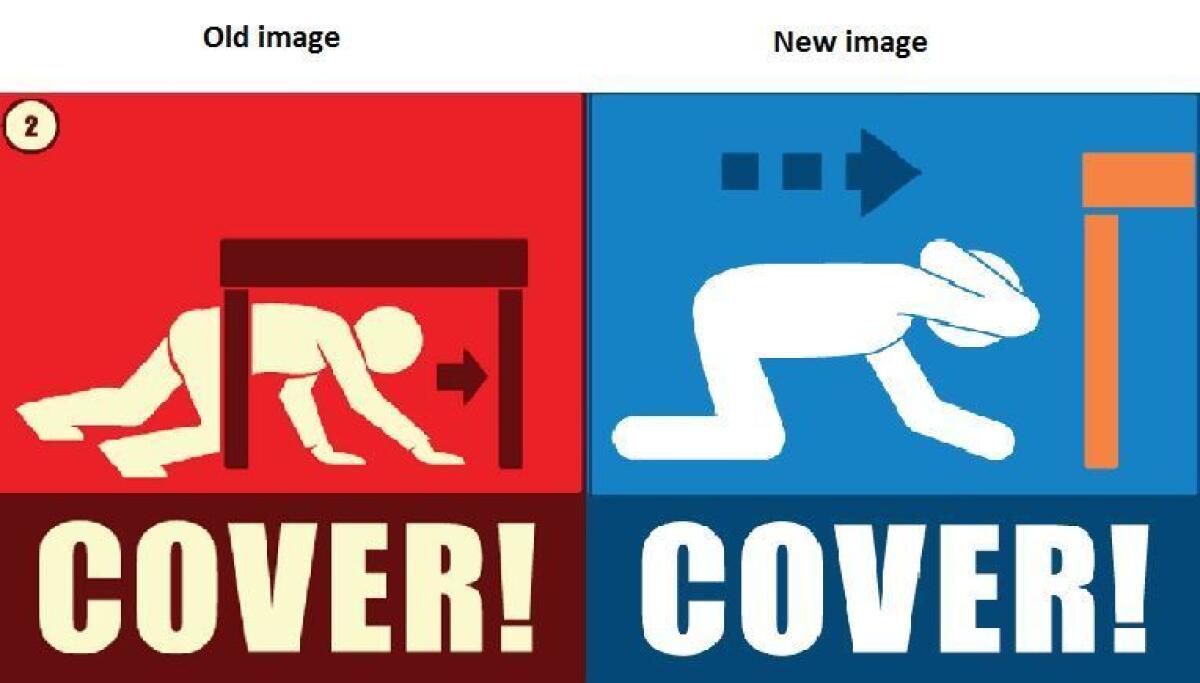 Cover your head or neck with an arm, especially if you can't get to a desk, or are crawling to the table.
If a table is too far away, get to a wall that doesn't face a window that could shatter. "If you've got a wall, you're less of a target," Benthien said.
Tip 3: Hold on to something, like a table leg.
"The 'hold on' is key. You may be underneath a table, but if you're not holding on to it, it may move away from you, leaving you exposed," Benthien said.
Why not just run from a building during an earthquake?
Because, says seismologist Lucy Jones, "the first thing to fail in a building is the outside, so you have balconies falling off and facades falling off. You're putting yourself into a more dangerous situation by moving to the outside of a building."
Even if the outside edges of a building collapse, the building can largely remain standing.
This happened during the Paso Robles earthquake of 2003: Two women working at a clothing store were crushed to death by falling bricks and plaster as they ran out of an old, quake-vulnerable brick building.
Had they stayed inside, it was determined, they probably would have survived.
During the deadly earthquake in Christchurch, New Zealand, in 2011, one man faced a split-second decision between fleeing outside and dropping under a table. He chose to drop and cover under a table and survived. He later said that had he chosen to flee, he would have been crushed by falling debris.
But what if a building is collapsing?
There's not much evidence that trying to flee is a better idea, Jones said. When a collapse happens, it can happen so quickly there's only time to drop and cover.
Even when buildings do collapse, search-and-rescue teams combing through the wreckage in places like Haiti have found survivors who were found underneath spaces like tables.
"They found people under desks that dropped and covered in place, and they could come and dig them out. There's a lot of evidence that it can save you," Jones said.
What has happened when people have tried to run in past earthquakes?
"We have numerous cases of people dying trying to run out of the building," Jones said. Consider the 1987 Whittier Narrows earthquake, which was a magnitude 5.1.
Among the three people whose deaths were directly caused by the earthquake, one was believed to have jumped from the window of his apartment and died from the impact of the fall. Another was a Cal State Los Angeles student who was fleeing a three-story parking structure and was crushed by falling concrete. Neither the apartment nor the parking structure suffered a total collapse, Jones said.
What do I do if I'm not inside a building or near a desk?
Here are some tips for that, courtesy of FEMA.
In your bed
Lie face down to protect vital organs. Cover your head and neck with a pillow, keeping your arms as close to your head as possible; hold on to your neck and head until shaking stops.
In a store
Get next to a shopping cart, beneath clothing racks, or within the first level of the racks. Those in wheelchairs should lock their wheels, bend over and cover their heads.
Outdoors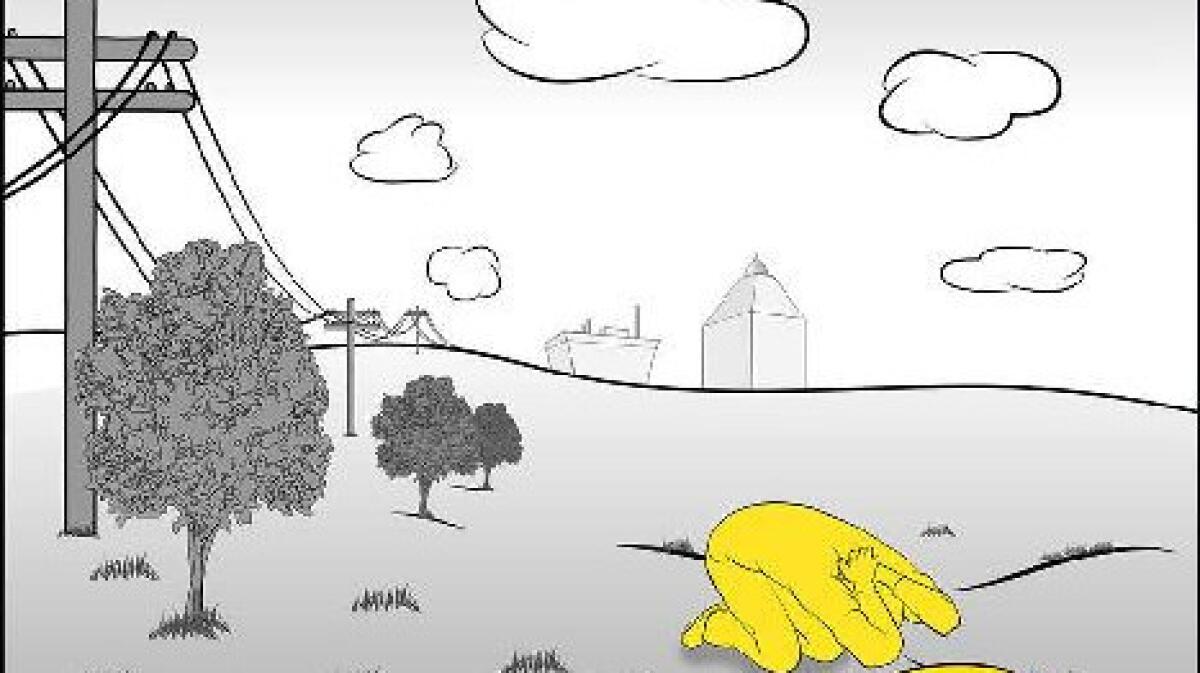 Move away from power lines, buildings, cars and other hazards. Dropping down and covering yourself still protects from objects thrown sideways.
At the beach or beneath a dam
At the beach? After the shaking stops, head to high ground to beat a tsunami. Beneath a dam? Get to high ground or follow official instructions.
Driving
Pull to the side of the road, stop and set the parking brake. Avoid overpasses, bridges, power lines, signs and other hazards. Stay stopped until shaking stops, then avoid fallen debris and cracked or shifted pavement.
In a theater or stadium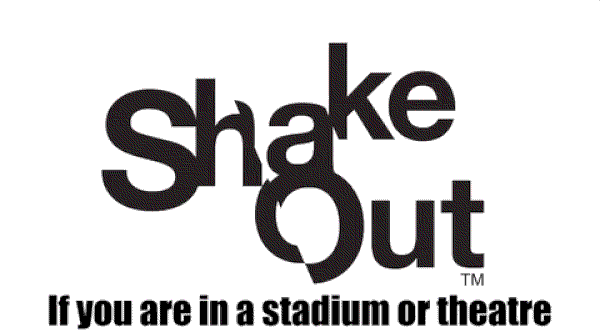 Drop to the ground in front of your seat, or lean over as much as you can. Then cover your head with your arms, and hold on to your neck with both hands until shaking stops. Walk out slowly, watching for anything that can fall during aftershocks.
For more tips, visit the Earthquake Country Alliance website.
Twitter: @ronlin
ALSO
Scientists can tell you when earthquakes are more likely to hit. But do you really want to know?
Deputy killed in Modoc County — the 4th on-duty California officer to die in 2 weeks
California's generous public pensions have been a promise that can't be broken. This court case could change that
---
UPDATES:
2:10 p.m.: This article was updated with the ShakeOut drill ending.
This article was originally published at 7:55 a.m.
Sign up for Essential California for news, features and recommendations from the L.A. Times and beyond in your inbox six days a week.
You may occasionally receive promotional content from the Los Angeles Times.