California earthquake standard designed to save lives but not buildings. There's a new push to do both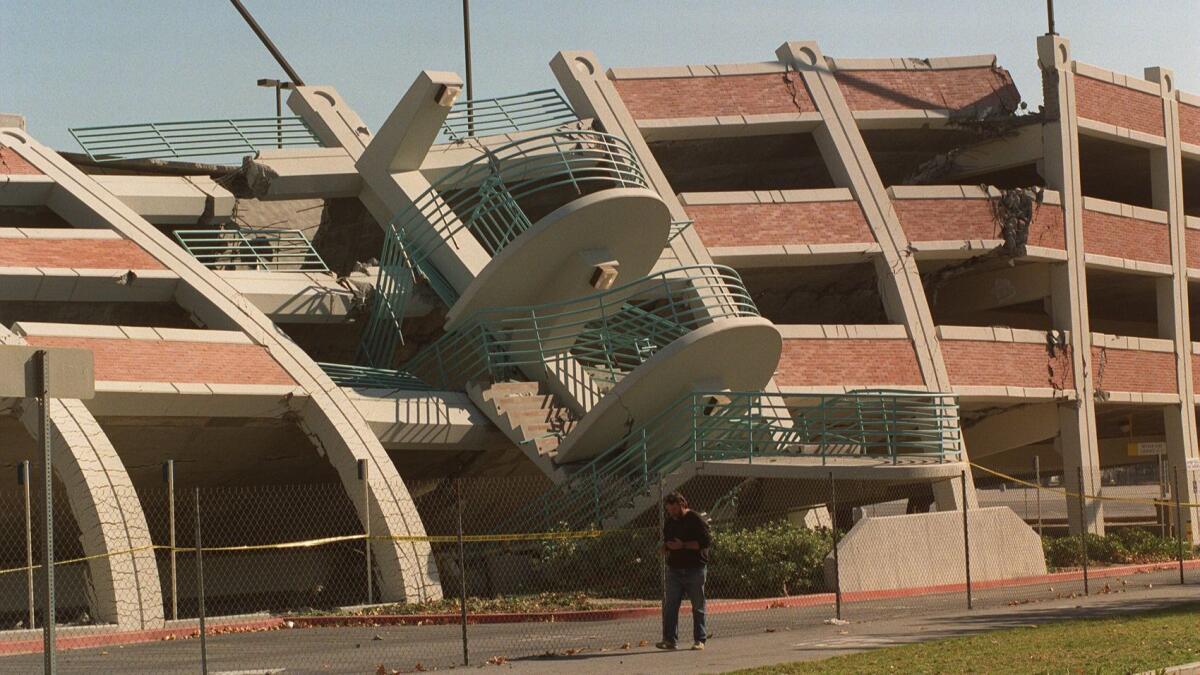 California's seismic construction requirements are designed to protect the lives of those inside. But even with the most modern codes, building to the state's minimum requirements would leave even new buildings severely damaged in a major earthquake — to the point of being a complete loss.
Earthquake experts have become increasingly concerned about this, noting that a massive temblor would leave many without homes and offices for months if not years.
When a magnitude 6.3 earthquake directly hit Christchurch, New Zealand's third largest city, in 2011, 70% of the buildings in the central business district were damaged, but all were completely closed because it was too dangerous to be anywhere downtown.
Now, a Los Angeles lawmaker is proposing two bills that would toughen rules on how strong new buildings should be and require cities to identify existing buildings at risk of collapse.
Assemblyman Adrin Nazarian (D-North Hollywood) said the bills are important for keeping California functioning after a major earthquake.
"If new buildings need to be demolished and rebuilt, you can imagine that, in a place like downtown L.A., what a standstill the economy will come to, and how many years it will take to rebuild and how daunting and taxing it will be," Nazarian said.
The proposals are expected to spark a familiar debate in earthquake country over the cost and effectiveness of boosting seismic regulations. Some in the construction industry defend the current minimum building standard as appropriate.
The first bill, AB 1857, would instruct the California Building Standards Commission to increase minimum mandatory standards for most types of buildings in the state, such as apartments, office buildings and commercial spaces, but would exempt single-family houses and duplexes.
The goal is to keep new buildings usable after a major earthquake. Even if people are forced to temporarily move out, the aim is to keep damage limited so repairs can be made within days or weeks, rather than a year or more.
Nazarian said he wants the new building regulations to become effective in 2023 as part of a scheduled update of the California Building Standards Code.
Seismologist Lucy Jones, formerly a science advisor for risk reduction with the U.S. Geological Survey, has been a big advocate of increasing California's minimum building standards. Construction costs would only rise 1% to 2%, Jones said, citing an estimate from Keith Porter, a University of Colorado Boulder research professor.
Under existing building rules, a large earthquake could render unusable so many housing units that it would trigger a mass exodus much like New Orleans suffered after Hurricane Katrina, Porter wrote in a report.
"We want a resilient society. But we can't have that if our buildings are not operational after an earthquake," Porter said in an interview. "If you can't go back into your building after an earthquake, it's a disposable building."
The state's building codes allow for as much as a 10% chance that a new building will collapse in the maximum credible earthquake, Jones said.
"When you look at the economic disruption...it means tenants can't go to work, it means neighbors who can't use their buildings, it potentially means people don't have a home, and it leaves businesses who don't have workers," Jones said. "The financial consequences land on all of society."
Representatives of the California Building Industry Assn., which represents construction companies, cast doubt on whether tougher mandatory minimum building rules were needed for the entire state.
"Although making residential buildings more earthquake resilient is a noble endeavor, it has to be balanced with addressing the challenge of making new housing and apartments as affordable as possible," Dan Dunmoyer, president of the California Building Industry Assn., said by email. "We are in active discussions with the author in hopes of finding that needed balance."
The group's senior engineer, Bob Raymer, said he did not think the state's minimum building codes are too weak. Raymer suggested having an expert committee write standards for tougher building codes would allow individual cities and counties the choice of adopting more stringent rules.
"I think there is very good merit to having a more stringent standard available for use on a voluntary basis," Raymer said. "A one-size-fits-all [approach] is probably not appropriate for California."
The Building Owners and Managers Assn.'s Greater Los Angeles chapter has not taken a formal position on the bill, but its vice president for public policy, Martha Cox-Nitikman, said it's worth discussing. "We as a society place a value on having construction stay standing longer," she said.
The board of the Structural Engineers Assn. of California unanimously voted in January to favor stronger minimum building standards.
"Historically, we have had 'life safety' as the code minimum [in which] people would be able to exit and people shouldn't die in new buildings," said Janah Risha, president of the association. "But if we look at economic survivability, it is not enough. … What happens to our whole regional economy when residential buildings cannot be reoccupied, when people cannot go into offices for an extended period of time?"
Nazarian's second bill, AB 2681, would require cities and counties to create an inventory of potentially vulnerable buildings.
Potentially vulnerable buildings include those approved by building officials under the 1976 code or earlier, as well as newer buildings built up to the 1995 code that may still be vulnerable, such as steel-frame buildings, and structures with a flimsy ground floor. Single-family houses, duplexes, triplexes and fourplexes would be exempt.
The bill calls on building departments to create an inventory by 2020 and notify owners. Owners would then need to hire an engineer to evaluate the building to determine if the structure is actually vulnerable in an earthquake.
Cities and counties would then be required to send their building inventory to the state Governor's Office of Emergency Services; the office would be instructed to keep that information available as a searchable database on its web site.
One important open question remains: how this bill would be funded.
"We're trying to work through that. We've had some conversations with some state agencies to see if they can help with this effort, see if there's federal funding for this program," Nazarian said.
Cities have launched their own inventories of seismically hazardous buildings before. A 1986 state law required local governments in California's most seismically active zone to create an inventory of old brick buildings that can be deadly in earthquakes.
More recently, some cities in California have expanded inventories to other types of buildings. San Francisco has an inventory of wood-frame apartments with flimsy ground floors, known as soft-story buildings; Los Angeles has gone further and also has an inventory of brittle concrete buildings; Santa Monica's list also includes steel-frame buildings.
Raymer of the California Building Industry Assn. said Nazarian's second bill should first go to a committee of experts. "Let's come up with a pilot program and come up with a model ordinance that we input into our code, and local jurisdictions can grab into it."
David Khorram, Long Beach's superintendent of Building & Safety who is also president of the California Building Officials organization, said he personally supports both bills. The second bill, he said, would help local elected officials understand where their vulnerable buildings are located, and leave it up to them to figure out what to do.
"One saves buildings, the other one will actually save lives," Khorram said of the bills. "As a building official, I'm in support of both."
---
UPDATES:
3 p.m., March 15: This article was updated with a new top.
5:20 p.m.: This article was updated with a quote from David Khorram, Long Beach's superintendent of Building & Safety.
This article was originally published at 2:30 p.m. on March 14, 2018.
Sign up for Essential California for news, features and recommendations from the L.A. Times and beyond in your inbox six days a week.
You may occasionally receive promotional content from the Los Angeles Times.