Meet the first person ever to climb Yosemite's El Capitan without ropes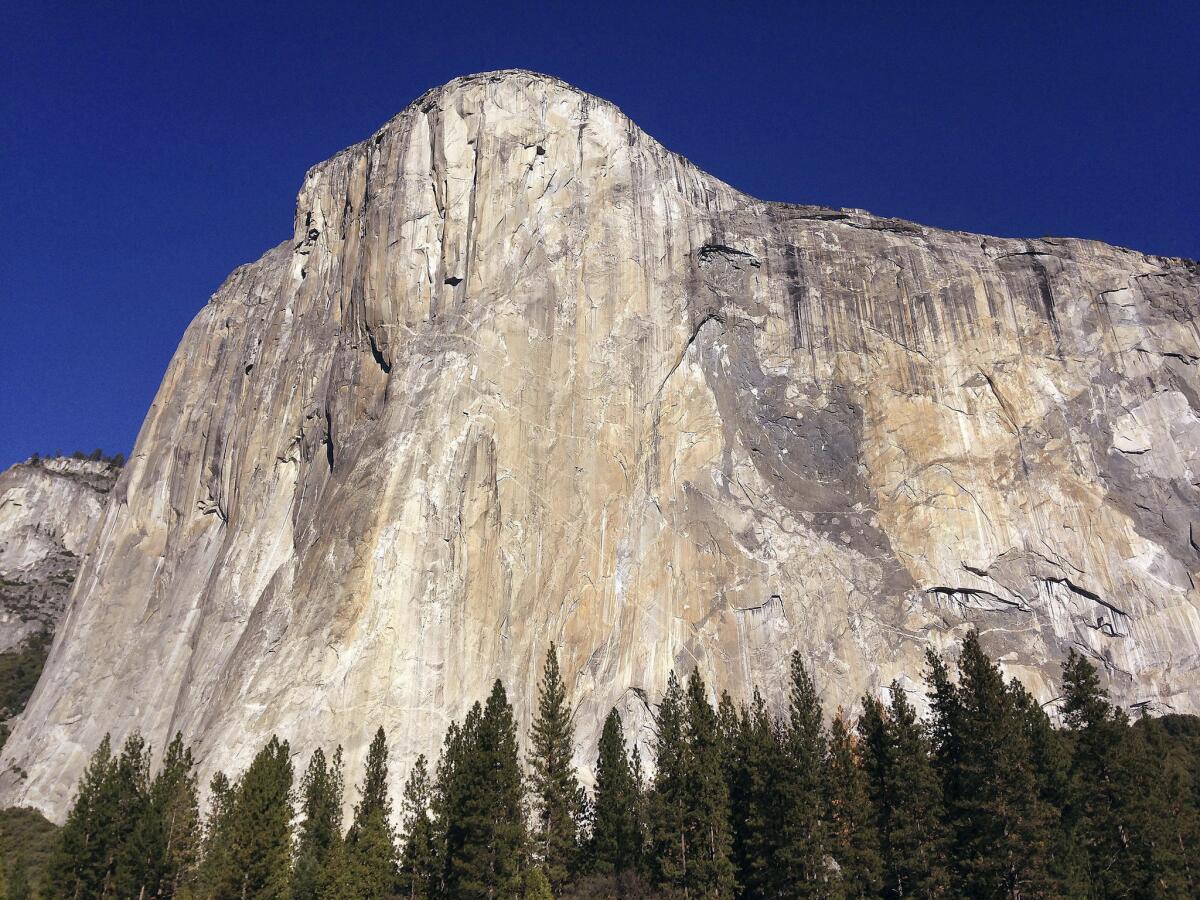 Northern California native Alex Honnold became the first person ever to "free solo" Yosemite National Park's 3,000-foot tall El Capitan on Saturday — a death-defying achievement in which the climber foresook protective ropes and harnesses.
Using only his hands and feet, the 31-year-old reached the top of the granite monolith in under four hours. It was a journey he spent two years preparing for, according to the Associated Press.
Conquering El Capitan
The peak of the granite wall is higher than the tallest building in the world — the Burj Khalifa, in the United Arab Emirates — and requires climbers to navigate a maze of fissures, crevices and cracks.
Honnold climbed the "Freerider" route, which snakes up the west side of the face. National Geographic documented the climb for an upcoming film.
The route has 30 pitches, or sections. It becomes especially challenging at 2,300 feet, where the holds Honnold used to ascend are so small they can only be gripped with a thumb, the Associated Press reported.
Honnold used protective ropes and equipment to climb Freerider several times before he attempted Saturday's ascent. Those trial runs allowed him to plot every toe- and finger-hold, map every step and practice every precarious position he'd have to put himself in.
Just days before Saturday's climb, Honnold rappelled down Freerider to make sure chalk marks he'd left on the monolith hadn't been washed away by recent rains, National Geographic reported.
Working to overcome fear
Honnold's training was fastidious. National Geographic reported that he spent hours every other day hanging by his finger tips and doing one- and two-armed pull ups in his van ahead of the climb.
He rehearsed climbing motions and logged his workouts and ascents to find ways to improve. Though he's been climbing for 20 years — and even dropped out of UC Berkeley so he could tackle the world's summits — free-soloing El Capitan was a monumental hurdle, he told the AP.
"Each year I would show up and it would seem just much too daunting," he said. "To walk up to the base of the climb without rope and harness, it just feels a little outrageous. Getting over that side of it was the hardest part."
Scientists have studied his brain to see how it copes with fear and if it is different than the average human's, National Geographic reported.
"With free-soloing, obviously I know that I'm in danger, but feeling fearful while I'm up there is not helping me in any way," he said. "It's only hindering my performance, so I just set it aside and leave it be."
In his first interview after the climb, Honnold told the magazine that the mountain "didn't look that scary" ahead of the climb.
"I didn't have much of a backpack, and the climbing just felt amazing," he said. "Not dragging 60 meters of rope behind you for the whole mountain, I felt so much more energetic and fresh."
When climbers use ropes and harnesses only to arrest a fall, it's called free climbing. In 2015, Tommy Caldwell and Kevin Jorgeson became the first pair to ever free climb El Capitan's Dawn Wall in 19 days.
Congratulations pouring in
"In disbelief right now. Dude Alex Honnold you're a total hero and also a major freak. Thanks for being both," tweeted Emily Harrington, a national climbing champion.
She piled on more praise in a second tweet minutes later.
Jorgeson, half of the duo that scaled the Dawn Wall two years ago, had a more blunt reaction.
"Holy….." he tweeted in response to National Geographic's announcement of the climb.
Caldwell gave Honnold's achievement perspective.
"I have tried many times to mentally transport myself into the head of '[Honnold,]" he wrote on Facebook. "Looking for comfort in what I knew was inevitably coming. Last week, high on Freerider, I still could not fathom being up there without a rope. This was a generation defining climb. … Good job, dude."
Actor and musician Jared Leto even sent Honnold a congratulatory video from his concert in Nashville.
Honnold responded to all the praise Monday morning on Facebook.
"I've been overwhelmed by the well wishes I've received post El Cap," he wrote. "I'm moved by all the messages from friends and the greater climbing community. It's been incredible...I really appreciate all the positive thoughts - thanks, everyone!! Such an honor."
ALSO
Women's journey heads to top of Yosemite's Half Dome, and you're invited
The lottery is now open for permits to hike Yosemite's iconic Half Dome this summer
Good news, travelers: Your new California driver's license may be golden in the coming years for airport security
Sign up for Essential California for news, features and recommendations from the L.A. Times and beyond in your inbox six days a week.
You may occasionally receive promotional content from the Los Angeles Times.