Good news, travelers: Your new California driver's license may be golden in the coming years for airport security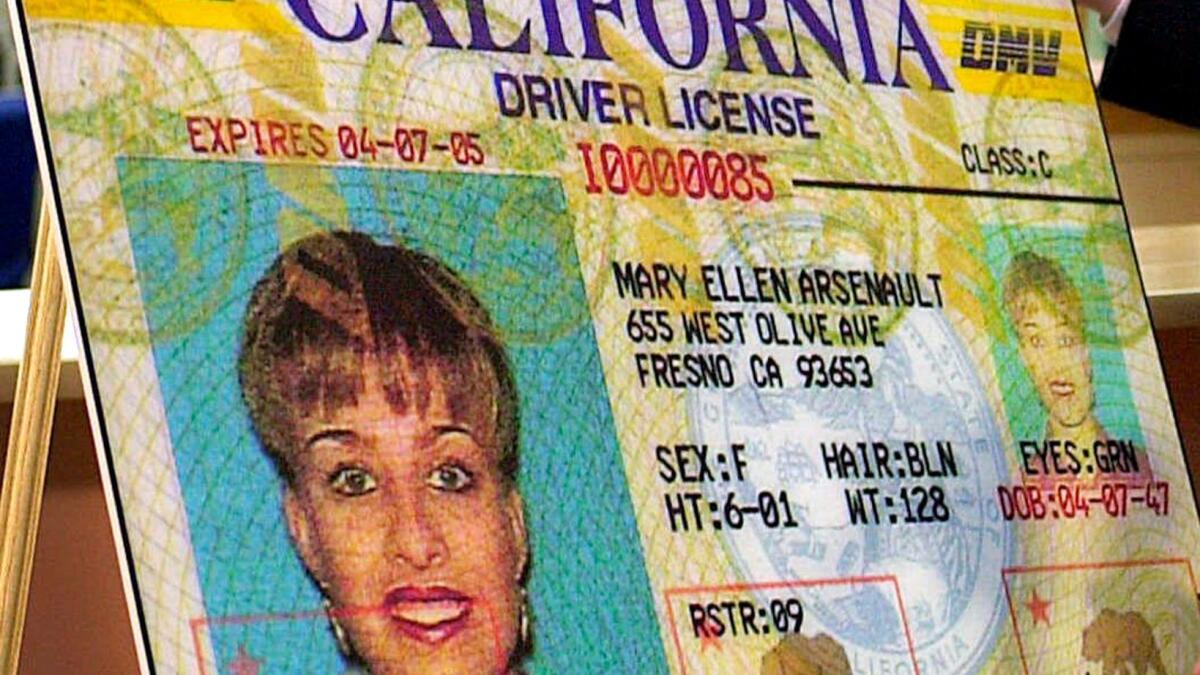 Finally, some good news about your ability to go through airport security with identification that's nothing more complicated than your California driver's license, the Department of Motor Vehicles recently told me.
Like many other states, California has driver's licenses that do not meet federal standards for identification deemed trustworthy enough to grant you access to a commercial airplane.
For this you can thank the Real ID Act, the 2005 congressional legislation that asked states to comply with tougher post-9/11 requirements for issuing driver's licenses.
This isn't a federal mandate, exactly, but here's the problem: If your license doesn't meet these federal standards, you're going to have to use something else (a passport or a Global Entry card, for instance) at airport screenings and to access federal facilities such as military bases.
There has been no particular hurry to get this done. And by "particular hurry," I refer you to the date the legislation made it through Congress. By the time you must have a compliant ID, this will have been 15 years in the making.
Some states already comply. You know those annoying kids who always showed up at school with homework done, reports in cool plastic binders and science projects worthy of blue ribbons? Think of, say, Arizona and Kansas, among others, as the kids who did all the right things.
The goody-two-shoes states are in green on the Department of Homeland Security Real ID website (www.dhs.gov/real-id#1)
You'll notice a whole lot of yellow states on the map. Those are states that haven't quite made the grade.
California is one of those, but here's where it gets confusing (a phrase I've written about six times as I continue to try to explain bureaucracy at its finest): If you have a driver's license from an out-of-compliance state, you still can use that document for airline security ID purposes until at least Jan. 22 of next year.
If your state still isn't compliant, it might get an extension until Oct, 1, 2020.
If your state is still outside the circle of federal government love on that date, you'll need another form of ID to get on a plane.
When I last checked in with the state DMV in March, it was playing its cards pretty close to its vest about whether Californians were going to be the good kids or the rotten (see the red states on the map) kids.
But things are looking up for us.
"Beginning in January 2018, driver license and ID card applications will have the option to apply for a federal-compliant driver license or ID card," Artemio Armenta of the California Department of Motor Vehicles said in an email.
"We have been moving toward compliance for some time, and this is the final step in the process."
To apply, you'll need to "show birth date (passport or birth certificate), proof of California residency (two documents) and have [your] Social Security card," Armenta said.
(DMV's current rules require "an acceptable identity document(s) to establish who you are. An acceptable document is one produced by an issuing authority, i.e., county, state, federal, or foreign agency. These are original or certified documents establishing birth date, true full name, identity and/or legal presence," its website says.)
For the new license, you'll have to bring in additional documentation mentioned above when you apply. Yes, I really did just say "bring in," because here's the bad news: You have to show up at the DMV to do this. The doors will open Jan. 2.
But, Armenta said, "You don't have to come in on Day 1 to apply for a compliant card. You can still use your California driver's license or ID card to board an airplane until October 2020."
It's unknown whether the cost of a California license, compliant or not, will increase. Right now it stands at $33 for everyone.
What is known, Associated Press reported, is that it will take about $220 million and about 700 additional workers for California to make this happen.
The compliant license will look slightly different, Armenta said: "DMV will also redesign the overall card features for security purposes in addition to the card markings."
The Department of Homeland Security "must approve both the federal-compliant and noncompliant card markings before the DMV can put the card into production," he said.
The DMV also will be more explicit about what documents will help you establish your California residency, Armenta said.
To continue the student analogy, California is now the kind of kid who can, with effort, improve his grade from a low C- or D+ to an A.
Whew.
Have a travel dilemma or question? Write to travel@latimes.com. We regret we cannot answer every inquiry.
travel@latimes.com
@latimestravel
ALSO
Giving driver's licenses to those here illegally transformed many lives. Then came Trump
At airport security, signs point to confusion about driver's licenses
Hit-and-runs fell after California gave driver's licenses to those here illegally, study finds
Get our L.A. Goes Out newsletter, with the week's best events, to help you explore and experience our city.
You may occasionally receive promotional content from the Los Angeles Times.