Winter heat wave sets new records in California; hotter conditions expected Tuesday
USC students Pat Corcoran and Alexandra Plzak enjoy the warm weather on campus Tuesday as temperatures reached a record 87 degrees in downtown Los Angeles.
(Francine Orr / Los Angeles Times)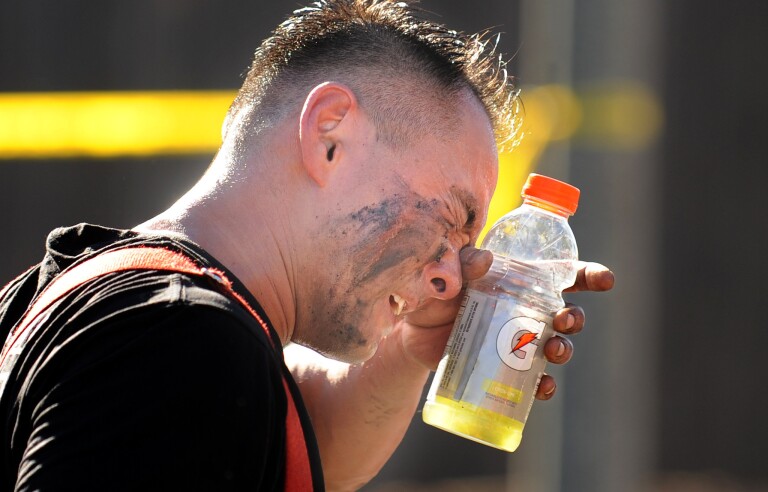 Los Angeles City firefighter Harold Kim cools down after battling a house fire in 90-degree heat Tuesday.
(Wally Skalij / Los Angeles Times)
Blakey Olsen of Laguna Beach practices yoga in front of the Broad Contemporary Art Museum as temperatures set a record at 87 degrees in downtown L.A. on Tuesday.
(Allen J. Schaben / Los Angeles Times)
A man carries a surfboard at sunset at El Porto beach on Monday in Manhattan Beach.
(Patrick T. Fallon / For The Times)
Basilios Papaioannou of West Hollywood builds a drip castle in the sand at Venice Beach.
(Katie Falkenberg / Los Angeles Times)
People play football and climb on the rock jetty at Venice Beach.
(Katie Falkenberg / Los Angeles Times)
Boys play in the ocean at Venice Beach.
(Katie Falkenberg / Los Angeles Times)
Ariel Rhone uses an umbrella for shade near the Venice boardwalk on Monday.
(Katie Falkenberg / Los Angeles Times)
Venetia Taylor of New York enjoys the afternoon reading a book at the Ace Hotel rooftop pool on Broadway Street in Los Angeles
(Barbara Davidson / Los Angeles Times)
Dan Charcoal, who is vacationing in Southern California from Maui, golfs on Zuma Beach during a hot winter day Monday.
(Wally Skalij / Los Angeles Times)
Dilip Ray performs jumping jacks during his daily workout at Warner Park in Woodland Hills. Warm temperatures and high winds are expected today.
(Mel Melcon / Los Angeles Times)
Holly Di Renzo gives her daughter Bella, 4, left, and son Dante, 3, a push, as they ride on the swings at Lost Canyon Park in Simi Valley.
(Mel Melcon / Los Angeles Times)
Feet dangle from a lifeguard tower along PCH in Malibu during a hot winter day Monday.
(Wally Skalij / Los Angeles Times)
On a warm, windy afternoon a woman heads to her car after shopping at the 99 Cents store in Simi Valley.
(Mel Melcon / Los Angeles Times)
Cedric Laheurte places an Oscars "floaty" in the swimming pool as warm weather is in store for the annual Oscars nominee luncheon today at the Beverly Hilton Hotel.
(Al Seib / Los Angeles Times)
Strong winds and high temperatures have fire crews on alert. Above, David Castro works at Warner Park in Woodland Hills on Monday.
(Mel Melcon / Los Angeles Times)
Southern California was supposed to be dealing with rain, floods and mudslides from El Niño at this time of year.
Instead, the region is dealing with heat and even the occasional brush fire. Fullerton on Sunday was the hottest place in America -- at 89 degrees -- and Ventura firefighters battled a brush fire that for a time threatened homes.
The heat wave set a new record for the day at Los Angeles International Airport on Monday (89 degrees) and tied a record in downtown San Francisco (74). Oakland Airport and Monterey also hit record highs for the day on Monday.
Officials said more potentially record-breaking temperatures -- as well as strong winds -- are on tap for Tuesday, when highs could get into the 90s.
Instead of El Niño rains, Southern California is dealing with strong winds and unseasonably warm temperatures.
So what's going on?
While forecasters still say El Niño storms are likely, Southern California has been kept dry by masses of high pressure sitting southwest of California, and on top of Southern California and Nevada. This type of system repels storms.
Northern California has seen plenty of snow and rain this winter.
The water content in the snow in the northern Sierra Nevada on Friday was pegged at 124% of average. For the central Sierra, it was 115% of average and for the southern Sierra, 93%. For the three regions combined, it was 111%.
State officials say the snowpack water content needs to be at 150% of average to come close to digging California out of the drought. That's an ambitious benchmark that will be difficult to achieve, and it's more likely that California will be about average for the year, officials say.
But this week, the north is also recording hot, dry conditions.
In fact, the latest forecast shows mostly dry, hot conditions for much of the state for the next week or more -- with little rain in store.
What is the forecast?
Hot Santa Ana wind conditions will continue through Wednesday, with the strongest winds expected to hit Los Angeles and Ventura counties Monday.
Temperatures will climb into the high 80s Monday and Tuesday on the coast and in the valleys as humidity drops. Valley temperatures could top 90.
What is the fire danger?
Strong winds could top 70 mph for parts of Los Angeles and Ventura counties Monday, increasing the risk of potentially volatile fire conditions.
Firefighters were put on alert as powerful offshore winds, unseasonably warm temperatures and dry conditions prompted a red flag warning due to extreme fire danger in both counties. The conditions could lead to "rapid fire growth and extreme fire behavior," the National Weather Service warned.
In Camarillo, firefighters saw the dangerous fire conditions firsthand Sunday when a small blaze quickly expanded to three acres and threatened structures in the area. Firefighters were able to control the blaze after a fast and aggressive response.
How strong are the winds?
Gusts of up to 70 mph or higher were expected to howl through the mountains Monday. Similarly, powerful gusts reaching 50 mph could sweep through the valleys and coastal areas.
Warm Springs, a camp nestled in Acton, was hit with the strongest winds as gusts reached 58 mph overnight, the weather service reported.
Do people miss the rain?
It depends.
Raul Magana, a Norwalk resident, had checked his roof and the perimeter of his home in anticipation of heavy rain. But on Monday morning, as he prepared to do some shopping, he wasn't dressed for rain weather -- he was in jeans and a short-sleeve shirt.
"I thought it was going to rain.... It's not coming," he said.
"What happened to El Niño?" he said, chuckling. "It looks like it's getting hotter."
"It's like summer," the 52-year-old laughed. "I don't think it's going to rain that much like they said. They said it was going to be the worst El Niño we ever had, but I don't think so. Unless it comes in like summertime."
Join the conversation on Facebook >>
In Boyle Heights, residents hustled on their errands, many dressed in shorts and sandals, underneath a sun beating down in a cloudless sky. Palm trees rustled slightly in the breeze, providing only a little relief from the high temperature that had people chugging down water and enjoying ice cream.
Gloria Lopez, a Boyle Heights resident, held her 5-year-old daughter tightly by the hand as they walked along the street. While Lopez, 48, was dressed in sandals, her daughter was a little less prepared in a long-sleeved shirt.
Her daughter's teacher, Lopez said, had told her to come a little more prepared for the weather next time. In a bag, Lopez carried the sweater her daughter had worn that morning.
"I don't know what's happening with this climate," Lopez said. "They said El Niño was coming, but nothing has happened. I don't know what's going to happen."
"The heat doesn't want to go away," she said in Spanish.
Setrak Malatian, a Pasadena resident, likened the weather to the stock market -- up and down, with no one ever knowing what's going on. "We need the rain, but not El Niño," Malatian said. "We need badly, badly the rain. We didn't get enough rain."
Malatian said weather like this isn't good.
"Wintertime should be winter, not wintertime should be summer," he said. "Wintertime, rain. Sunny day, spring or summer."
For breaking news in California, follow @VeronicaRochaLA
ALSO
University of Phoenix's owner is going private in a $1.1-billion deal
A Bay Area battle over a proposed Warriors move from Oakland to San Francisco
City Atty. Mike Feuer, turf rebate recipient, steers clear of DWP records lawsuit
---
The stories shaping California
Get up to speed with our Essential California newsletter, sent six days a week.
You may occasionally receive promotional content from the Los Angeles Times.