'We are absolutely puzzled': Reward offered in case of missing woman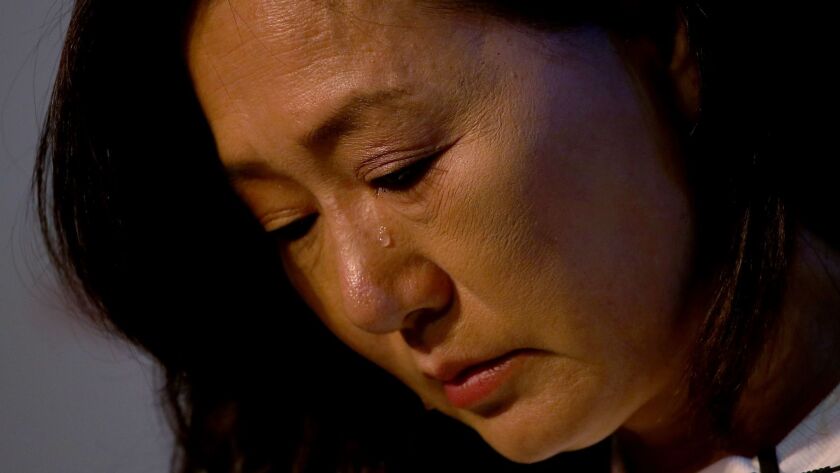 For Susan Park, the last six months have been torture.
Her daughter Elaine, 20, has been missing since Jan. 28, when she was last seen leaving her ex-boyfriend's house in Calabasas.
On Feb. 2, her charcoal-gray 2015 Honda Civic was found in Malibu unlocked with the keys in the ignition and her belongings inside.
On Tuesday, Park's mother, friends and private investigator Jayden Brant held a news conference to announce a $250,000 cash reward for information leading to the young woman's whereabouts.
"Losing a daughter is the hardest thing a mother can experience," Susan Park said as she fought back tears.
"The uncertainty is the worst part, not knowing what happened."
Brant said new leads have surfaced in the case but declined to go into detail because the Los Angeles County Sheriff's Department and the Glendale Police Department are still investigating.
"We firmly believe Park didn't commit suicide," Brant said, adding that the case is classified as that of an involuntary missing person.
In March, the Glendale Police Department cleared Elaine Park's ex-boyfriend of any suspicion in her disappearance.
In an interview Tuesday, Glendale Police Sgt. Robert William said there was no sign of a struggle where the young woman's car had been found. He said that Brant had offered Glendale detectives several theories on what may have happened, declining to divulge what those theories were, but saying that investigators had followed up on them.
The investigation has involved searches in the Santa Monica Mountains and the Angeles National Forest. William said that divers, bloodhounds and drones have all been employed in the case but have failed to turn up any signs of the woman.
"We are absolutely puzzled," he said.
Brant and others appealed to the public Tuesday to provide tips and any video footage or photographs taken between Jan. 28 and Feb. 2 of a specific stretch of Pacific Coast Highway between Coral Canyon and the Malibu Seafood Restaurant, where Park's car was found.
Park is 5-foot-6 and weighs around 125 pounds. At the time of her disappearance, she had long brown hair with blond tips. She also has a cow's skull tattoo on the upper part of her left arm.
Park's good friend Sadie Gross, 21, attended the news conference Tuesday wearing a white shirt that read, "Find Elaine Park" in bold black lettering. She recalled her friend as an "all-around good person" who was very artistic.
"It's been horrible, and not knowing [what happened] is what's made it so hard," she said.
"There's been no closure."
Park turns 21 on Sept. 24.
In order to collect the reward, tips must be submitted by Sept. 15. Brandt said the stipulation was made by the people who put up the money for the reward.
The public can call (800) 551-3080 or go online to elainepark.tips to submit any information on her whereabouts.
ALSO
Mother of missing La Crescenta woman presses police to do more
'It has us puzzled.' Police suspend search for missing Glendale woman
Missing Glendale woman's car found parked on Pacific Coast Highway in Malibu
---
The stories shaping California
Get up to speed with our Essential California newsletter, sent six days a week.
You may occasionally receive promotional content from the Los Angeles Times.