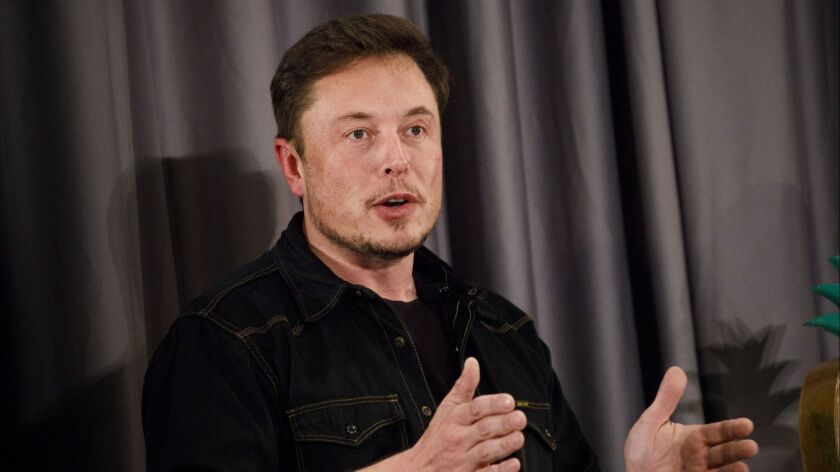 Billionaire entrepreneur Elon Musk's tunneling company has dropped its plans to dig beneath Sepulveda Boulevard on the Westside, months after a lawsuit alleged that the city of Los Angeles violated state law when it sought to exempt the tunnel from environmental review.
In a joint statement Tuesday, Musk's firm — Boring Co. — and the group of Westside advocates that sued over the project in May said they had "amicably settled" the lawsuit. An attorney for the groups said the settlement agreement was confidential.
Instead of pursuing plans to dig beneath Sepulveda on the Westside, Musk's tunneling company will focus on an underground link between Dodger Stadium and a Metro station about 3½ miles away, the statement said.
The lawsuit and the settlement agreement mark the first major setback for Musk's ambitious goals for tunneling in California.
Last year, when Boring Co. first began digging a tunnel in the parking lot across the street from the headquarters of Musk's aerospace company, SpaceX, in Hawthorne, he said he hoped a tunnel could be completed from Los Angeles International Airport to the 101 Freeway in the San Fernando Valley in "a year or so."
Instead, he encountered one of the most familiar elements of a Los Angeles construction project: an environmental lawsuit.
The company moved briskly through the permit process at first, securing a preliminary exemption from California's stringent environmental review requirements. Officials on the Los Angeles City Council's public works committee said at the time that the project would not require an in-depth environmental review because it would not carry passengers.
But before the City Council could vote on the issue, a group of Westside advocates — the Sunset Coalition, the Brentwood Residents Coalition and its president, Wendy-Sue Rosen — sued, arguing in court that the Sepulveda tunnel would be part of a much larger planned underground transportation network.
The lawsuit cited a map that Musk had posted online that showed a web of possible tunnel routes across the Southland, with a line that appeared to trace the route of the 405 Freeway and Sepulveda Boulevard.
The lawsuit said California law bars public agencies from granting "piecemeal" approval to one component of a larger construction project. The state's stringent environmental review requirements "cannot be evaded by chopping large projects into smaller pieces that taken individually appear to have no significant environmental impacts," the suit said.
The Westside groups also challenged a city commission's decision to approve a route that Boring Co. would use for hauling 80,000 cubic yards of dirt from the tunnel, based on a determination that the project was exempt from environmental review requirements.
In the South Bay, Boring Co. is making progress on a tunnel that runs for a little more than a mile beneath 120th Street in the city of Hawthorne. Musk has said that the tunnel will open to the public next month.
For more transportation news, follow @laura_nelson on Twitter.
---