Elon Musk brings his tunnel vision, and charm offensive, to West L.A.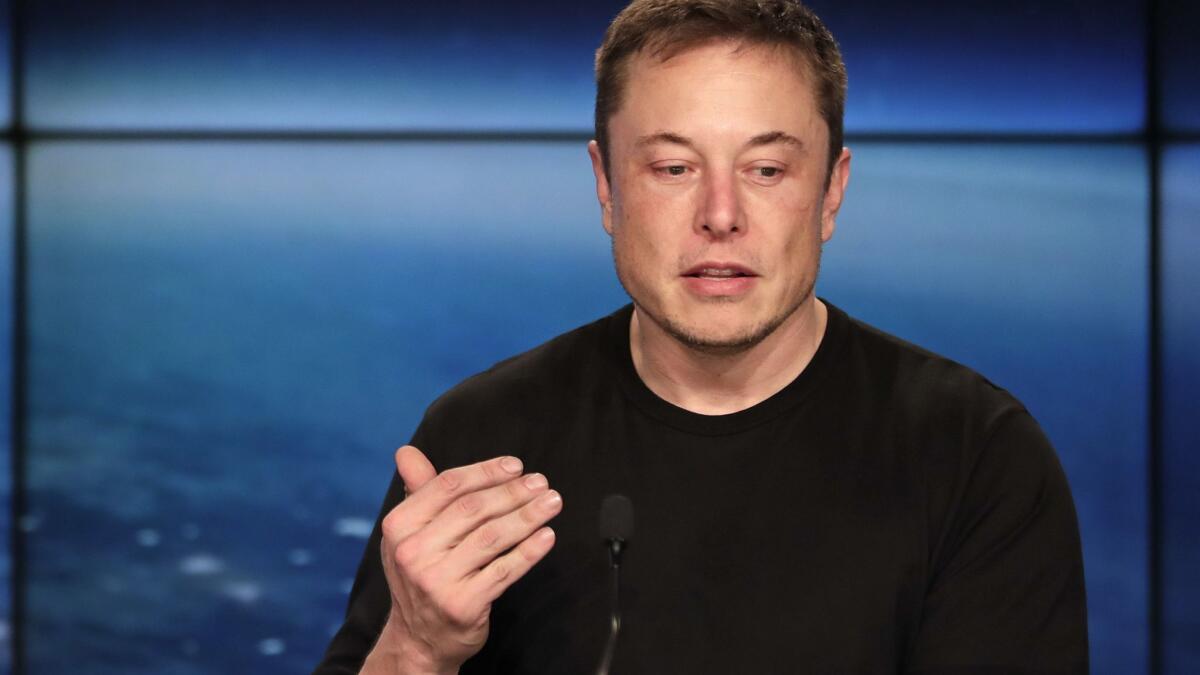 When the doors to the Leo Baeck Temple swung open at 6:45 p.m. Thursday, the public rushed through with the enthusiasm of a crowd sprinting toward a Black Friday sale.
The crowd jostled for good seats, then waited. About 25 minutes late, billionaire Elon Musk walked onto the stage to applause, attributing his lateness to the 405 Freeway.
The joke landed well in an audience that fought rush-hour traffic in the Sepulveda Pass to attend, and set the tone for Musk's first public meeting about his Southern California tunnel project: a charm offensive, designed in part to stoke public support for a 2.7-mile tunnel the creator of Space X and Tesla hopes to build in West Los Angeles.
In contrast to meetings held by public agencies, the session put on by the tunneling firm the Boring Co. was sparingly advertised and tightly controlled. Reservations and photo IDs were required. Television cameras were not allowed. Before the presentation began, six people spent more than 10 minutes buffing fingerprints from a gleaming company logo.
In an hour-long talk, Musk and Boring Co. Director Steve Davis focused on the changes their tunneling technology could bring to traffic-choked Southern California, and largely ignored the tensions — and the lawsuit — brewing over the company's efforts to exempt the Westside tunnel's construction from environmental review.
"It did have the tech cool factor," said Andrés Cuervo, vice president of the neighborhood council in Palms, which borders the proposed West L.A. tunnel's route on Sepulveda Boulevard. "But it felt like an open call to come see Elon talk. I wish it would have been more focused on the community."
Attendees had driven from as far as San Diego to hear Musk speak, Cuervo said, but he did not see many familiar faces from Los Angeles advocacy groups, transportation organizations or universities.
The audience cheered more than a half a dozen times, including at videos showing a SpaceX rocket blasting off. At one point, Musk urged the community to show their support for the tunnel. The audience cheered again.
"The crowd was majority male, and there were very few people of color," Cuervo said. "Based on tonight's meeting, they may have a different definition of what a community looks like."
The Boring Co. has said its technology could move drivers and pods carrying passengers through tunnels at speeds of more than 100 mph. Its video simulation shows a driver steering onto a car-sized platform on the street, parallel to the curb. The platform, called a skate, sinks downward like an elevator, then carries the car through the tunnel.
Musk said residents would feel no impact from the tunneling, and joked that "if anyone can detect that we're digging a tunnel, we'd be glad to hire them." That was heartening for local advocates, but not informative enough on how community groups and residents can get their specific questions answered, Cuervo said.
The upbeat meeting followed weeks of controversy over how the tunnel project has been handled at Los Angeles City Hall.
Last month, the City Council's public works committee unanimously agreed to exempt the tunnel from environmental analysis. The move still needs a full council vote.
Weeks later, two community groups sued the city over the project, alleging that the city violated state law when it sought to waive a full environmental review for the tunnel.
The lawsuit, filed by the Brentwood Residents Coalition and the Sunset Coalition, said state law bars agencies from giving "piecemeal" approval to one component of a larger construction project. The state's environmental law "cannot be evaded by chopping large projects into smaller pieces that taken individually appear to have no significant environmental impacts," the suit said.
In March, a city commission approved the route that the Boring Co. would use for hauling 80,000 cubic yards of dirt from the Westside tunnel. The panel also deemed the project exempt from state environmental law, according to the lawsuit. The two Westside groups are challenging both actions.
When an audience member asked, in a preapproved question, why Musk would not perform a full environmental impact report for the tunnel excavation, Musk said the company would "definitely" perform an analysis once the West L.A. tunnel is open and before they pursue a "full city network."
Before that expansion, he said, the Boring Co. will open the West L.A. tunnel to the public to solicit feedback and discover how to create the best rider experience. He described a system that could eventually carry commuters from downtown to Los Angeles International Airport in less than 10 minutes. A ride from LAX to Sherman Oaks would cost "like, a dollar."
In response to previous criticisms that the tunnel network could spark more traffic congestion by creating more available space to drive — a phenomenon known as "induced demand" — Musk said the company could build many layers of tunnels to accommodate as many people as necessary.
"Highways are at the outer limit of their capacity, and you're really just barely moving the needle on capacity," he said. "But for tunnels, you can have hundreds of lanes. There's no real limit."
He added: "Without the city even appearing different, you could solve the transport problem."
Adding hundreds of small stations, about the size of a parking space, throughout Los Angeles could also eliminate the crowding that cities sometimes see at large transit hubs, Musk said, and could create room for more park space.
"You can really seamlessly integrate a new transport network into a city, and it wouldn't affect things in a bad way," Musk said. Vehicles would not line up to get into the system, he said, because so many stations would be available.
The meeting ended with a light-hearted question: "Will you organize a big party before the tunnel launch?"
"Of course," Musk responded. "A tunnel would be a really trippy place to throw a party.… Yeah, I think a party in a tunnel would be kind of fun."
Musk left, and the audience rushed the stage, taking selfies, high-fiving and posing in front of the tunneling company's logo.
Sign up for Essential California for news, features and recommendations from the L.A. Times and beyond in your inbox six days a week.
You may occasionally receive promotional content from the Los Angeles Times.